Like I said yesterday, I was missing my Scottish Oats! 
I made my strawberry banana pancake topping…but why?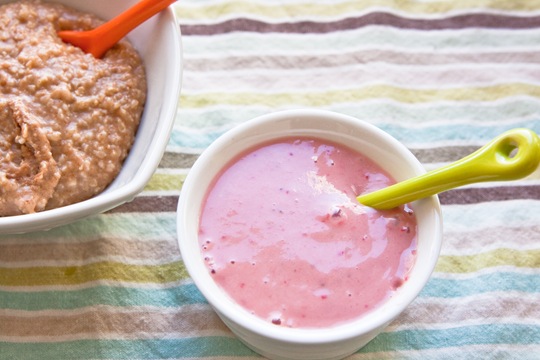 Bowl of cinnamon Scottish Oats.
Where did the oats go?
Smoothie oats!  These would have been 10x better if my banana wasn't sliiighty green :(  It was still good but I hate that un-ripe flavor…it is really overpowering!  I heated up the smoothie part so it didn't make my oats cold.  I wasn't 100% sold on this idea, but it was a fun change.
However, I'm still missing my regular Scottish Oats.  I know what's on tabs for tomorrow!
I am still obsessed with my Maple Cinnamon Almond Butter.  I have tried to stop talking about it so frequently…but I still eat it almost daily.  Mmmmmm
I caught up on comment responses, cleared my google reader, and cleared my inbox.  I can't believe how behind I get from the weekends!  I felt like fishing around in the pool today, so I got ready and was walking to the rec center at about 12:30.  The open swim only went til 1:30.  When will I learn to get going EARlier so I can actually swim the distance I want to…or at least have more time than I need.  I always get interrupted by the guards pulling the lanes out.  Silly me.
This is hands down the best coconut water I've had yet.  I mixed it with 1/2 water in my bottle and some ice.  The flavor was delicious and I could even drink this one straight up because it didn't have that weird slippery texture that all the others have.  It's pretty pricey so I will keep diluting it  :)
Fish workout:
50m – kickboard
50m – buoy
50m – breast stroke
1625m – freestyle – My longest distance yet! [in my last post I said I went 1700m…apparently I need to go back to math class…doh!  I actually went 1450m last time]
75m – breast stroke cool down
3min tread water
Guess what else?? During the 1625m I did bilateral breathing the.whole.time!!!  This was huge for me!  The past few weeks I haven't even been attempting it.  I felt like I just couldn't catch my breath or get in a groove.  A little over half way through I switched to strong side breathing for 2 laps, just to see the difference…and now that actually felt harder to me!  I'm really excited about this!  My whole workout was 45min.  I loved iiiit!!!
I made some realizations on my walk home from the pool.  The weather was amaaaazing today and I felt so great after the swim.  I started to think about the difference in how I feel since my running break.  I touched on this last week a bit but want to talk about a few more things.
I realized that for so long, I felt I had to work out.  I had to work out to burn off that extra bowl of cereal/cookie/muffin/etc. or to try to help get rid of the last of my annoying college weight, or extra pounds I put on with my desk job last year.  I always thought I enjoyed working out, but now I'm realizing most of the time I wasn't really there for the fun of it [and by "there" I mean the gym, because I was never really an outside runner and just got into biking]. 
I'm not saying it's bad to work out with a goal in mind.  And I'm not saying it's wrong to work out for the calorie burn.  However, since the running hiatus, I feel that my health + fitness level has improved to a new level.  I also have stopped thinking about going further just for the reason of burning more calories.  I now want to go further and push harder to test my limits and see improvement.  Climbing at the gym has been so rewarding.  Every single time I'm there, I finish a new bouldering problem that I wasn't able to finish the previous trip.  It's more like a game than a workout, and I'm loving it. 
I guess this started last year when I started running and training for my first 1/2 marathon.  However, after that was over, it was back to running just for maintenance. 
Learning to ride a bike again [haha] has given me confidence that I will one day be able to compete in a triathlon.  I feel + see myself getting stronger and expanding my list of exercise activities.  Swimming has amazed me.  I hated swimming in high school.  How dare they make you swim in high school.  Awkwardness on so many levels.  I remember using the "time of the month" excuse whenever I could [sorry to the 3 male readers I have].  The locker room, boys' stares, wet hair the rest of the day, blegh!  Torture.  I lifeguarded for one summer but never did much actual swimming.  I swam for exercise a bit at OSU but gave up on it because I felt like I could never catch my breath!  My senior year I took a swimming class and the teacher really helped us excel and build up endurance, and I liked it!  Up until now, I haven't had such easy + cheap access to a pool.  I had to get back in the water!!  You know by my workout recaps that I'm loving it.
What am I trying to say here?  Basically, I no longer work out solely to balance my food intake.  Sure, that is some of it but it is not the driving force or even close to it anymore.  Now, I work out for complete fun.  I workout to see how far I can push myself [within reason of course].  I workout to feel strong and healthy.  I try new things to become a more well rounded athlete.  And yes, I consider myself an athlete. 
And now I present you with a hungry hungry hippo's lunch.  Can I be the pink one?
[source]
Leftover soba/italian/bean pasta from yesterday.
1 slice of Fitness Bread [You must try this!!! just found it at Whole Foods] topped with:
~1T tomato paste + 5 stalks sautéed asparagus + ~1/2T hidden nutritional yeast [you can see a little yellow under the asparagus!]
~1T maple cin AB + 2 huge spoonfuls of plain greek yogurt [Allie style] + slice of kiwi
Oh yes.  This was delicious.  The nut butter flavor with the yogurt = YUM plus a little kiwi sweetness and savory bread.
NOM!
A sweet + savory balanced meal.  It was completely satisfying and filling.  This actually kept me full for more than 2hrs!
We headed to the rock gym and it rocked. [ha.ha.ha.]  I was stuck on 1 problem for the first 20-30min.  I think I tried it about 10 times and finalllllly completed it.  Ultimate satisfaction.
Now what? 
Why all the dark chocolate?
Well to make peanut butter chocolate coconut butter of course!!  I haven't completed it yet, but have a few ideas of what I'm going to do.  I'm going to try incorporating high quality dark chocolate in a few of the trials and use pure cocoa powder in the other trials.  Yes, there will be multiple trials!!  My reasoning is that the dark chocolate has cocoa butter in it, sugar and a few other ingredients that will add to the overall taste.  Similar to Artisana's Cacao Bliss using Agave, Cocoa Butter, etc.
I also want to try it with the pure cocoa powder mixed into the pnut butter and coconut butter.  It will be interesting to see what works the best!
Peanuts –> Organic Valencia Dry Roasted Peanuts
Organic, dried unsweetened coconut flakes. [for the coconut butter part of it of course!]
Time to get my butter on.
Within a blink of a eye, the peanut butter was already creamy.  I literally only had to scrape the bowl once or twice.  It came together in a matter of minutes.
Another minute…still a little gritty.
Another minute…pure creamy goodness with no added salt or sugar.  WHY would I ever buy peanut butter again?
Peanut butter done!!  Are you getting excited for this creation, Natalie??  hehehe [my sis-in-law challenged me to make this]
Then, I took the dogs for a walk…one at a time of course!  We're trying a new method to stop them from pulling and it's actually working!!  It was some obscure training video Chris found.  He is trying to find it so I can post the link for you doggie owners to try out.  He literally stumbled on it on you tube.  Hopefully he can find it!
Kenna is non-stop.  She can't sit still for a no-flash photo.
Kenna at her finest. 
Dakota, looking regal…and depressed.  Poor thing.
Melissa + Jake are coming for a play-date tomorrow!!!   Soooo excited! 
Shower time.  Bed time.
<3 ashley <3
Chris found the dog training video.  It's called Crazy Man Method - hahahaha