So what was in this TOP 5 best ever bowl of oats?
I'll tell you…
Blueberry POP Scottish Oats
1/4c scottish oats
1 1/4c water
1/3c hemp milk [Pacific brand…the best I've had!]
1/2 thin sliced banana
1T chia seeds
1t cinnamon
Toppings
~1/2c blueberries, stirred in riiight at the end
1 crumbled homemade graham cracker
maple cinnamon almond butter sauce [1T AB + 1T milk..heated..stirred]
splash of hemp milk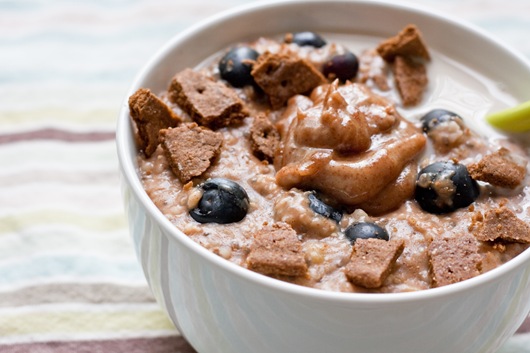 Why was this so delicious?  I'll tell you that too!
amazing creamy maple cinnamony almond butter…so so good on oats
blueberries!!! they were slightly warm but still had a nice POP…I hate warm mushy fruit..this was perrrrfect!
graham cracker crunch…they get a little soft but have awesome flavor and texture mixed with the oats and AB
creamy splash of hemp milk…so so delish
Gah! SO GOOD!
In a jiffy lunch! Sweet taters for lunch seem to be all the blog rage lately.  I made this Thursday night for dinner and had to repeat it for lunch on Friday.  It's better than it looks, trust me.
Poke and slice the sweet tater and microwave for about 5min depending on how big.  You want it almost all the way cooked through. 
Add sliced mushrooms and cook 1 more minute.
Add cheese and cook another 30sec.
I typically try not to use the microwave too often, especially to cook a whole meal.  However, sometimes when you're in a hurry and still want real food, it's a good option.
AND then top with a sunny side up egg!!!  So so good.  I promise you!  The egg provides a nice sauce that tastes delicious with the shrooms, cheese, and tater.  YUM! 
Afternoon fruity snack.
3min later…
PEA mail!!!
This cherry almond granola is fantastic.  The flavors are SPOT on.  It is sweet, but not overly and is also kissed with salt.  The contrast is awesome.  Also each little oat is perfectly crisped.  Love the chew of the cherries as well.  You should definitely check out the recipe!  Couldn't be easier!
I love green sencha tea!!  An infusion of orange sounds delightful.
And then the bread…ohhhh the bread!  And how cute is the bow?
Whole Wheat Flax [vegan] bread! 
I even got artwork to display on the fridge!!  So adorable :)
The husband + I both approve!
The texture is perfect.  1/4 of the loaf has already been consumed.
I really need to work on my bread making skills!!!
Back to the weeds!!! Check it out…not even 24hrs later and these suckers are dying!
Compare:  unsprayed weeds
sprayed weeds – Dead!  Or, dying at least.
Thursday, these stems were green.  Pretty impressive.
It definitely worked well on the smaller weeds.  It probably wasn't fair to spray them on our tree-trunk size weeds ;)
Not bad! Compare to Thursday.
For dinner, I chilled out with the the green tea that Mama Pea sent.  Deeelish!
And half a baby watermelon.  Love these!!
Salad, bread, and cherry almond granola were also consumed.  I loved the addition of broccoli on this!!  I steamed the broc for about 5-6 minutes until sliiightly tender.  Then I ran cold water over it for about 30 seconds.  The texture on the salad was perfect.  I like eating raw broccoli but usually just when I'm dipping it in something.  :)  I topped it with a hemp oil/balsamic/apple cider vin dressing that took about 20sec to make.
And that was my Friday…in food anyway!
Very excited for the blogger meet up tomorrow!! 
Off to the bed…..
~Ashley