I'm not sure if there is anything better than waking up to find an empty pnut butter jar!!  Why, you ask??  Because it makes the perfect vessel to hold my morning oats!  The jar may look empty but there is still quite a bit of pnut butter on the sides and bottom that you can never get out with a knife.  Well, pouring hot oats into the container helps to release the pnutty goodness.
I'm getting hungry just thinking about it. 
1/3c. oats
1 small banana
1/3c. 2% milk + 1/3c. water
cinnamon
shaved unsweetened coconut
1tsp chia seeds
1T pomegranate arils
Yogi cereal
So so so good.  LOVE the burst of juice from the pomegranate!
I finished the POMegranate recipe submission!! I'm calling them POMegranate pOp Granola Bars :)  They are reallly tasty.  You can check out my submission here!
Here were the final photos with the pomegranate drizzle on top.  Similar to ota.bars but not quite the same!
Chris + I [and the doggies] headed to Keystone today for some snowboarding.  It was a gorgeous day out!  I got to try out my new Salomon boots today, which I love!
[point n' shoot time]
LOVE the lacing system.  Much improved from my last pair!
Great view!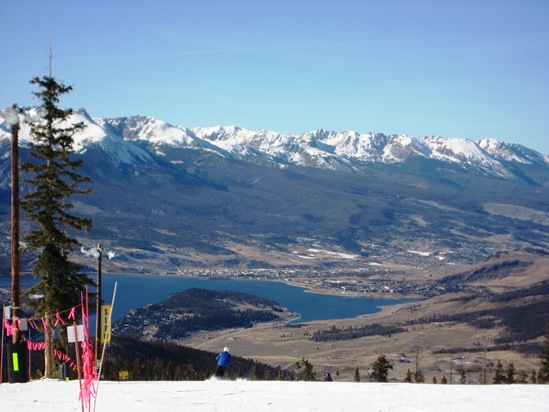 Oh yeah, something is up with receiving my blog comments.  There is 1 particular post that is getting spammed like CRAZY with lots of "??????" comments.  So, in the wordpress comment manager I have been clicking "spam" for those so I hopefully stop receiving them.  Doing that has screwed me being notified in my gmail when I get new comments.  Anyway, sorry if I am not responding as much as normal to the comments!  If you had a question and I haven't gotten back to you please leave me a new comment.
Stay tuned for more gift lists too!!  I have some to add but am totally exhausted!! Night peeps :)
~Ashley