We were up bright + early on Tuesday, to get to Beavercreek for some boarding.  Chris and I were going to board there and then continue on to Snowmass to meet up with our friends Will + Deb.  [good friends from Charlotte]
I made a big bowl of oats with an extra dose of protein!
Oats with 2 egg whites are the creamiest, fluffiest oats ever imaginable.  Thanks to Jenna for the idea! 
Protein Packed Oats:
oat bran/rolled oats
2 egg whites – whisked in after 2-3min of cooking
1/2 banana
vanilla almond milk + water
cinnamon
coconut butter shavings on top
back to nature pumpkin seed granola
chia seeds
pnut butter glob
fig jam glob [so so so yum!]
Ahhhh…delicious!  This bowl should have held me over longer than it did.  My hunger is whack!
I got car food ready so we wouldn't have to stop after we boarded. 
water
juice
fresh fruit
veggie samich [for me]
pnut butter jelly [chris]
2 yogurts
Food Should Taste Good – Lime chips
almonds
tons of nutrient dense bars
I can't even tell you how good these chips are.  They only have about 5 ingredients and in a 12 chip serving have 4g fiber and 2g protein.  Not too shabby!
Love these bags I won from Dottie's blog, Foodcent's.  It is a reusable produce bag.  It was perfect for packing the fruit!  Check them out at 3B Bags!
Bars.  18 Rabbits are Uh-mazing!  I like the Clif Nectar bars a whole lot more than Larabars.  I don't really like the other bars by Clif.  Although they are filling, they are full of processed soy and a way too long ingredient list. 
Point n' Shoot recap of the past 36hrs!
Did some carrot munching before our day at Beavercreek.
On the slopes!
I love that we enjoy all of the same activities :)
Bumps!!  I am not a fan of bumps but trying to learn.  They are bigger than they look!
Me!  Safety first…always rockin' the stylish helmet to protect my noggin!
Goggle marks + sleepiness = lovely photo
This veggie samich hit the spot!!!
2 layers of cucs
spinach
tiny bit of safflower mayo [not a mayo fan, but thought the sandwich might be dry]
avocado
awesome WF bread
I know it looks + sounds too simple, but it was so so tasty!
With a side of FSTG, lime…mmmm
We split a clementine.
Then, we were off to Snowmass [next to Aspen]. 
A drink I actually really like from Starbucks: Green Tea Latte – I ask for 1 pump of the syrup stuff [instead of the normal 3, blegh!]
Greeeen.
I was already hungry an hour or so after lunch. 
My new obsession.  I'm thinking this might be FABulous mixed with pumpkin puree.  We shall see!
Then some fruit!
Juicy.
Drivin along
Hydrating…the sun was out + oh so bright!!!
best.liquor.store.ever.
We finally got to Snowmass.  What a long day!! We were pooped from boarding and being in the car but so excited to see our friends and their super cute baby.  We hit the hot tub right when we got there. Awesome!  Then we went out for some delicious Mexican food [undocumented, oops!].  We were up early Wed. morning to hit the slopes with Will + Deb.  I was a bit sore from taking some tumbles the day before but was so excited to be out again.
Will
Will + Deb
Snowmass was an awesome mountain.  The views were outstanding!!  They were even more breathtaking than normal.  Photos don't do it justice.
Hi hubs
Tow ropes = not meant for snowboarders!!!  It was so hard to stay on this!!  So hard that I didn't stay on it.  I managed to stay on for 3/4 of the ride and then caught an edge and was dragged for 10' and then let go.  Bleh!
We had such a fun day with our friends.  Loved every minute of it.  My body is totally beat!!!!  We found an awesome sandwich place for lunch.  Another solid veggie sandwich.  Can you guess what the folded thing orange food is?
Butternut squash!!! It was so so amazing.  The bread was honestly the best whole wheat bread I have ever had.
Avocado + butternut squash + lettuce + cheese + tom + tahini poppy seed spread
The squash wasn't raw but it wasn't cooked all the way.  I really liked it.  Maybe they boiled it for a few minutes?? Not sure..either way, YUM.
Will + Deb's baby, Bryson. Love his eyes!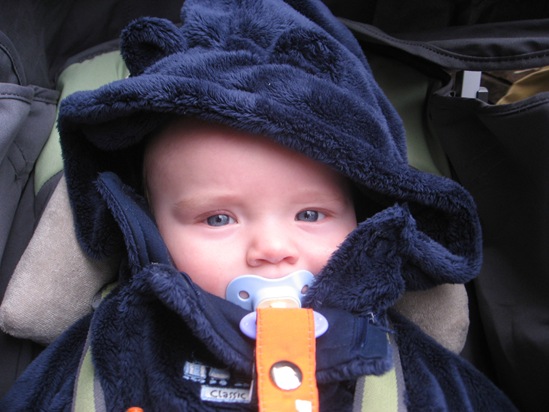 My friends seriously have the cutest babies!  He's about 6 months old.
My face isn't burnt, just a little red from the wind. 
hehehe :)
Found a bakery at the base of the mountain that had day old muffins for 1/2 off.  Heck yah!  We got an apple/cinnamon for $1.29.  We split it on the way home, to hold us over before stopping for dinner at the Dam Brewery.  It was delish and didn't taste a day old!
We made it home in about 4 hours and are completely poooooped!
seriously.time.for.bed.
~Ashley