Here are the recipes, as promised! :)
First, the vegetarian chili.  I looked up a few different recipes, including Kath's "
Throw in a Pot Vegetarian Chili
," and pulled ideas from all of them.
Here is what I came up with:


1 can kidney beans, rinsed + drained


1 can black beans, rinsed + drained


1 can cannellini beans, rinsed + drained


1c. frozen or canned corn


2 green peppers, chopped


1 med. yellow onion, chopped


1/2 red onion, chopped


4-5 garlic cloves, minced


1T chili powder


1tsp cajun spice blend


1tsp cumin


1-2tsp dried oregano


1tsp unsweetened cocoa powder [great addition from Kath!]


s+p to taste


3 bay leaves


1 jalapeño, de-seeded + chopped


28oz can crushed tomatoes


1, 15oz can fire roasted tomatoes [with green chilies if available]


1c. veggie broth


1-2T chia seeds [to thicken – can also use tomato paste]


olive oil




In a large pot, sauté the onion with bay leaves, cumin and oregano, in a few Tbs of olive oil until soft.


Mix in green pepper, jalapeno, and garlic, for a few more minutes.


Add tomato + beans + stir.


Add seasonsing: chili powder, cajun spice blend and cocoa powder.


Let come to a boil, reduce heat and simmer, covered for 45min.  Stir a few times.


In the last 5-10min add chia seeds, corn, and add s+p to taste.


It was super tasty and pretty spicy.  Chris + I both really liked it.  If you can't find cajun spice blend just add an extra tsp of chili powder and add cayenne for some
zing
.
Night time shots!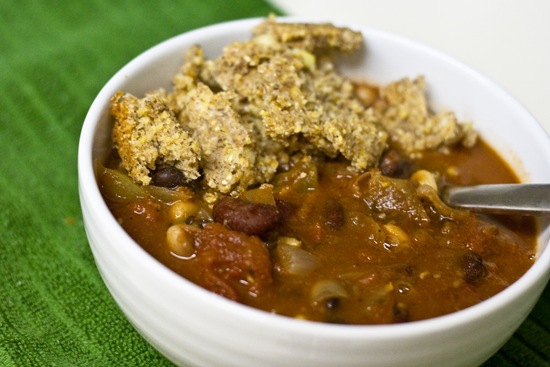 Day time shot of the chili – much better looking!
Cornbread PERfection
:) [edited from
firecracker cornbread
on
101 Cookbooks
]


1c. cornmeal [I like Bob's Red Mill medium ground]


3/4c. whole wheat pastry flour


1c. plain rice milk [or any milk, low-fat buttermilk, 1-2% milk, etc]


1 egg


1c. defrosted corn, optional


1T baking powder


1tsp salt


1/4c. ground flax meal [Bob's Red Mill makes this]


2T sucanat [or pure can sugar]


2-3T butter




Preheat oven to 350*.


Combine egg, milk, and corn in a small bowl and whisk.


In a large bowl combine cornmeal, flour, baking powder, salt, flax, + sucanat.  Stir well.


Place the butter in a 9" pan [can be cast iron, round cake pan, or pie dish].


Place in the oven to melt for ~5-7min.  Make sure it doesn't burn.


After butter is in the oven, pour the wet into the dry.  Stir until just combined.  Let sit for 5min.


Take the pan with butter out of the oven and tilt pan to spread the butter around the bottom and sides.


Pour in batter and spread with spatula.  It should be really thick and just need to be pushed around to the edges of the pan.


Bake for 20-25min.


*If you want spicy cornbread, add cayenne, diced jalapeno, or red pepper flakes.  I make it without spice.
I like using the medium grain cornmeal because it gives a better texture with a slight crunch.  You can also use fine cornmeal or instant.
This cornbread is just SO so so good.  I added the flax for the first time, which gave it an extra health kick!  I have used buttermilk in the past [lowfat from TJ's] but all I had on hand was rice milk.  It worked perfectly!  This cornbread is extremely moist and not too crumbly, but has a good break apart texture.
A perfect meal!!  Some friends are coming over tonight to help us finish it off.  I'm going to make a fresh batch of the cornbread too!  It's so simple.  I snacked on it all night + this morning.  Seriously, addicting!
For my Colorado, or high altitude friends, this is what I changed for the bread:


add 1/4c extra liquid


use 2tsp baking powder instead of a full Tablespoon


increase oven temp. to 375*


Not too bad!
Let me know if you have any questions!
~Ashley