What I thought was the best bowl of oats on Friday, got trumped this morning.  OUT of control.
Lately, I've been doing a combo of rolled oats + oat bran + flax meal and it has been working perfectly.  When I first started using flax in oats, I was stirring it in at the end.  However, when you put it in at the beginning it really fluffs the oats up, similar to adding in applesauce or egg whites.  Loving it!
Sweet Potato Oats
3T rolled oats
3T oat bran
2T ground flax meal
1/2c water
3/4c unsweetened almond milk [or other milk]
1/2 banana, sliced thin
1t cinnamon
splash of vanilla
1/3c whipped sweet potatoes [or canned]
Combine oats, oat bran, flax meal, water + milk in a small pot and whisk to combine.
Cook over med-low heat for 1-2min.  When it starts to simmer add in banana, cinnamon + vanilla and whisk to combine.
Cook another 5-7min, until mixture is very thick and liquid is absorbed, whisking a few times.
Stir in sweet potatoes, turn off heat, and let sit for 1min.
Pour into a bowl.
Toppings
Like I said, OUT of control.  Amazing creamy texture and the toppings rocked.  The mashed/whipped sweet taters made this bowl even creamier + smoother than when pumpkin is used.  The almond butter…well…have you made it yet?  If so, you understand my loss for words.
I enjoyed my coffee + oats and then headed to the market.  It was in the mid 50's this morning, but there was not a cloud in the sky, so it actually felt quite warm.  The weather in CO is so much different than anywhere else I've ever been. 
Sadly, it was the last week for this market!  There were still a ton of vendors and a LOT of produce.  Not sure why it's the last week!? :(
I think there is a market that runs through the winter though.  Definitely need to look into that!
These were the biggest carrots I have ever seen in my entire life.  They were double the diameter than normal carrots and about 1-2" longer as well.
I've always thought carrots were "okay."  They were always in our fridge, usually in the baby carrot form.  A lot of times, they would dry out before we could eat all of them.  However, in the past few months, I have become a carrot FREAK.  I eat at least 2 full carrots per day and never buy baby carrots.  The full carrots have way more flavor.
The man I bought these from told me to snap the green ends off and then they can be stored in the fridge for 3-4 months!!!  He obviously is unaware of my carrot obsession.
Between carrots + pumpkin + sweet potato + butternut squash, I'm filled to the gills with ORANGE!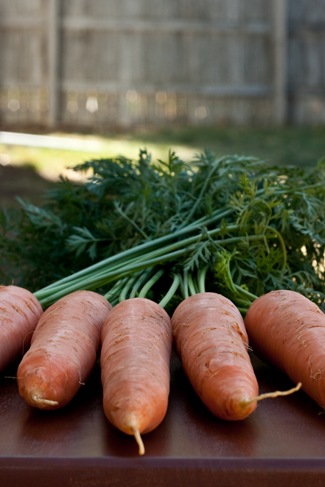 This spaghetti squash was MASSIVE as well and only $2!!!  That huge bunch of carrots set me back $3.  Not bad!  The woman selling the squash told me this year they have been extremely large but have still tasted just as good.  This is going to be a lot of squash.  Good thing Chris likes this kind!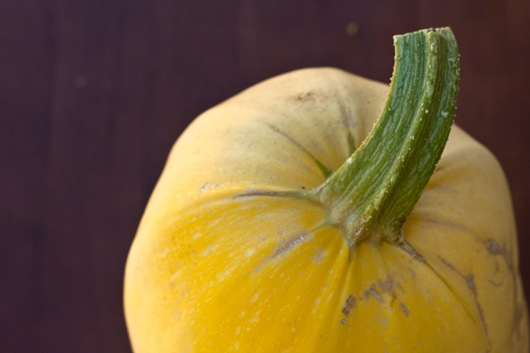 Trying to compare it to the size of my head….almost…
There we go!  And…I have a HUGE head!
Also a perfect little bag of apples.  :)
The temps rose to the upper 60's but still quite cool when riding a bike.  Chris + I rode to Old Town and grabbed a delicious lunch at The Chocolate Cafe.  The dessert menu looks out of this world.  Can't wait to take my mom here on her next visit!  Too hard to lug the dSLR on bike and I have misplaced my point n' shoot.  So no lunch photos!  Hrmph.
I had a grilled veggie samich, chips, a pickle + 2 cups of tea.  They brought out a house-made pesto + marinara to dip my sandwich in and they were outstanding.  LOVE this bike-able town and LOVING this fall weather.
On Friday I tweeted about a no-bake pumpkin dough recipe that I was making.  I have never gotten that many reply tweets, ever.
I won't hold out on the recipe…but it's not ready to share yet!  I was trying to make a pumpkin "Larabar" dough with real pumpkin.  It tasted great at first, but the next was a little too mushy.
So, I'm still working on the recipe, and you'll know when I get it right!  :)
Typical.
Because you all confirmed that you're NOT sick of pumpkin…check out my guest post on Rosey Rebecca's blog, for Pumpkin Granola.  It will be up Sunday morning!
Off to relax on the couch!
Ashley