I love the plain Organic Amazing Grass Wheatgrass. I am still going through my box of samples. weeeeeeee However, I still can't pick a favorite product of theirs!
Chocolate Bananer Green Monster
With a little BRM granola :)
This was about a 7/10. Come on Ashley…step it UP! I got an IDEA for my green monsters today. It may have already been done before, but I'll pretend I'm the one who thought of it, muahahaha. You'll have to wait til my next GM to see!
I decided I would go for a run today to see how my feet felt. Walking around the house they felt about 90% normal. Check out what happened on my Training page.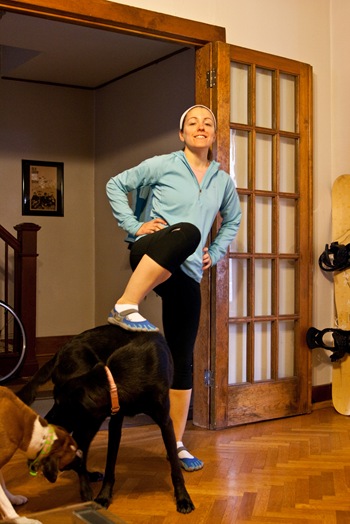 Lunch: What a spread, lol. Apricots + leftover pizza + salad w/almonds + quick balsamic dressing
2 slices of pizza, minus 3 bites from last night, hehe
After lunch I headed to WF. I had a few food plans for the day.
Two HEAVY bags.
Ever since seeing the recipe on 101 Cookbooks for graham crackers [over a year ago!] I finally decided I wanted to give them a shot. However, I searched for more recipes [there are SO many out there] and finally decided on a vegan version. The ingredient list was the most clear cut and the process sounded really easy. I found it from the blog Vegan Cupcakes Take Over the World and varied it for each of my 4 trials.
I'm going to give this to you step-by-step, just like The New Kids On the Block [old school version…you really MUST watch it].
Recipes will be at the end of the post! Yes, recipes, plural…I made FOUR batchs…ALL different :)
1] Start adding the dry ingredients into a large bowl. You only need ONE bowl for this!
2] Whisk dry ingredients together with a fork until evenly distributed.
3] Create a well with your hands, in the middle of the dry mixture.
The oil + molasses I used.
4] Pour all wet ingredients into the well.
5] Whisk together with a fork, until well combined and crumbly.
6] Stream in the milk and then get to mixin' with your HANDS!
7] Stop mixing when a ball has formed.
"GO LIE DOWN ON YOUR BED"…..and no, I'm not so obsessed with the internet that I bake with it next to me so I don't miss one new tweet, I had it there because I was following the recipe off of the computer, so I didn't have to print it. How very green of me! Although, yes, I did have gmail open at the time, hehe ;)
8] Tape down a piece of parchment paper to your counter. Believe me you must tape it down!
9] Spread a little flour on the parchment and then use your hands to get the dough into a basic rectangular shape.
10] Use a rolling pin to roll it out 1/8" thick. You want it thin!!
11] Use a knife or pizza cutter to trim the edges. I was going for about a 8x12 size to fit nicely in one of my pans. You can roll out the scrap dough too and put on another pan.
12] Cut them into any shapes + sizes you want. They will easily break apart after baking. Give them the signature graham cracker look with a fork.
13] Bake at 350* for about 14min. You don't want them under-baked because they won't get as nice + crispy. I don't think cooking them longer will harm them…that is unless of course you actually burn them. They will still seem soft-ish when you pull them out of the oven.
14] Wait 5-10min and break them on the lines. Set on a cooling wrack and they will be crispy in no time.
intermission: hahaha they are SILLY
Now experiment awaaaaaay.
The natural light was dwindling…better photos tomorrow!
This was the first batch. They were the most wheaty. Not the best, not the worst. They were the closest to the original recipe I used.
A few of you mentioned you liked seeing my messes….. :)
Exhibit A
These were honestly SO easy to make. I whipped up 4 batches in about 1.5-2hrs and that was with a lot of photographing and thinking of different ingredients to try out. They use ONE bowl and ONE pan and using parchment paper is a must to prevent sticking + helps with cleanup. If you haven't ever used parchment paper, you should really try it out.
Batches 1-3 Check out the color differences!!! I LOVE kitchen experiments.
Exhibit B
Anyone see Angela's post yesterday??? Size: HEALTHY!!! These 2 photos were my entry.
I will admit, writing in my jeans was fun and I will probably laugh every time I put them on!
Dinner was a twist on In a Jiffy Spelt Burgers. I used black beans instead of chickpeas and spices like cumin, chili powder, cajun blend, and cayenne. They were pretty tasty, but not worthy of typing out the recipe yet, sorry!! So far, the chickpea version is MUCH better.
Uncooked. Oops, huge chunk of carrot.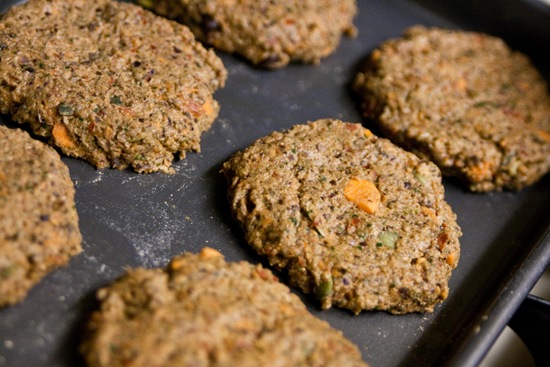 Baked.
Also baked my best fries yet! Fingerling potatoes + olive oil + dried rosemary + oregano + salt/parsley/garlic blend
Since I baked 4 batches of graham crackers and the dough was vegan [no eggs, so it was fair game for chowing] I ate SO much of it. I was taste testing and just munching on the crunchy goodness. They were pretty healthy, but I left the bread out of dinner because I felt like I was FULL of carbs.
Sorry…this looks pretty unappetizing. I ate 1.5 black bean burgs atop this plate of lettuce with mashed avocado + chipotle salsa
Leftover steamed broccoli + fries + ketchup of course
Now let's get back to the baking. Waaay more exciting than black beans. Unless you're making black bean brownies that is. So, instead of listing out 4 recipes, 1 after the other, I figured a table was the best way to show how I varied the 4 trials.
| | | | | |
| --- | --- | --- | --- | --- |
| | Trial 1 | Trial 2 | Trial 3 | Trail 4 |
| whole wheat flour | 1.5c | 1.5c | - | - |
| unbleached white flour | - | - | 1.5c | - |
| whole wheat pastry flour | - | - | - | 1.5c |
| sucanat | 1/3c | 1/4c | 1/4c | 3T |
| baking soda | 1/2t | 1/2t | 1/2t | 1/2t |
| cinnamon | 1/2t | 1.5t | 1.5t | 1.5t |
| salt | 1/2t | 1/4t | 1/4t | 1/4t |
| safflower oil | 1/4c | 2T | 2T | 3T |
| applesauce | | 2T | 2T | 1T |
| molasses | 3T | 2T | 2T | 2T |
| vanilla | 1t | 1t | 1t | 1t |
| unsweetened rice milk | 1/4c | 1/4c | 1/4c | 1/4c |
| maple syrup | - | - | - | 2T |
Analysis:
Trial ONE: These were closest to the original recipe, only varying the type of sugar, upping the molasses by 1T, and type of oil.
Outcome: They needed to be rolled out thinner. The texture was somewhat gritty from the whole wheat flour, but not necessarily in a bad way. They had a good crunch, but something was off. They seemed a bit too oily when I was rolling them out, so maybe I should decrease the oil.
Trial TWO: I thought I would try lowering the sugar and cutting the oil by half and adding applesauce to make up for it. I also took the molasses back down to 2T, like originally called for, but upped the cinnamon from 1/2t to 1.5t.
Outcome: Not good. They were really bland and the texture was affected in a negative way from the decrease in oil and sub in of applesauce. I really couldn't tell that I added more cinnamon.
Trial THREE: I was already done making this batch by the time I got to taste test trial 2. If I would have known about the oil/applesauce problem I would have changed it for this recipe. However, I'm not sure that would have helped. In this recipe I used unbleached all-purpose white flour and kept everything else the same from the previous batch. I also tried to roll these out thinner.
Outcome: They were "okay." The thinner dough helped to get the nice BREAK you normally get with boxed graham crackers. However, the white flour gave it a "too smooth" texture. I liked some of the grit from the whole wheat flour. These were still really bland.
Trial FOUR: In this trial I wanted to try out whole wheat pastry flour [one of my true loves]. I lowered the sucanat from 1/4c to 3T because I was going to try adding 2T of maple syrup for a little flavor ooomph. I upped the oil to 3T and cut the applesauce to 1T. I also tried rolling these thin and baking them longer ~16min for extra crunch.
Outcome: These were, good!? Yes! The texture was by far my favorite. There was still a little grit from the whole wheat but not as much as trial 1+2. I liked it better than the smooth texture of trail 3. The extra 1T of oil definitely helped as did rolling the dough thinner. Gave it more of the real graham cracker feel/taste. This texture most closely resembled boxed grahams. The flavor was better thanks to the maple syrup. However, because I added the maple I had to add about 2T more of flour, which still made them a little "off." While the flavor was better, it still isn't quite right. I don't want them too sweet but I also don't want them bland.
Best to Worst: Trial 4 : Trial 1 : Trial 3 : Trial 2
Conclusions:
I need to experiement more!! Why? I have no idea…but it's fun and a really easy recipe! My dad and I have a special graham cracker bond. I don't know where he got the idea but he would frequently eat graham crackers and milk some nights for a snack. I totally LOVED this as a kid. Yes the grahams get mushy, but it's so so so tasty!! Graham crackers have loooong ingredient lists, even the natural/organic ones. So, this is one recipe I want to be able to make from scratch. I now have a TON of graham crackers…I think I'll freeze them!
I don't want to have to add a lot more sugar but I need to change a few things to get the taste right. Possibly more cinnamon and maybe a hint of a few other spices?
I would love to try making different flavored version…like using coconut oil or peanut butter instead of the safflower oil.
I also might try out the recipe from 101 cookbooks for them. She uses whole milk however, and I really want to make these vegan for some reason!? I already have an idea of what to do for that though.
I smell s'mores in my future…and graham cracker + PB samiches…hehehe
Stay tuned for more graham cracker craziness!! [so exciting….]
Oh, and why am I making a separate training page? Because my posts are long enough I figured it would be better to put all of that info on another page. I might be announcing a training challenge soon too. We'll see!!!
Niiiite ;)
Ashley
p.s. did NKOTB really REMAKE the step by step song?