A little more about last nights dinner. I made these once before and was really impressed with them. I got them from 101 cookbooks and didn't change 1 thing from the recipe, imagine that! Have I mentioned how much I love that website? If not…I LOVE THAT WEBSITE!! :)
Also made super easy + healthy herb crusted baked fries. Chris [kurtz] came over for dinner so there were plenty of extras.
Obviously made kale chips, which Kurtz put ON his burger. Awesome idea. I love crunch in my sandwiches!! I topped my burg with sautéed baby bella mushrooms and pepper-jack cheese. You better believe there was a healthy dose of ketchup with each bite as well.
Warning!! Shopping Excitement: Went to Natural Grocers today, probably my fav. store in Colorado. They are in a few other states out West, so check to see if you have one around you. All of this was $60!! Every single thing is organic, except maybe the dry active yeast…but come on now ;) I actually used to buy my ota.bar ingredients from them and even with shipping, it was still the cheapest method. They have AWESOME prices on their bulk items that they package nicely in 1-2lb bags.
2lbs oat flour, 2lbs coconut flour, bananas, 3 avocados, 5 organes, 1 huge head of broc, 1 head of kale, 2lbs carrots, 1 eggplant, 3 containers of spinach, kamut puff cereal, 1lb white popcorn, 1 box sunshine burgers, 1 cucumber, 1 can butternut squash, dry active yeast….and MORE
2lbs of Organic Oat Flour was like $1.85!
2lbs of Organic Coconut Flour ~$7 [1lb of Bob's Red Mill coconut flour is close to $7!]
I love that ALL of their produce is organic and realllly well priced. So there is no rooting around to find which are the organic apples, etc. LOVE that store :)
If spinach is on sale buy EXTRA pack it into a big plastic bag, squeeze the air out, and freeze. Works perfectly in smoothies + much better than pre-packaged frozen spinach.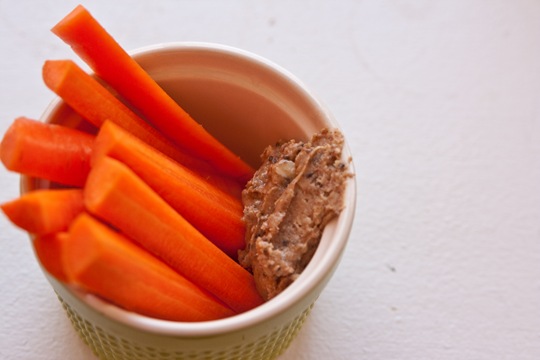 Off to swim!! I got new goggles today and it was SO worth the purchase. The goggles I had before were bruising my nose. They were speedo brand and not very good. They also fogged up like crazy. These were TYR and cost $18. SUCH a huge difference. I also bought a swim cap $10, that I failed to get on my head, lol. I got some tips thanks to a few people on twitter ;)
Had a GREAT 35min swim workout! I'm starting to work sprints in, to up my stamina. Totally in the zone today!
When I got home I wanted to chew my arm off. It was 1:45 and time for LUNCH. The carrot snack held me over well but now I was starvin!
Mocktail time – 1/2 pom/cran juice + 1/2 bubbly water
I cooked up another amazing lentil burger. How much better and more appetizing does this look in daylight?? I topped it with sauteed mushrooms and peppers and avocado.
Made another batch of kale chips and ate 3/4 of a whole head. SO good. Does anyone know if making kale chips, with the oven at 350* completely depletes all of their nutrients?? It's something I've been really curious about.
Obviously there was ketchup added. No brainer.
Okaaay. I've got 3 batches of graham crackers fresh out of the oven! Look for the details on those tomorrow!! Remember my first go at graham crackers? I think I've got it down now!
In other news…make sure to leave a comment for the giveaway! I have been LOVING your comments so far. Very inspiring. Thank you all.
More tomorrow…I'm off to the rock gym with the huz! Then I'm probably paaaassing out. ;)
~Ashley