Buckle in.  Lots of photos + food goodness ahead :) 
Let's start with lucky number 38!
Congrats Jessica!  You won the Clean Food cookbook!!  I will be emailing you shortly!  For the non-winners..I urge you to buy it anyway..it is an amazing source for recipes and REAL + CLEAN food knowledge.  A big thanks to Terry Walters for donating this book to the blog world :)
….
Happpppy St. Patty's Day breakfast, thanks to my parents contribution of Irish Steel Cut Oats.  Holy moly these were delicious.  It's true they do take 30min on the stove to cook, but they don't require too much attention.  So I stood at the stove for the occasional stir while making 3 annoying phone calls.  When I was done, breakfast was ready.  mmmmmm
You cook these at a 3:1 ratio.  3c of water to 1c of oats.  I have plenty of leftovers :)  I layered the oats with banana, Heather's Jam, pnut butter, and granola + cacao bliss on top.  I didn't even add cinnamon which I'm just realizing…that's a first!
The Ireland book is from our wedding.  We used it as our guest sign in book.  I LOVE it.  People wrote awesome messages on any page they wanted. 
Ohhh goodness.  These were creamy + delicious.  I loooved the texture of these oats.  We'll see how they reheat.
Enter –> errands + leftovers lunch + trip to whole foods
Hmmmm…any ideas??  Local delicious milk and very un-local Irish butter.  Kerrygold butter is delicious and did you know it comes from grass-fed cows :)  I don't use butter too often, and it's just one thing I can't give up completely.  mmmm butter…. So I decided to make Irish Brown Bread, which I had never had before.  After seeing it on Kiss My Spatula's blog today, I knew I HAD to make it.  I was planning on making a whole wheat flax bread for homemade week but decided to go a bit more Irish! 
She suggested making buttermilk at home, so I listened.  Whole milk + apple cider vin –> super easy and worked like a charm.  Also, now I don't have half a carton of buttermilk to use up.
Had to grind some oats to go into the bread.  Mini food processors are super affordable and come in handy all of the time.
butt-errrrr
Cut the cold butter into the flour mixture with a pastry cutter.  This recipe may have buttermilk + butter, but it has no sugar.  It also uses stoneground whole wheat flour.  It's one of the only recipes that actually calls for WWF instead of trying to sub it in.
Can you believe I totally followed her recipe?  It was THEE easiest bread to make ever.  No yeast, no waiting to rise.  It takes about 15min to throw together and shape into loaves.  I made 2 mini's instead of 1 large.  I would say they were about 4-5" diameter each.
so.excited.  now the key was to not over-bake them!
I mean…what do you expect…it's St.Paddy's day!  I prefer Murphy's to Guinness.  Chris is all about the Guinness.
Creamy + delicious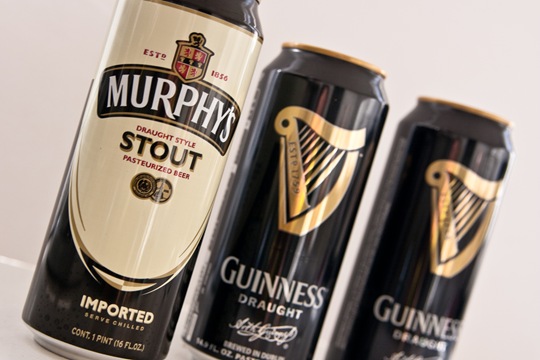 I think I took it out of the oven at THEE perfect moment.  This recipe is complete perfection.  Since I literally changed nothing, I'm not going to post the whole recipe.  I can't stress enough how simple this was to make.
ingredient list: stone ground whole wheat flour, ground oats, baking powder, baking soda, salt, whole milk, apple cider vinegar, butter – seriously, that's it!  Definitely check out the recipe and amazing photography!!
This is going to become a frequent item in our house now.  The outside formed an amazing thick, crunchy crust, while the inside was soft and moist.  It would be good with a slew of toppings…
Bread photo session time…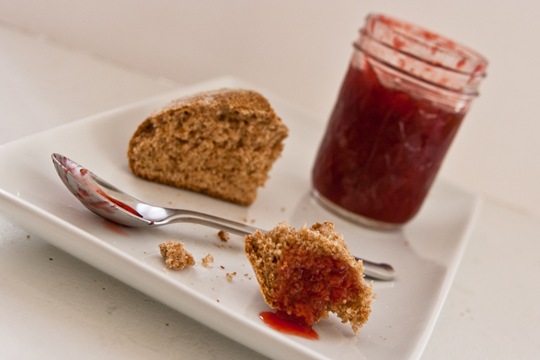 This bread is DANGERously delicious.  For real, I can restrain myself from cookies, but not this bread. 
What else was on the menu tonight?  Vegan shepherd's pie to go with the very non-vegan Irish brown bread :)  I found a recipe but definitely put my own spin on what veggies I used.  No way could you tell this was a vegan recipe. 
I used a leek instead of onion.  I really like the more mellow leek flavor..and it's definitely used a lot in Irish cooking.
One of my favorite kitchen tools that costs about $30.  You can use it for a multitude of things: smoothies, pureeing soups, mashed taters, dressings, salsa, pureeing veggies, etc.
The peeler sliced my finger. 
But then I was happy how well the vegan mashed taters turned out!  And then I poured wine from a box into the veggie pan :) 
There were a LOT of mashed potatoes.  Definitely made more than the recipe called for, because wHY not!?  The veggie layer was soooo good and I almost doubled that as well.  Recipe coming tomorrow!!  I adapted it from this one.
This was staring me down in the kitchen.  Evil evil delicious bread. 
Kurtz came over for dinner again.  His g/f Ann is in Europe, so I'm trying to make sure he's staying well fed!  I bought the boys some sausage.  None for me…tried a bite and I could have done without it. 
Blurry but cute
The best place for a nap is most definitely [NOT!] in the very center of the kitchen. 
It maaaay have overflowed.  bahahaha
I slaved over the stove tonight and am totally exhausted.  Not sure if I'll be doing anything homemade tomorrow or just eating all the leftovers from this week so far!!  I am really loving the granola…I can't decide if my favorite is the "banana coconut" or the "make you go CRUNCH."  I'm going up to Ft.Collins, CO tomorrow to visit my cousin Elizabeth [14yrs old], who is on spring break.  I'm taking her to lunch and not sure what else maybe walk around downtown?  Very excited to see her!  It was 70* today and supposed to be 65* and then SNOW on fri/sat.  Weird CO weather!!
Thanks again for all of the awesome comments on the giveaway post about how you have started to live a healthier life.  Loved reading them all :)  There are so many more things I want to do for homemade week.  I guess I'll just have to extend it and keep trying out fun new things…but not every.single.day.  I have been a mad woman in the kitchen!!
Off to pass out in bed!!!
~Ashley
If you got 1 thing out of this post it's that you NEED to make that Irish Brown Bread…like, NOW!  Oh, and if you're a sucker for looking at wedding photos, check out the latest blog post: Fuse Photographic   Goooodnight!