I didn't get many photos of Jake, except for a few in his high chair because he is now on the go-go-go.  Indoor lighting + quick moving kid = blurriness :)
Cheerios..nom nom nom
These photos are from my Thursday adventure to CO Springs to visit Melissa + Jake while her huz was out of town.  Melissa had the GENius to try and recreate the sandwich we split last week at Gaia Bistro.
Whole Foods has AHmazing ciabatta bread.  MMmmm  We layered up the samiches with:
vine ripened maters
fresh mozz
vegan pesto I made the other day
s+p
little bit of olive oil
We were both st-ar-ving by the time we got back from the store.  What to do if you don't own a panini press?  Improvise! 
GInormous pancake spatula + Melissa's pantry items = make-shift panini press :)  We flipped the samiches once and probably should have let them cook a little longer, but we just couldn't wait!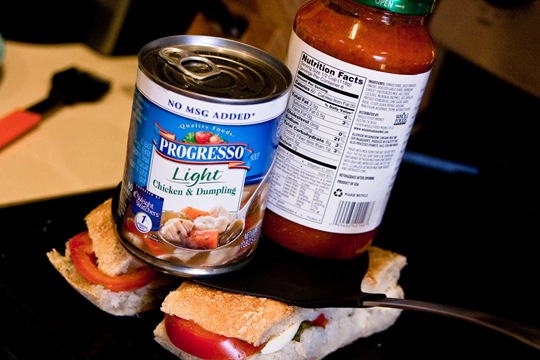 Awesome side salads with my super easy 30sec vinaigrette [olive oil + balsamic vin + lemon squeeze + s/p + garlic powder]
These were insanely delicious.  WHY oh why do I not make them more often????  Melissa loved the pesto! 
Our samiches weren't quite as gooey as what we had at Gaia Bistro, but probably a little bit healthier because of it.  I think they used more pesto, roasted or sundried tomatoes, and more olive oil.  Either way, this lunch hit.the.spot. 
[Photo from yesterday's Earth Day Green Monster]  Many of you have been asking about my new schpoooon + I'm sorry to report I can't find it anywhere to purchase online.  :(  The brand is Rosti Mepal, and I got it at the store Peppercorn in Boulder.  I'll let you know if I find it online!
This morning [Friday] I was up at 7:30 to be in work by 9.  I had a little extra time to spare so I made a TRIple batch of the Roasted Maple Cinnamon Almond Butter.  FYI – If you double or triple the batch it takes quiiiite a bit longer to process into creamy nut butterness.  I was almost late for work! Eeek!  However, I wasn't and I am sooo glad I made more of this. 
My oats were done cooking as soon as the almond butter was done butterizing.  Chris was driving me to work so I got to eat my oats + drink coffee on the way there. 
Creamy egg white oats + Maple Cinn AB + Galaxy Granola = morning perfection
Love the texture + flavor of the AB on oats.  YUM.
I ate this at work for my morning snack.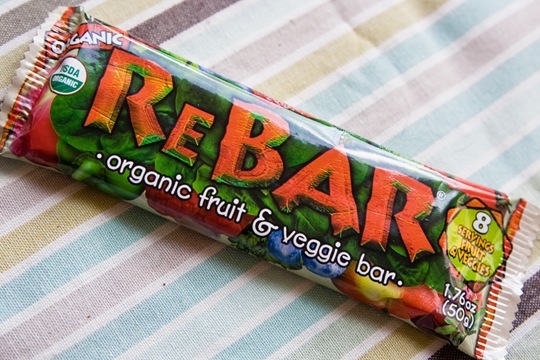 8 servings of fruits + veg??  The ingredients list is all REAL food and they are organic, gluten-free + vegan!  The texture was awesome as was the flavor.  It was similar to a fruit leather and had the texture like soft dried apples or apricots.  It had a natural sweetness to it and definitely did not taste like veggies.  I liked that it was nice + thick too!  mmmm  Want more ReBar info?
I had an AWEsome samich for lunch smeared with my fresh AB + banana.  I also had a pear and a few handfuls of hemp granola.  I savored each + every bite of that sandwich!!!
When I got home I snacked on cottage cheese + kiwi + pineapple and then I cut an apple and loaded it up with MapCinAB and Coconut Pistachio Butter.  Then we headed to the rock gym to boulder with a bunch of our friends. 
Did I mention that we had a short-lived BLIZZARD today???  It's been raining quite a bit [which is awesome, we need it] but it got quite cold and started snowing..Hellloooo it's the END of April!??             
I need a shower + sleep.  Up early for work tomorrow…Chris is headed to the mountains for a powder day with 10 of our friends…no fair!
Niiight!
Ashley
Thanks for all of the great feedback on the protein post!!  I'm glad you enjoyed the information and I'll be getting to the comment soon!