Whenever I travel home, I always get the same question from my mom.  "What food do you want me to have at the house for you?"  This has been going on since I was 18 and living in Columbus, OH.  I cannot believe that has almost been NINE years.  Insane!  Anyway, I thought it would be fun to give my mom and visual shopping list.  Of course, all of these things are not necessary but a few would be nice :)
I took these photos quickly at about 8pm tonight…they are not my best, but you get the idea! hehee  Some are also from older posts.
Shall we start with breakfast? 
You all know about my obsession with Scottish Oats!  I might just bring this bag in my suitcase…it's a must have!  Some of you have been asking for me to explain the difference between all of the oat types and what my top 5 favorite bowls are.  Watch out for that post while I'm home! 
Either iced or hot, I have 1 cup of coffee almost every day.
Frozen fruit, like strawberries, blueberries, bananas, and cherries are always great to have on hand.  You know I love my smoothies!! 
I don't typically eat bagels for breakfast, but sometimes if I'm not in the mood for oats I'm in the mood for a cleverly topped bagel.  If I'm not eating fresh bagels, I prefer this type.
Bagel ideas:
For lunch?
I eat a decent amount of eggs during lunch.  Love my farm freshies!!
If I'm eating something in a wrap I like 365 brand 100% organic whole wheat or the Food For Life sprouted tortillas.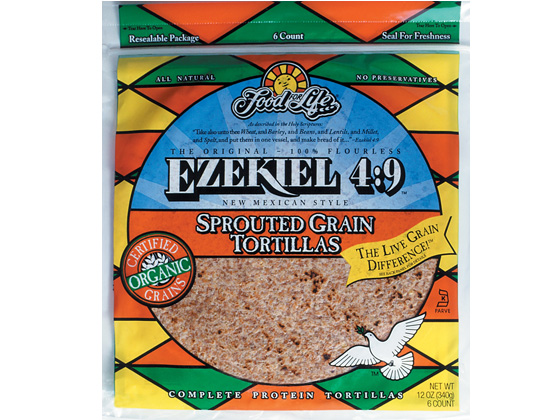 [source]
I eat a lot of veggies for lunch, like:
kale
cucumbers
tomatoes
carrots
peppers
I have been craving a lot of fruit at lunch too, like:
cantaloupe
strawberries
blueberries
watermelon
kiwi
Bananas are a must!
Sometimes I eat a large serving of yogurt with various toppings.
Or 2-4% cottage cheese.  This is my FAVorite brand!!  I have tried a lot of cottage cheese and I like this texture the best.
I don't do too much chip or cracker snacking but if I do I really like the Back To Nature crackers.  I like all of their crackers. 
Of course, Dr. Kracker are pretty delicious as well!!
[source]
A few avocados would be just lovely!!
Dinner?
I eat a salad with almost every dinner.  Organic lettuce is a must.  I like romaine and baby mixed greens the most.  I'm kind of sick of spinach, unless it's in a green smoothie :)
Veggies of course!
portabellas
zucchini
kale
broccoli
asparagus
carrots
Protein options:
Tempeh is a favorite.  Especially in this broccoli tempeh curry dish!
I also cook with beans a LOT.
Millet is my new favorite grain.  I prefer it over quinoa.  I think it fills me up more and I like the sticky texture more! 
If I don't feel like cooking, these are my Sunshine Burgers are my FAVorite veggie burger.  I like all of the varieties I've tried.
For lunch or dinner, sweet taters are delicious!!
Baked or microwaved:
Or, low + slow style…my FAV!
Snacks, drinks, etc.
I'll probably bring some bars, but these are my favorite LB's
I'm bringing a bag of the Love Grown foods Granola to Cleveland with me :)
My favorite Kombucha brand + flavor.  A few of these would be great, especially because I'm feeling sluggish lately with sinus problems.
Essential for workouts!!  I mix half coconut water and half tap water.  Amazing natural boost during workouts!  
Gotta' have a jar of tomato paste!!!
My favorite peanut butter.
If we do any baking, this will be helpful.
I love having plain almonds around.
Dessert?
I don't eat a ton of sweets, especially at night.  If I have a snack I usually crave a bowl of cereal, yogurt, banana "soft serve," fruit, stove popped popcorn, carrots or crackers.
But you know…I could always whip up a batch of chocolate avocado pudding.  I have no problem devouring a bowl of that!!!
Mom, did this help? :)  THANKS in advance!!  I will pay you + dad back by making delicious creations!!
I have a fun recipe to share tue or wed…watch out for it!!
Oh and check out this mornings breakfast!  I was HOT and wanted something crunchy + cold!  Cereal time! 
Love Grown Foods granola
Nature's Path Whole O's
Nature's Path Oaty Bites
Mama Pea's cherry almond granola
…with my FAVorite hemp milk!
The BEST hemp milk, out of 3 or 4 I've tried.
Off to bed!!  I haven't had a good workout since last week.  I did go for a long walk Saturday but I'm hoping to get back to the pool tomorrow.  However, if I'm still dizzy I'll hold off another day.  We'll see!  Also, my quad is starting to feel a lot better! :)
Night!
Ashley 
p.s. I thought you'd want to see this Ahhhdorable photo of Jake at a wedding.  This made me SMILE!!