Yes, that's right.  I'm about to exploit some delicious muffins. 
But first, you must start your day with a hearty breakfast.
Complete with Scottish oats, hemp milk, water, cinnamon, chia seeds and banana.
Topped with blueberries, coconut, walnuts, cacao nibs, and cocoa-coco pnat butter…mmmm
There was also a delicious + healthy lunch today.
HUGE salad.
Topped with:
local organic romaine
tomato
cucumber
fresh basil leaves
1/2 avocado
All dressed up with: hemp oil, balsamic vin, apple cider vin + s/p
So here we go.  After three trials, I'm ready to release this recipe!
Vegan Zucchini Bread Muffins
In my 3rd trial, I realized you don't even need to dirty your mixer!!  You can whisk the wet ingredients and then stir the dry into the wet, with a large spoon.  Sweeeeeeeet.
I like to use a 50/50 mix of grated + ground [in the food processor] zucchini.
No eggs?  No problem.  A little ground flax meal + water will fix things riiiight up!
Dry goods.
Wet + dry all mixed up.  Now stirring in the walnuts + zucch!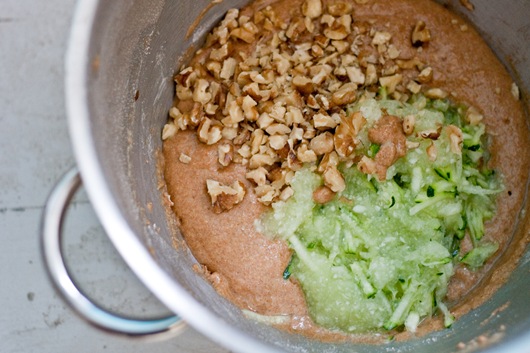 Goooey.
Have fun with your toppings!  This variation used blueberries + pepitas.
While the muffins bake, clean your kitchen!!
I got a little photo happy. :)  This was from 2 days of shooting the different trials. 
The non-blueberry muffins, were topped with banana chunks + almonds.
Using all coconut milk, instead of applesauce, resulted in a texture that was overly smooth.  The texture was off and the coconut flavor came through too much from the coconut milk + oil.  I do not recommend using either in this recipe.
Vegan dark chocolate chips + walnuts.  Whoa.
I liked the idea of topping the muffin with various things instead of mixing it all in the batter.  It allows you to be more creative with 1 batch of muffins.  You could top each one differently if you really wanted!
Did you want a recipe or something?
Okay okay.  Here is a chart showing you the 3 different trials.  Trial #3 was BY FAR the best.  I don't recommend making changes to it :)
| | | | |
| --- | --- | --- | --- |
| Vegan Zucchini Bread | one. | two. | three. |
| whole wheat pastry flour | 1.5c | 1.5c | 1.5c |
| salt | 1/2t | 1/2t | 1/2t |
| baking powder | 1/2t | 1/2t | 1/2t |
| baking soda | 1/2t | 1/2t | 1/2t |
| cinnamon | 1.5t | 1.5t | 2t |
| applesauce [unsweet] | 0 | 1/4c | 1/4c |
| coconut oil | 3T | 0 | 0 |
| safflower oil | 0 | 2T | 2T |
| almond butter | 0 | 0 | 2T |
| sucanat | 1/4c | 1/4c | 1/4c |
| vanilla | 2t | 2t | 2t |
| maple syrup | 0 | 0 | 1/3c |
| brown rice syrup | 1/3c | 1/3c | 0 |
| coconut milk | 1/2c +2T | 1/4c | 0 |
| zucchini | 1c [rounded] | 1c [rounded] | 1c [rounded] |
| walnuts | 1/2c | 1/2c | 1/2c |
| ground flax meal | 3T | 3T | 3T |
| water | 1/4c + 1/2T | 1/4c + 1/2T | 1/4c + 1/2T |
| non-dairy milk | 0 | 0 | 2-4T |
Whole Wheat Zucchini Bread - yields: [12] muffins
1.5c whole wheat pastry flour
1/2t salt
1/2t baking powder
1/2t baking soda
2t cinnamon
1/4c unsweetened applesauce
2T almond butter [smooth or fresh ground, not oily]
1/3c maple syrup [grade B]
2T oil [I use a light oil like Safflower, Sunflower or Grapeseed]
1/4c sucanat *see note below
2t vanilla extract
3T ground flax meal
1/4c + 1/2T water
1c rounded grated and/or ground zucchini [skins on or off, doesn't matter]
1/2c chopped walnuts
2-4T non-dairy milk **see note below
Preheat your oven to 350*
In a small bowl whisk together ground flax meal + water.  Set aside for 5-10min
In a medium bowl, sift together, flour, salt, baking powder, baking soda and cinnamon.
In a large bowl combine applesauce, almond butter, maple syrup, oil, sucanat, vanilla, 2T non-dairy milk, and flax meal mixture. Whisk by hand or with a mixer until well combined.
Stir the dry into the wet [or use a mixer]. Stir until just combined.
Stir in the walnuts + zucchini. Reserve some of the walnuts to sprinkle on top of the muffins before baking, or mix them all in.
If the mixture seems extremely dry, almost like a wet cookie batter, you might need to add in a few Tablespoons of milk. I had to add 2T but I also live in a very dry climate. The batter should be very gooey and thick.
Grease + flour a 12 muffin tin.  [I use a flour + oil spray that Spectrum makes.  It works perfectly!]
Fill muffin tins 2/3 of the way.
If desired, sprinkle more chopped walnuts on top, or other various toppings.
Bake muffins for 18-22min. Toothpick test to be sure. You want the toothpick to be slightly moist.
Let cool for 20-30min in the pan and then turn out onto a cooling rack until completely cool.
To freeze, fully cool, wrap in saran, then foil and then place in a large sealable bag.
*I don't recommend subbing out sucanat for regular sugar in this recipe.  Sucanat is dryer than regular sugar, so it may result in a batter that is too wet.  You can find sucanat at your local natural food store.  They usually have it in the bulk bins and it's cheap!
**2-4Tmilk - Like I mentioned in the directions, you will always add 2T of the milk into the wet mixture.  However, you may or may not need to add a few extra Tablespoons of milk to help moisten the batter. If after adding the zucchini + walnuts, it is hard to stir with a spoon add 1-2T milk.
High Alitutude Directions
Increase oven temp to 375*
Use a pinch less than 1/2t baking powder - 1/4t + 1/8t will work
The extra 2T milk will most likely be necessary.
My muffins took 20min.
And…more photos!
The texture of the 3rd trial was much better.  It was more true to the real deal zucchini bread.
I baked these muffins for a few reasons.  I wanted to health UP the recipe my mom + I used every summer when my dad would pick HUGE zucchinis from our garden.  I wanted to make a vegan version because I like a challenge and because I love eggs.  Huh?  Well, I love eating my farm fresh eggs in their egg state and not hidden in baked goods :)  You would never have any clue that these were vegan or didn't contain eggs.  If you're been scared of vegan baking in the past, I urge you to give this recipe a shot.
If you're still not sure, there will be a non-vegan version up on Teri's blog soon.  I just finished a guest post for her that will give more background in to why this recipe is so special to me and reminds me of summer.  I'll let you know when it's up!
I also baked them to use for a special photo shoot for someone's header!!
In other news, I was spotted today, on a website called, "Fine Cooking, we bring out the cook in you."  Evan, who wrote the article, tweeted about it earlier today :)
Also, did you see Jessica's banana split on the Foobuzz Top 9 today??  I didn't get selected, but am so glad one of my best blog friends did!  Congrats girl!
Swim workout:
50m legs only [with kickboard]
50m arms only [with buoy]
1375m freestyle – 55 lengths – sprinting at 90% max effort every 5th length
75m cool down
Plus a 1.5m roundtrip walk to the gym!
Off to play a little Wii + then pass out!
~Ashley