Morning!  Just wanted to do a quick post and tell you about the BEST banana scramble I have made to date.  AND you should probably make it for your Sunday morning breakfast.
Why didn't I top these with fresh fruit before?
Whoa. Delicious.
Chocolate Pnut Butter Banana Scramble
3/4 banana
3T rolled oats
1/2T chia seeds
1T shredded unsweetened coconut
2T milk
1/2t cinnamon
1T pnut butter
1T dark chocolate chips
splash of vanilla
Mash everything together.
Heat + grease a pan over medium heat.
Plop into pan and flatten a little.  Heat on 1 side for 3-5min, until browned. 
Flip to other side [or mash around] and cook for another 3+ minutes.
Top with fresh berries, jelly or more nut butter.  The little bit of chocolate was amazing in this.  Nice + melty.  Kelsey and I both looooved it!  It was super filling too on the Ezekiel sprouted grain muffin!  Yum.
Night 2 at Red Rocks.  It was another gorgeous night…nice and cool out.
Plus a gorgeous sky.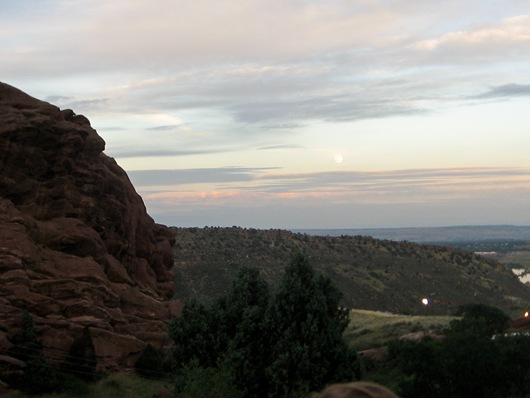 People jumping out of planes overhead at the beginning of the show.
Full moon.
People falling from the sky at night with flames coming out of their feet!  It was pretty amazing, right over head.
But scary!
I'm off to bed! 
Regular overly-lengthy posting will resume in a few days! :)
~Ashley