Did you miss day one?  Check out part 1 + 2 to get caught up!
First, an overview of Day 2.
Today was easier to pass on the coffee.  I'll be staying away from the decaf, as a reader informed me it does still have some caffeine.  I will however be drinking max. 1 serving of green tea per day as I've read many benefits of including this in a healthy detox.
As I mentioned in post 2, I will be adding a sprinkling of salt here and there, as it is necessary to have some salt in our diet each day.  I will be staying under 1/4t [575mg] per day.  The recommended daily value is 2400mg, ~1tsp.
Yesterday, I stirred around in the kitchen, numerous times craving bread + sweets.  Today, it has already greatly diminished.  I was shocked! 
I consumed much less fruit today, and had more savory snacks.
I drank less water and wasn't as thirsty, but still got in enough.
Still felt bloated around the same time of the evening, but felt great morning + afternoon.
I have not gotten a caffeine withdrawal headache at all!  I only drank 1 average size mug of coffee per day, but I thought it would make me feel worse cutting it out.  I still miss it's comforting taste in the morning though!
I was able to gag down 3/4 mug of the detox tea today and again, I felt great afterwards.
I'm having SO much fun in the kitchen.
I only got 6.5hrs of sleep last night, so I dragged a bit today.  I'm not sure it was from the detox.  It didn't seem like anything unusual and I'm feeling great tonight [energy wise].
Breakfast was tasty but a tad bland.  I'm going to try a green smoothie tomorrow morning to change things up, if I can bear the coldness!! It's been freeeezing here.  Literally, like 0-10*!  Definitely making up for our extremely warm December. 
Did you know it snowed in 49 out of 50 states yesterday!?  Guess which one didn't get snow!
In the mix:
3T Bob's Red Mill high fiber cereal
3T rolled oats
1T ground flax meal
1/2c water
3/4c unsweetened almond butter unsweetened almond milk [whoa, I was tired when typing this!]
1/2 banana
splash of vanilla
1t cinnamon
Topped with:
This definitely was more filling than the quinoa flakes from yesterday.
This morning I got up early and took Chris to work, so I could have the car to drive to the pool.  It was waaaay to cold for him to take the scooter to work.  I'm just mentioning this because I made this bowl quickly in the morning and took it to-go in the car.  It required about 8min of my morning time.  Very doable!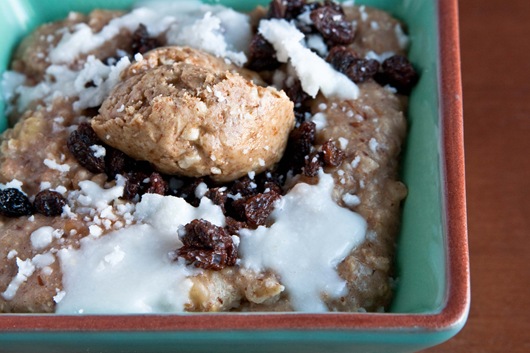 Once I got to the pool, I was feeling a bit tired.  Once I get through the first 15 laps or so, I always feel so much better and today was no different.
In the pool:
100m kickboard warm up
250m freestyle
stretch out arms + legs – this helps immensely
250m freestyle
250m breast stroke
500m freestyle
250m breast stroke
250m freestyle
50m kickboard cool down
total length: 1.18miles, in 50min
Lunch was tasty, but not as good as yesterday!!
HUGE jass salad contents: [fyi, this bowl is 10" wide and 2-3" deep]
2 stalks rainbow chard, torn
2 large handfuls of spinach
5 button mushrooms
1 large carrot
~2T pepitas
~1/2c black eyed peas
~1/2c millet, cooked plain in water [leftover from yesterday]
The beans + millet went on first, so it's hard to see it all! :)
2 pieces of garbanzo bread/cake on the side.  I love this!!  However, Chris was not the biggest fan.  He didn't like the flavor too much.  I was actually really surprised because he loves all of the ingredients that were in it.  I will happily eat it all by myself!  I could definitely see making this, without the curry, and eating it with maple syrup in the morning.  Yum!
I also dumped on some of the salt-free smoked paprika "cheese" that I made yesterday.  I made a dressing [not recipe ready] with 1/4 avocado, lime, pepper, balsamic and a few other things.
This was packed with protein + healthy fats.  It left me feeling great afterwards!  Loved that I could still have a "bread" component to the meal. 
I didn't photograph my snacks, but they were as follows:
2 large carrots + scoop of raw almond butter
handful of walnuts, ~1/4c + 5 apricots
another piece of the chickpea bake
1c of Japanese green sencha tea
detox tea
2 clementines, to help choke down the detox tea
Like I said, much less fruit today.  I wasn't craving sweets nearly as much today as you can clearly see from my list of snacks compared to Monday's.  It's 11pm right now, and again, I'm not the slightest bit hungry from dinner.  So very odd for me! 
The tea was just as bad as yesterday. :)
This brings me to dinner, which was one of the best meals I've made in awhile!  Chris loved it as well.  If you're wondering, Chris is not detoxing, but still eating most of what I'm eating with a few add-ons.  For instance, with yesterday's dinner, I cooked tempeh for him on the side.
As you know, I'm quite obsessed with kale.  I picked up a curly kale + dino kale [pictured below] today.  Vegetarian Times had a huge spread on kale this month.  I'm always up for new recipe ideas with one of my favorite veggies!
They had a recipe for kale pecan pesto, that had me intrigued.  Tonight, I made it detox friendly.  I really didn't think it was going to turn out very well, but oh my, was it delicious!  Love when that happens!
Recipes will be coming in a 2nd Tuesday post, so hang tight!  Along with recipes, I'll be posting information on swimming.  Many of you have asked for more information on swimming, so I'm going to give an overview with what I know, and links to other great resources.
Because I wasn't sure the pesto was going to turn out, I made a red sauce as well.  My typical go-to pasta sauce can be found here.  It's very adaptable, and works every time.  However, typically I add in sucanat + salt.  Tonight, I left them both out and added something extremely odd.  Apple cider vinegar!  I'm not sure what made me add it in, but it really helped bring it all together.  It didn't taste the slightest bit vinegary in the end.
I love chunky tomato sauce, but you could definitely puree this too!
I tried out Lundberg's organic brown rice penne pasta and we both really enjoyed it.  I buy Lundberg products, whenever possible, because they are guaranteed GMO and Monsanto free! 
I've tried other gluten free pastas in the past, that I didn't like nearly as much.  It didn't fall apart at all, or have any type of weird flavor or texture.  It was doughy + smooth.  I would definitely make it again!  Each serving had 4g fiber + 4g protein.
I saved a few stems of the kale, and mixed them in raw with the hot pasta.  The pasta wilted it slightly, which I loved.  I ended up using around 3-4T of the pesto and about 1 cup of the tomato sauce. 
More was added after the photos.  It was a delicious saucy mess!
The only thing that had salt was the pesto.  I only added a pinch..no more than 1/8t in the whole batch.  Chris loves salt and didn't feel the need to add it to this meal at all.  The double sauce ended up being a great combo.
I'm headed out bright + early to Boulder tomorrow morning.  Laura + I are getting together for a get-work-done day.  Also meeting my sis in law, Natalie, and friend Lauren, for lunch at Whole Foods.  I'm hoping to find some delicious, detox friendly eats! 
Night!
Ashley