I'll admit, I've been craving chocolate.
It might not help that I'm detoxing during my time of the month [sorry Dad]. 
That brings me to curbing my cravings with breakfast.  Or at least trying to!
Chocolate Scottish Oats!  They look a bit more delicious than they actually were.  I got a little heavy handed with the cocoa powder, and since I'm not using any sweeteners, it was a little bland.  Definitely not terrible though and saved with the coconut butter + peanut butter.
I made a BIG bowl this am:
1/2c Scottish Oats [ground steel cut oats]
1c almond milk
3/4c water
1t cinnamon
2T cocoa powder
vanilla
You better believe I ate every last bite. :)
In between breakfast and lunch, I got one huge thing crossed off my to-do list.  I updated my recipes page!  It was long overdo…like since August.  My recipes are a bit out of control, and I even weeded some out.  I'm hoping to have it better organized when I redesign the blog.
For part of lunch I made a juice consistency smoothie. 
It contained:
amazing grass vanilla chai powder
coconut milk
vanilla
3 clementines
1/2 banana
The rest of lunch was simple + tasty. 
spinach salad with balsamic/apple cider vin/olive oil + pepitas
2 pieces of the chickpea curry bake
2 scrambled eggs
After lunch I made a new version of the chickpea bake.  I'll be posting photos + the recipe for Saturday's post. 
I made a chocolate coconut version that turned out quite tasty!  It's not sweet at all, but I still love it.  Definitely not something everyone would like.  Also, these chickpea bakes are actually called "socca."  The twins, over at Pure 2 Raw, have a whole page dedicated to socca recipes.  They look amazing!
My sis-in-law picked up these 2 bags of farro for me from Costco.  Too bad I can't eat it right now!!  Farro is a form of wheat…dang!
When I was in Boulder yesterday, a friend that I met through Laura, dropped off a dozen fresh eggs for me.  Amazing!!
He has a number of chickens and also keeps bees.  Two things I love!  I am a huuuge fan of eggs. 
These eggs are gorgeous!
I got creative with dinner tonight and had so much fun making it!  I started of by soaking + boiling beans.  Then I made a Mexican spiced wild rice. 
For 1c of wild rice I added:
2c water
black pepper
2t cumin
1t chili powder
1/2t coriander
1t garlic
1T oil
I brought everything to a boil, stirred once, covered + simmered for 45min.  Then I took it off the heat and kept it covered for 10min, then fluffed with a fork.  Rice perfection!  Wild rice has such great texture.  A little crunchy and a little chewy!
I really haven't missed cheese or any dairy at all, but wanted to whip of some Nacho Cashew Cheeze.  I've made this in the past from a recipe, but wanted to see if I could throw a few things together and have it turn out.  It totally worked!  No cashew soaking required either and this seriously tastes like nacho cheese.
Quick Nacho Cheeze Sauce [yields ~1c]
3/4c raw cashews
3T nutritional yeast
1/2c water
1 medium bell pepper [frozen works]
1t chili powder
1/2t cumin
1/2t garlic
pinch or 2 of smoked paprika
pinch of cayenne pepper [optional]
pinch of salt
Add water to the blender, then all other ingredients.
Blend until smooth, adding more water if necessary, until desired consistency is reached. 
Definitely ate quite a bit of this right off the spoon.  Healthy cheese??  YES!  Love it!!!
As you may have noticed, I've been loving chard lately.  The crunch is awesome, and it doesn't have to strong of an earthy flavor.  I actually prefer the flavor raw, over cooked. 
It still baffles me that these intense, bright colors grow out of the earth!
Here is where I had some fun and where things got messy.  I wrapped up little rice + bean burritos in the huge leaves. 
The chard added such a lovely crunch to the meal.  Almost like chips!  Almost… ;)
Avocado + lime on the side with nacho cheeze drizzled all over the top.  This dinner was fabulous!
It was also messy, to make + eat.  I had a a bowl of rice + beans on the side as well.
YUM.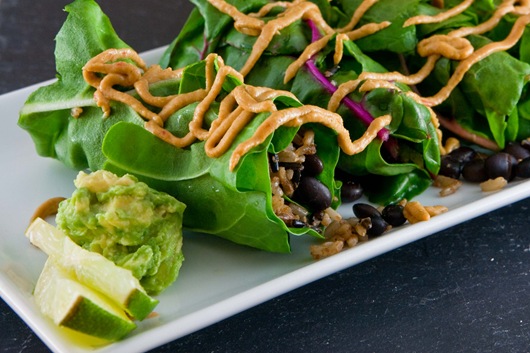 And now for my daily overview:
Detox Day FOUR
It was even easier to not have coffee today.  I'm not having any problems feeling sleepy in the morning and no caffeine withdrawal issues.
The lemon water really keeps things moving.  Seriously.
Definitely need to switch up breakfast tomorrow.
Was productive all day, but felt tired from 3-4.  I decided to drink the nasty detox tea around 4:15 and then get outside to walk the dogs, for some fresh air.  The tea completely reenergized me, as did the walk.  It may be nasty, but it's made me feel noticeably better when I start to feel sluggish.
Rode my bike on the indoor trainer and felt great.
I was craving sweets + chocolate more intensely today, but got my mind off it with other snacks.  Snacks were the same as usual, but I wasn't quite as snacky today.  Although, a nice hunk of chocolate would be fabulous. ;)
Bloating has gone down even more from yesterday.
No headaches or any other weird things to mention.
I feel healthier/cleaner, if that makes sense.
My skin is much softer in the past two days.  Thank you dry brushing.
Time to crash into bed.  I was go-go-go today!
Happy Friday!!
<3 Ash
In case you want some quick links to catch up!