Breakfast:
I'm still going strong with the no coffee and feeling great in the morning!  I would say I don't even miss it now, but definitely will bring it back sometime in the next few weeks.  My plan is to drink it every other day, instead of everyday and/or vary the times I drink it so I don't feel dependent on that morning cup o' joe!
I've been drinking tea the past few mornings brewed with 1/2 water + 1/2 unsweetened almond milk.  I'm loving it!!  My current favorite morning tea is Cinnamon Vanilla, that can be found at Trader Joes.  I stocked up when I was home in Cleveland!
I used the Bob's Red Mill, gluten free, Mighty Tasty Hot Cereal.  It's ingredient list is as follows: brown rice, corn, sweet white sorghum, buckwheat
I like it, but it's not my favorite.  I'll use up this bag for now though!  I was out of bananas today, which also could have been part of the problem.  It really helps sweeten things up a bit!  This cereal has a nice texture, with a bit of crunch. 
In the mix:
1/4c rounded [1/4c suggested serving size]
1c water
3/4c unsweetened almond milk
1T chia seeds
1/2c frozen blueberries
1t cinnamon
vanilla
Topped with:
The chia seeds really increased the volume of this breakfast.  It was a huge serving for only using a little over 1/4c!
It held me over for about 3 hours, before chomping on snack #1.
Lunch:
An egg.
2 large carrots.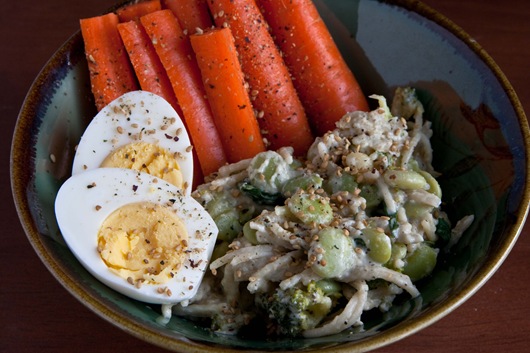 With a good shaking of our new favorite topping!!  This is a little bit salty, a little bit nutty, with a slight taste of the sea [in a good way!].  We first had this at a local restaurant, Tasty Harmony.  I had never heard of it before, but it's a great sub for salt.  This does contain some salt, but much less.
1t salt = 2300mg sodium
1t Gomasio = 80mg sodium!!  Way less!  And, it is quite a large jar [much bigger than normal spice jar] that cost $2.50.  Not bad!
Dinner:
I've been meaning to use these golden split peas for awhile now, but finally got to it.  It was my first time ever using yellow split peas.  I referenced the Clean Food cookbook, which I love.
It's centered around clean, energizing vegan eating.  I've made a bunch of recipes from it over the past year and loved them all.  This recipe was for Golden Split Pea Soup.  It was such a simple recipe.  The only seasonings were salt, pepper, dry mustard, and a sage leaf.  Of course there was onion, garlic, celery, carrots, and a potato as well.  It didn't even call for veggie broth, just water!
The soup has an awesome texture and simple, comforting flavor. 
This is loaded with protein + fiber and only 1/2t of salt total!  Crazy, right?
And now for the exciting giveaway. 
Yogadownload was kind enough to offer a free, 30-day trial membership to their website, for myself and 1 lucky reader!!  I've been using yogadownload for a year now and just love it.  Here is what YD has to say!
Serving as your personal online yoga studio, open 24 hours/day, Yoga Download provides yoga classes of all levels and lengths that are accessible, affordable and portable—from 20 minute flows to 60 minute intensives that are catered to your personal needs (yoga for buns, anyone?).  With options to download audio-only, video, and slide shows of top quality yoga classes, meditations, music and other fitness workouts directly to your iPod, mp3 player, computer or mobile device—Yoga Download allows you to focus on your practice as often as you like, where you like and with who you like.  It's the closest thing to being in a live yoga class, without all the sweaty savasaners.
I have only tried 3 downloads this past year. 
Yoga for Cyclists - 20min
Hip Opening Flow – 30min
8 Minute Abs – 8min
It's amazing how good I feel after a quick 20min session.  I can't wait to try out more downloads and will let you know when I do.  If you're new to yogadownload and new to yoga in general, make sure you look at the class details.  Some are not video, but only audio.  I actually don't mind this, but if you need to watch an instructor, it's just something to look for!
There is only 1 way to enter and since I don't like dragging out giveaways, the deadline to enter is Thursday, January 20th at Noon – MST.
Leave a comment in this post, telling me 1 thing you're proud of yourself for, since the new year!
I'll go first!  I've been really proud of myself for keeping calm in situations that would normally stress me out.  I've surprised myself on a number of occasions already!  Yoga + exercise have helped, along with my dietary changes.  I feel refreshed and more at ease!
<3 Ashley