It may be orange.
But it's not pumpkin!
And it's not sweet.
We're going savory today.
Butternut squash, may just be my favorite, out of the squash family.  It seems the most versatile.  Very similar to pumpkin, acorn and kabocha, but different all at the same time.  Butternut squash stands up better to roasting.  It's texture is more like a creamy sweet potato and doesn't get quite as limp when roasted.
It's also much smoother.  Seriously!  Butternut squash puree is silkier than pumpkin puree.  It's just a fact.  If you're making pumpkin spice smoothies, you need to pause, put the can of pumpkin down, and pick up a can of butternut squash.  The butternut squash smoothie, inspired by Gena, is probably my favorite of all time.  If a smoothie were ever going to be called luscious, this would be the one.  It's the thickest, creamiest smoothie, you will ever gulp down.
And now I'll stop gushing about my love for this veg.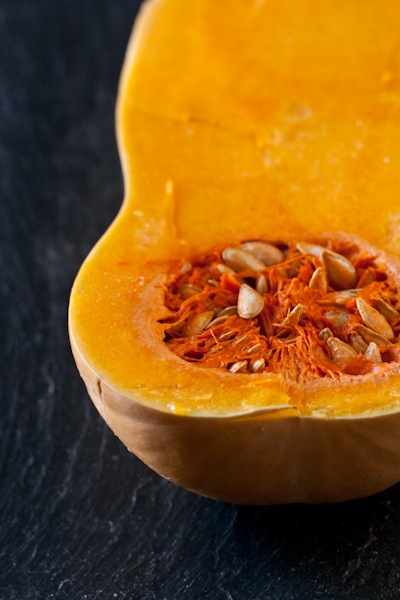 I always seem to have a heck of a time cutting this squash.  It's bulbous and just plain awkward.  Today, I peeled the outside.  And luckily didn't lose a finger.  I have the world's sharpest vegetable peeler! 
It took a few minutes to get down to the good stuff. 
3 minutes of peeling is definitely worth your time.
In about 45min you're rewarded with what you see below.
Liquid gold.
I cannot tell you how many "taste testing" spoons dipped into the pot today.  Or, how many finger swipes were licked from the photo prop bowls.  I do know however, I'm currently out of spoons.  Big + small.  That's over 16 spoons in 2 days, between 3 recipes, and only 1 was used by Chris.
Have I seriously not talked about the contents of the soup yet? 
I'll just let the recipe do the talking.
Curry Spiced Butternut Squash Soup [serves 4-6, vegan/gf]
8c cubed butternut squash [not 8c pureed]
1med onion, diced
1T +1t garlic, minced
2T sunflower oil
6c veggie broth
1T curry powder
1/2t turmeric
1/2t ground ginger
2t sucanat
1/4-3/4t garam masala [spicy!]
1/4c full fat coconut milk [opt]
salt to taste
In a large pot, over medium/med-low heat, add the oil.
Dice the onion and add it to the pot for about 5-8min, stirring frequently, until soft and lightly golden in color. 
Peel + chop butternut squash.  Buy a 3-3.5lb squash.
Add all spices + garlic to the pot and stir for 30 seconds.
Add in butternut squash, broth + sucanat, then stir to combine and bring to a boil covered, over medium heat.
Reduce heat to simmer for 30min.
Puree [carefully!] until smooth, with an immersion blender, food processor, stand blender, etc.
Pour back into the pot and simmer for 10min. 
Taste + add salt or more garam masala if desired.
Top each bowl with a dollop of coconut milk or stir 1/4c into the whole pot.  This is optional and you can also use 1/2 + 1/2 instead.
*You can sub sweet potatoes, kabocha, or pumpkin instead of butternut squash.
Feel free to add a helping of chickpeas to bump up the protein and add a little chew.
Or, add creamy coconut quinoa instead. [melt 1T coconut oil in a pot over med. heat – rinse 1c quinoa and toast in the pot for 2-3min, stirring frequently – add 1.5c water + .5c coconut milk – bring to a boil – stir once, cover and reduce heat to simmer – cook 15min – take off heat and let sit for 10min – fluff with fork = perfect quinoa]  The coconut flavor is very light, it more just adds a rich, creaminess. 
Or, add both.
It's up to you!
If you guessed that I added both, you know me too well.
Cheers to kitchen experiments.
And cheers to orange food!
Ashley