Time for a little Wednesday guest post action, from the lovely Teri.  Today she is sharing a simple + quick weeknight seafood meal.  Teri is the queen of cooking seafood!  Her blog always has something fresh + new to share, whether it's her latest workout, a dessert treat, pics of her precious pup, or her latest hairstyle.  She also rocks out in the Vibram Five Fingers!  Teri and I have become close friends over the past two years, and I'm thrilled she has decided to share a bit of her awesomeness on The Edible Perspective today.  I cannot wait to reunite with her in San Francisco, for the Foodbuzz festival, next week!
Hi everyone! I'm Teri from A Foodie Stays Fit where I blog about running in Vibram FiveFingers, enjoying fresh and healthy food, baking and eating sometimes-healthy/sometimes-not desserts, spoiling my boxer dog Maizey (she is long lost friends with Dakota), and share my fashion and hairstyle adventures.
Tonight, I'm here to share one of my favorite weeknight dinners. It's easy, requires very few ingredients and takes very little time to make. But it's healthy and makes a Tuesday night feel like a Friday night. What is it, you ask? SEAFOOD!
But seafood is hard and complicated to make! False. ;) It's one of the fastest and easiest things to prepare. I don't eat a lot of meat - chicken, beef, pork, not really my style. But fish is easy on my digestive system and it's loaded with protein. One of my seafood standbys has always been salmon - Blackened Salmon is one of my very favorite weeknight meals.
But lately, I've gotten hooked on scallops. Scallops are tricky only because it takes a little practice to get the timing just right. But with a keen eye, a hot pan, and a little olive oil, you can have scallops ready in about 7 minutes.
Pan Seared Scallops with Sauteed Chard & Mushrooms
[makes 2 servings]
6-8 oz sea scallops (I like the medium sized scallops. I find they are easier to not screw up.)
olive oil
garlic olive oil (optional) - I have the Garlic Gold brand
salt & pepper
6-8 large leaves chard, chopped (remove the colored stem if desired. I like to keep it in.)
10 crimini mushrooms, sliced
1. Preheat two sauté pans over medium-high heat. Add 1 teaspoon of plain olive oil to one pan only. Leave the other pan dry.

2. When the pan with the olive is hot, add the chard and mushrooms. Cook for 2 minutes, stirring occasionally. Add salt and pepper to taste.
3. The other pan should be very hot now. Have your scallops ready to go. Add 1 teaspoon plain olive oil and 1 t garlic olive oil, if using. (Otherwise, use just 2 teaspoons plain olive oil). Swirl the oil in the pan, then add the scallops in a single layer. Make sure they are not stacked. Sprinkle salt and pepper on top.
4. Continue to stir the chard and mushrooms while the scallops cook. Do not turn the scallops until they have a nice crust on the bottom and are seared golden brown. It should take 2-4 minutes. Gently flip the scallops to brown the other side for 2-4 minutes.
5. Keep a close eye on the scallops and as soon as they stop looking translucent, remove them from the heat. This will keep them from overcooking and becoming rubbery. It's better to err on the side of undercooking than overcooking, I promise!
6. The chard and mushrooms should finish cooking around the same time as the scallops. Remove everything to a plate and serve with your favorite bread. I'm currently hooked on the four cheese bread from Whole Foods.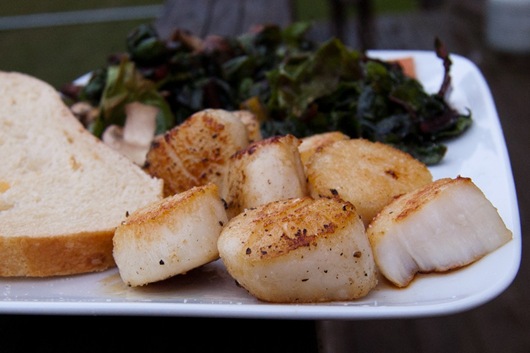 7. Enjoy with a glass of white wine to really fancy it up. Or if you want to keep it casual for your sitcom watching, hard cider always works well.
Enjoy! For more easy recipes, visit my blog A Foodie Stays Fit and check out the Recipes tab.
[Thanks Ashley for letting me visit your blog!]
No Teri….thank YOU!!