By the looks of the comments, it seems no one exhausted their sweet tooth on Monday.  Congrats!  However, prepare to be sweeted out by these.  This is by far, one of the most sugary treats you will find on this blog. 
Precisely why I made them mini sized.  One of these little guys will do me in.  But that doesn't make me stop at just one.
Forget the bars.  Forget the mess of cutting.  Just make these.  You'll end up saving time and they look so cute.
And who can deny cute food, especially involving peanut butter + chocolate?
Truth be told, I was never the biggest Reese's Cup lover.  Give me chocolate.  Give me peanut butter, but if I want something sandwiched together, there better also be caramel in the middle.
I would have gladly traded a Reese's Cup for a Milky Way, box of Milk Duds or a Kit Kat.  And was it just me, or were Reese's Cups always greasy?  Who wants greasy chocolate?
This recipe is free of grease, and bring a little more pizzazz than the traditional Halloween treat. 
The sea salt really takes things to the next level.  Also, the brown rice cereal I snuck inside.  Love that texture.  And why not top it off with more chocolate?  I bought a scoop of naturally colored m&m-type-chocolates in the bulk bins, from Whole Foods, specifically for this purpose.  For the vegan version, I plopped a few dry roasted/unsalted peanuts on top.  No lack of crunch here!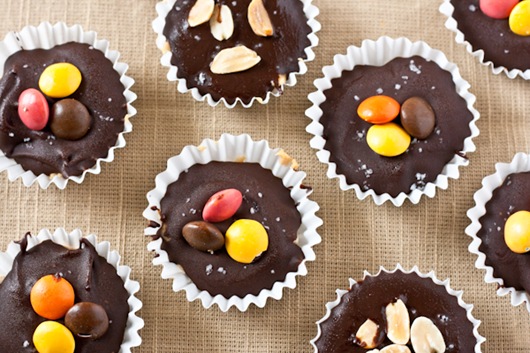 Peanut Butter Crunch Cups [makes 24 mini cups] gf + vegan
2c chocolate chips
2T unrefined coconut oil [opt]
appx. 1/2c crispy brown rice cereal
1/2c creamy peanut butter
1/4c powdered sugar
1/4t fine grain sea salt [opt]
large sea salt/chocolate candy/peanuts
Line a mini muffin pan.
In a microwave safe bowl [or using a double boiler on the stove], microwave the chocolate + coconut oil for 30sec increments, stirring after each 30 seconds, until smooth.
Spoon a small amount [about 3/4tsp] into the bottom of each cup + sprinkle with about 1/2-1tsp of cereal on top.  Lightly press into the chocolate.
Place on a flat shelf in your freezer for 15 minutes.
In a bowl, stir the peanut butter, powdered sugar, and salt together with a fork until combined + smooth. 
Add 1t of the peanut butter mixture to each mini cup, keeping it centered.  No need to spread.
Top each cup with about 1 1/4tsp of melted chocolate to cover the peanut butter.  I lightly spread the chocolate around with a spoon.
Top with a sprinkle of sea salt, peanuts, chocolate candy, or whatever else you like.
Let set in the fridge or freezer and store in a sealed container.
*If your peanut butter is salted, you may want to leave out the 1/4t salt.  Mix together the powdered sugar + salt, taste, and decide if you want to add more.
*The coconut oil leaves a slight coconut taste, helps the chocolate thin out a bit, and have a smoother consistency.  If you don't have it, omit.  Do not sub another oil.
*If using natural peanut butter, that can sometimes be oily, you may need to use 2T extra powdered sugar to stiffen a bit more.
Imperfectly perfect.
I just realized something.  I'm on vacation.  Cue the excitement!!  First stop, visiting my good friend Ginette at Berkeley.  We were in grad school together, for Architecture, and rarely get the chance to see one another.  Friday starts the Foodbuzz festival festivities, where I cannot wait to be reunited with old friends + meet new faces as well.  Here's hoping time can slow down from now until Sunday.
The only thing missing?
Chris!
…and the peanut butter cups stowed in my suitcase.
Update! 
Here was the scene when I woke up Wednesday morning.  Snowstorm round 2!  By 1pm, it was sunny as could be and already half melted.  Crazy.
Picked up this book at the airport.  So far, so good, but I'm only about 30 pages in.  I'll try to remember to give a little review of it when I'm done reading.  Definitely finding it very relatable.
I made it safe + sound to Ginette's adorable studio apartment, and we talked each other's ears off all night long.  Dinner was veggie sushi + then beers at a cozy local bar.  We passed by Chez Panisse on the way to dinner, which I was in awe of.  Alice Waters + her restaurant, Chez Panisse, was a huge influencing factor in discovering my passion for food.  It was quite the moment for me. :)
And now I'm at a little coffee shop, doing a quick email catch up + waiting for Ginette to be done teaching for the morning.
See you again soon!
Ashley