This recipe has been on my mind since making pumpkin cream cereal, a few months ago.  And actually, I haven't made popped amaranth since that day.  Which makes absolutely no sense!  It's one of my favorite things to chomp on for breakfast.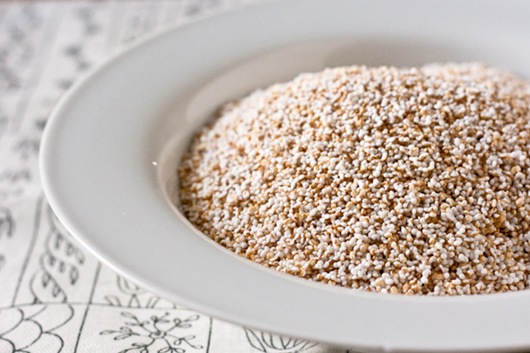 You would think with how light and fluffy it is, that it wouldn't be too filling.  However, that is not even close to the truth.  I'm still surprised by how filling this awesome little grain/seed is!  The only way I enjoy amaranth, is in popped form for cereal.  I'm not a fan of the cooked grain at all.  The flavor is too strong and it seems to always turn gummy.
Besides this stuff tasting great + being fun to eat, it's nutritionally packed.
In the 1/3c [pre popped] serving above, you have 240 cals, 9g protein, 6g fiber, 27% iron + 10% calcium.
And molasses?  1 Tablespoon has 20% of your daily iron AND calcium.
I must say, this keeps me full longer than a bowl of oats with similar calorie content.  Not sure what the difference is!
I could have just slurped the milk right out of the blender!  This would be a great smoothie recipe with a little more thickness to it.  Just add protein powder, chia seeds, flax, banana, etc. to achieve a thicker consistency.
This blows boxed cereal straight to the curb!
Now to randomly interrupt this post, a few more workout related things.  Two new plans I'm currently researching are, Tone It Up and Jamie Eason's Livefit Trainer.  The only thing about the Livefit training program is that I no longer have access to a gym, which make this plan much more convenient.  I'll have to research modifications or at-home ideas for some of the exercises.  However, we just realized we have to give our gym 30 days of notice before canceling.  Oops.  Guess I have 30 days to get some use out of it!
The great thing about both of these plans, is that they are FREE and don't require an hour in front of the TV.
Now back to this overflowing bowl of creamy, crunch!
Molasses Cream Cereal
1/3c raw amaranth
1 – 1 1/4c unsweetened almond milk
1/2c pumpkin puree
1T molasses
1t honey
3/4t cinnamon
1/4t ginger
1/4t vanilla extract
pinch of cloves/nutmeg
toppings – nuts/bananas/dried fruit/coconut/apples/pears/etc.
Follow these directions for popping amaranth.  [should only take about 5 minutes]
Whisk/blend milk, pumpkin, molasses, honey, cinnamon, ginger, vanilla, cloves, and nutmeg together until smooth.
Top amaranth with nuts/dried fruit + pour on creamy milk mixture.
tips/substitutions:  Feel free to use any type of milk.  Other great add-ins to the milk are: 1 scoop protein powder, 1/2 banana, 1T chia seeds, 1T flax, 1T nut butter.  Feel free to sub 1/2 banana for the pumpkin if you choose.  The consistency of my mixture with 1c almond milk was creamy + thick, but not smoothie-thick.  Add more milk to reach your desired consistency.
A little behind the scenes action for you!  I went handheld today because I was feeling tripod-lazy.  Happens sometimes!
The nutrition facts below are calculated using 1 1/4c milk and all other ingredients listed above, but does not include the toppings.  Add a handful of nuts for an extremely satisfying + filling breakfast! 
Maybe I should open a cereal shop?  I suppose donuts would also be a necessity on the menu!
The Colorado sunset, Kenna and Dakota wanted to say hello!
Ridiculously happy dog.
Mildly depressed dog.
Speaking of donuts + molasses….it's about that time!
Ashley