I think it's time I start spelling donuts, doughnuts. Technically, that is the official spelling. And technically, these are officially the best doughnuts I've made to date. And since we're being all kinds of official, I should finally stop being lazy with the spelling.
This flavor was spurred by a Christmas classic. My dad's, grandmother's recipe for molasses cookies. I'm pretty sure it's thee official recipe, that you can find almost anywhere, but over the years my dad has done little things to perfect it.
My dad makes dozens upon dozens of these cookies to ship out to family + friends as a little early Christmas present. When my brother + I were younger, molasses cookie night was one of my favorite nights in the whole year. There was so much raw dough eaten, and brown sugar straight from the box! Whenever I'm home for the holidays, my dad and I like to whip up a fresh batch.
Since Chris + I won't be in Ohio until Christmas Eve, I came up with a new way to get my yearly molasses fix.
Where did these little baby doughnut holes come from?? I recently learned this from the Two Peas & Their Pod. You can use a mini muffin tin to make doughnut holes!! I have a 24 mold mini muffin pan, that held one full batch perfectly.
They're not completely sphere-like, but covered in sugar they look more doughnut-hole-like than muffin-like. This is especially great when making a lot of doughnuts, since the pan only holds SIX.
Chris's work Christmas party was this past Friday, and I was on dessert duty. Instead of taking hours to make batch after batch of 6 doughnuts at a time, I made 3 full sized doughnut batches and 2 batches of the minis. This means I only had to run the oven for 3 cycles, instead of 5! I baked the minis with the full sized doughnuts. It worked perfectly and the minis were a hit! All 48 vanished within minutes, and I was only sent home with 4 large doughnuts.
I also gave a few to my official taste tester, Kelsey. I delivered them to her door and about 10min later got an email saying the following:
HOLY FLIPPING MONKEY TAILS!!!!!!!!!!!! The chocolate donuts are delicious per usual --- BUT THE MOLASSES .......OH THE MOLASSES!!!!!!!!!!!!!!!!

I think they may be your best invention yet. They seriously made me dance around the house. I want to stay up all night eating molasses donuts + sipping hot cocoa by a fire.
Her reaction made my night!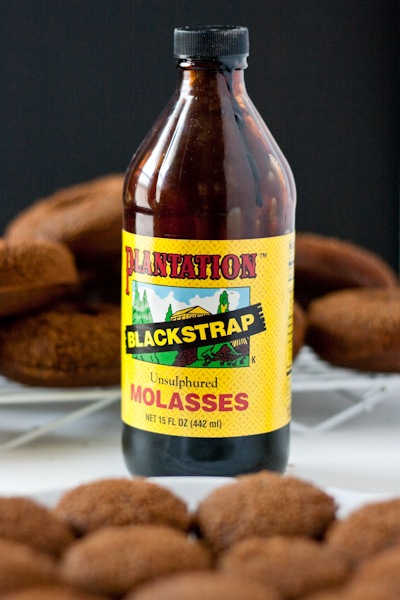 These little gems are very cake-doughnutty, not just cakey. There is a difference! I wish I could invite you all over for samples. A popped amaranth + doughnut party!?
Dad, you would be so proud!
Molasses Doughnuts [makes 6-8 depending on pan size or 24 minis in a muffin pan]
1/2c GF oat flour
1/2c sweet rice flour
3T coconut flour
1/4c sucanat
3T sunflower oil
2.5T blackstrap molasses
2 large eggs
6T unsweetened almond milk
3T pumpkin puree
1.5t vanilla extract
1t cinnamon
1t ground ginger
1/4t ground cloves
1/2t salt
1t baking powder
Preheat your oven to 350* + grease your donut pan with butter, coconut oil or cooking spray.
In a medium sized bowl mix together all dry ingredients.
In a small bowl, whisk together all of the wet ingredients.
Stir the wet into dry, until just combined. Do not over stir.
With a spoon or spatula transfer the batter to your greased pan, filling about 1/8-1/4" from the top.
Bake for 20-25min.
Test with a toothpick for doneness. You want a slightly moist toothpick. Not gooey but not bone dry. The tops of the donut should be golden brown and slightly firm.
Let them cool in the pan for 5min then turn out onto a cooling rack. Loosen around the edges if needed.
Add toppings when cooled.
tips/substitutions: You can sub brown rice flour instead of sweet rice flour, almond flour instead of the coconut flour, or 1T oat flour + 2T more rice flour instead of the coconut flour. Use any type of unsweetened milk you like. You don't taste the pumpkin in these, but it's added for texture. If you don't have any, sub 2.5T unsweetened applesauce instead. Pure cane sugar can be subbed for the sucanat. High altitude, set your oven to 375* and decrease baking powder to 3/4t. The mini doughnuts took about 15min to bake. You can grind your own GF oat flour from certified GF rolled oats, or GF oat groats. Bob's Red Mill packages GF oat flour.
Topping
1/2c sucanat
1/2t cinnamon
~3T butter, melted
Combine the sucanat + cinnamon in a bowl.
When cooled, lightly dip the donuts into the melted butter then directly into the cinnamon/sugar mixture.
Place on a cooling rack to dry.
In case everyone at the party wasn't a molasses lover, I also made triple chocolate doughnuts.
I'm seeing chocolate peppermint with a candy cane topping in the near future!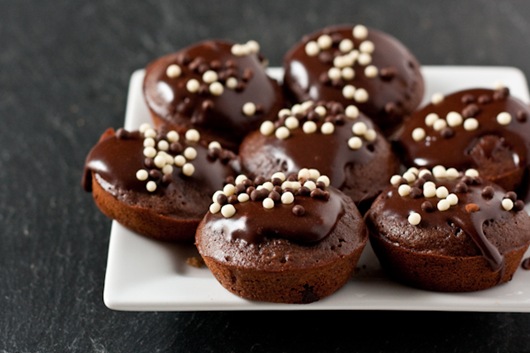 And now it is technically time to hit publish and officially time to zone out + watch TV.
Mondays are better with donuts doughnuts! Have a good one!
Ashley