I felt like slurping on a smoothie this afternoon, and I wanted it to be pretty + pink!! 
Sometimes, my food just has to match the holiday!
Strawberry Coconut Love [serves 1]
1.5c frozen organic strawberries
3/4c coconut milk
1/2c unsweetened almond milk
1/4 avocado
1T coconut oil
2T unsweetened shredded coconut
1/4c frozen blueberries
Blend until smooth!
If your strawberries are tart, you may need to add a little sweetness.  Try 1T maple syrup, honey, or 1/2 banana.
Refreshing + oh so pretty!!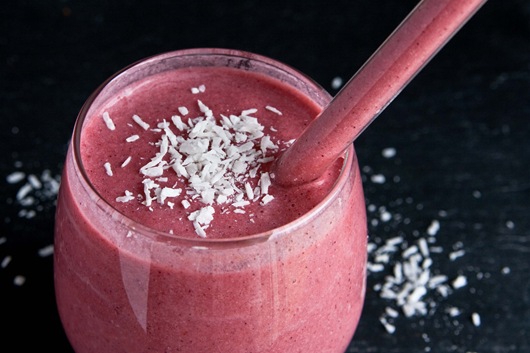 We didn't have anything crazy planned tonight.  Chris wanted to cook together, which I'm always up for!  Typically I cook + he cleans.  It works either way.
I chose 2 recipes from Heidi's, Super Natural Cooking, which was just gifted to me by a dear friend. :)
The first was for a slaw salad.  We typically eat a salad every night with dinner.  This was such a refreshing change of pace!  It's nothing like coleslaw [which I hate] but the cabbage was so perfectly crunchy with a very mild flavor.  The dressing combined lemon juice, olive oil, apple cider vinegar, s+p and a splash of cream.  The salad also has grated apple mixed in and is topped with toasted walnuts.
YUM!  So much crunch + flavor.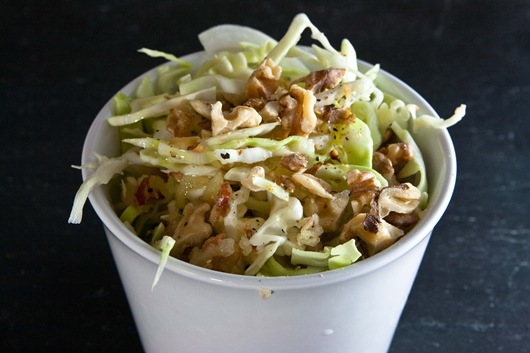 Dinner was the big curry noodle bowl, and we loved it!  The sauce combined coconut milk, coconut oil, turmeric, veggie stock, onion + a few other things.  Mixed in was tofu + my addition of cauliflower.  Yes, I said TOFU!!  Today, I started to reintroduce soy back into my diet.  It started with this fabulous organic sprouted tofu.  I absolutely love this tofu brand.  I've had others that I can tell don't agree with my stomach, but this always seems to digest more easily, which is typical of sprouted foods.  My fingers crossed I'm feeling good in a few hours.  I would love to be able to still eat tofu + tempeh once in awhile!!
curry color + fake light = not my favorite
This brings me to my FIVE week detox recap!  I seriously cannot believe it's been 5 weeks!!
3 weeks no gluten/soy/dairy

The first few days took some getting used to, but it was not nearly as hard as I though it would be.  Giving up my 1 morning mug of coffee was sad, but after the first week I didn't miss it at all.  I didn't have any withdrawal because I drank such a minimal amount, but I still missed it! 
The 5th day was the hardest.  I felt like crap + was super emotional.  Nothing a good sweaty workout can't fix though!
My bloating decreased at least 80% after the first week.  What bloating I did still have, wasn't the constant "food baby" that takes a whole night to go away.  It seemed to pass [hehe] much more quickly, and was probably just from veggie consumption.

32 days drinking lemon water [skipped 3 days]

The warm lemon water in the AM really helped get rid of my need for coffee.  It's not that it tastes good [because it doesn't really] but it helped wake me up and also really helps with the whole cleansing process.  It keeps things moving, if you know what I mean. 

35 days dry brushing

This is something I will continue to do.  I feel like my skin looks much healthier, is smoother and noticeably tighter, especially on my legs.  It definitely helped flush my body of toxins during the first 2 weeks of the detox.  I would feel energized and refreshed after brushing + showering during the first 2 weeks.  It still feels good, but I don't physically feel different.

2 weeks reintroducing dairy

The first day I ate yogurt after 3 weeks with no dairy was kind of strange.  I noticed much more phlegm buildup [which is normal] than I ever noticed before.
I have been consuming about 1 serving of dairy every other day and seem to have no problems with it at all. 
I don't depend on dairy for protein, calcium, etc.  I eat it when I'm in the mood for it.

1 day reintroducing soy

It's been a few hours since dinner and my stomach feels fine so far.  No bloating!
Soy was the hardest ingredient to avoid.  Restaurants use way more soy than you could ever imagine.  [soy oil, soy lecithin, etc.]

5 week thoughts

I was hesitant to bring back soy into my diet and am still nervous about gluten.  I've been feeling so good, I didn't want to mess anything up.  To figure things out for sure though I have to bring them back.
I'm glad dairy was not the culprit, because even though I don't consume a lot of it, and I like making vegan "cheeze" sauces….not much can top local, milky, organic cheese…mmmm
It's really hard to go out to eat, even at vegan/veg friendly restaurants, mostly because of soy.
I've loved exploring new grains and grinding them into fresh flour for a few different recipes.  My favorite recipes so far have been for the millet/buckwheat pizza crust and any of the buckwheat bakes [oven + microwave versions].
I feel like I'm retaining less water from lowering my sodium intake.
My sugar/sweets cravings aren't bad at all.  The past week or so I've been craving a lot of chocolate and finding creative ways to incorporate it, besides cake/cookies/etc.
Coming down with the flu a few weeks ago was no fun at all, but I stuck with the detox and didn't eat any gluten/dairy/soy.  When I wanted toast, gluten free millet bread did the trick and then I found the super delicious Udi's gluten free bagels.  They are fluffy and delicious! 
I've noticed the buckwheat bakes + puffed amaranth cereal keep me full longer than oatmeal! 
I'm not allowing coffee back into my diet and have had 3 cups so far.  I'm planning on drinking them sporadically.  I don't want to get hooked on the 1 mug every morning again.  It's funny because now I feel more awake + alert in the morning without it.
Let me know if you have any questions.  I'll keep you posted on the soy reintroduction.  So far so good! :)
Off to relax with the huz for a little!
<3 Ashley
Catching up on my detox?