Yes, it's Wednesday [probably Thursday when you're reading], but that doesn't matter.  I'm declaring this French Toast Week!!  It started on Tuesday, with my French Toast Oats and continued today with Vegan English Muffin French Toast.
Yes, you can make vegan French toast!  I've done it a number of times before and got the idea from the lovely Ashley at (never home)maker.
It works best with a sturdy English muffin.  I used Ezekiel Sprouted English Muffins.  They are SO delicious and I wanted to see if they hurt my stomach or not after consuming.  About 14hrs later, and nothing yet.  I know it doesn't always correlate on the same day that you eat said food, but there was no quick reaction, like I sometimes get.
If you use bread, it may fall apart.  However, if you use a non-stick pan you may be okay.  I know when using my stainless pans, bread would not work at all for this recipe.
I put a little unrefined coconut oil in the pan and they crisped up really well with the banana-flax mixture they were coated with.  Don't skimp on the oil!
Even eaten plain, they are delicious!
But you know this girl has to have some toppings!
double chocolate chip cookie dough almond butter + coconut butter + toasted coconut + walnuts
And instead of adding maple syrup, I heated about 3/4c frozen cherries in a pan for about 5min.  They created a delicious, fruit-juice sauce.  No syrup needed!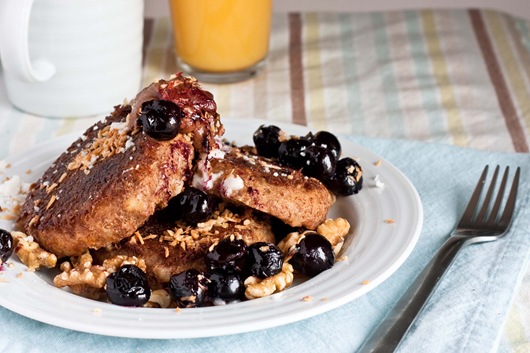 Like I said, I've made similar versions before, but this was by far the best.  You must try this out!
Crispy French Muffin Toast [serves 1 hungry stomach]
3 English muffin halves
1/2-1T unrefined coconut oil
1/2 banana
2T ground flax meal + 5T warm water
2T unsweetened almond milk
1t vanilla
1t cinnamon
Cherry Topping
3/4c frozen cherries [strawberries/blueberries/raspberries/blackberries would also work well]
Whisk together ground flax meal + warm water.  Set aside for 5 minutes.
Heat a small pot over medium-low heat. 
When hot, add cherries about cook about 5min, stirring once in awhile.
Heat a large pan over medium heat and add 1/2-1T coconut oil. [1T if using stainless steel pan]
Mash banana in a bowl and mix in almond milk + cinnamon + vanilla.
Add flax mixture into banana mixture and mix.
Dip each English muffin into the mixture, on both sides.  Make sure it's thickly coated.
Place each half in the pan and cook until golden brown. [time varies depending on pan type + oven type]
Carefully flip and cook on the other side until golden brown. *If using a stainless pan you may want to add a bit more when you flip, so they don't stick.  I didn't add any and only had a small amount of the coating stuck in the pan.
You are going to LOVE this!
*If you don't like banana, sub 1/4c unsweetened applesauce.
*Like I mentioned in the directions, if using stainless steel pans, don't forget to oil your pan or you still have major stickage problems!
*Add 1/4t almond extract if you want a nice almond kick!
Can't wait for French Toast day THREE!  I'm not sure if anything can top this though…we shall see!
Night!
Ashley