Hello, hello, from behind a cloud of dust!
Before sanding.
After sanding! 
The house felt SO much bigger and brighter.  It was really exciting.  The new color is lighter and really brings out the natural character of the wood, which we love.  The yellow paint and yellow light bulbs HAVE to go!  It's crazy how much they affect the color of the floor.  I'm not a fan of everything looking so yellow.  The paint will soon be changed and we'll be getting "daylight" light bulbs. 
Sanding the floors, changed the whole look of the house!  The paint used to look like a really light peachy/pink and now it's evident that it's light yellow…???
I was shocked that the sanding process wasn't too dusty.  The flooring guys were great and did an awesome job cleaning the mess.  It will be so nice having the floors done before we get things moved in.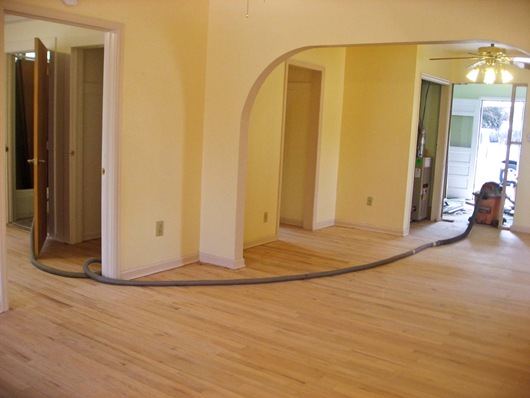 Check out the difference in the back bedroom that is not painted yellow and gets more natural light.  It's a pretty crazy difference!!  The wall color we picked, I describe as a "milky concrete."  It's a light gray-ish color with a little creaminess mixed in.  Sounds blah, but I think it's going to look really nice!  *hopefully*
After all of my to-do's, I spent about 1 hour relocating a folder of cookie photos, that Lightroom told me was missing. 
It wasn't missing, it was just misplaced. 
Like my keys…
every.single.day. 
I found the folder, but it's clearly too late to start editing 100 photos.  The light was great and I just couldn't help myself.  Overboard much? ;)
Recipe for chocolate chewy cookies, coming soon!!!
Remember, when I told you about this chocolate chewie cookie I bought last week?  I just HAD to recreate it.  Luckily Jessica + Heidi had 2 recipes that helped me along!
The texture of these cookies, is like no other. 
Chewy.  Crispy edges.  Doughy center.  Did I mention chewy?  Very very chewy!
I put my own spin on the cookies and folded toasted coconut into 1 version.  I can't even explain the taste!!  Chocolate cookie, meets chocolate brownie, with toasty, crunchy, buttery coconut mixed within.
More details soon!
I was back + forth between both houses multiple times today.  I got our locks re-keyed, which saved a good chunk of money in comparison to getting completely new locks.  Any amount of money saved really adds up fast.  $5 here, $20 there..it all helps!!  We're definitely on a tight budget here!  I also picked up a HEPA filter for our furnace.  With all of the reno work I want to be sure to catch as much dust and grime as possible before breathing it in!  I was on the phone with IKEA 3 times and my cabinets still aren't ordered.  It's NOT easy ordering a kitchen over the phone.  The money savings will be worth it though!  I did successfully get my window order in and they should arrive in 2 weeks.  We're rebuilding the window frames + installing ourselves.  It will definitely be an adventure…
I've made sure to make time for working out + cooking, even with all of the craziness.  Even just getting in 30min on my bike trainer at home, has been a huge help in relieving stress.  While I ride, I read, which I love doing.  Today, I even made it to the gym and got in some leg lifting.  Dinner wasn't ready until 9pm, but it seems that's going to be the norm for awhile around here!
Enough babbling…Time for bed! ;)
Ashley