Definite progress was made today!  The kitchen table is now functioning as a table, instead of a mock-kitchen, or place to set 5 million things on.  I was getting so overwhelmed just from all of the clutter.  The 2nd bedroom is still loaded with boxes but at least we can move freely around our bedroom and the living/dining/kitchen areas. 
This morning, I tried another new breakfast combination. 
3T Scottish oats + 1T raw buckwheat groats + 2T oat bran
The oat bran did amazing things to the texture!  Very thick and creamy.  Definite winner!  I prepared this bowl very simply.  A few weeks ago, I tried cooking my oats with only water, or milk + water, and loved the change.  Instead of whisking a banana during cooking, I started adding them on top.  I can't say I like one way better than the other, but it's fun to change things up.
I use a lot of liquid when cooking any type of hot breakfast cereal.  With this mix, I used 1.5c total and split it half water + half almond milk.  The plain flavor of the oats is just lovely.  It took about 12min to cook, whisking occasionally. 
I tried another protein powder today, when I returned home from the pool.  The protein of choice, was NutriBiotic Rice Protein, in the vanilla flavor.  [nutritional information here] I was glad to see there was no added stevia or sugar in this mix. 
Into the Vita went:
1c almond milk [unsweetened]
~8 organic strawberries
1T chia seeds
1 packet rice protein
1.5t maca powder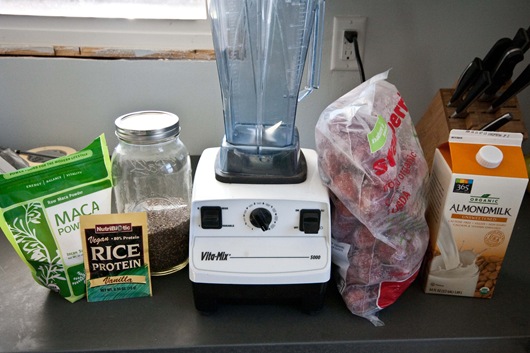 And out of the Vita, came this!
What I liked about this protein powder, was that there was no grit + no stevia.  It was nice and smooth without the funky sweetness.  The powder turned the smoothie pretty bland, though.  I am definitely still liking the Garden of Life, plain Raw Protein the best so far!  I liked the flavor [even though it was just the plain], nutritional facts, it being raw + unprocessed, stellar ingredient list, and that it's a complete protein.  I still have a few others on my list I want to try out though!
I was really happy to get rid of a HUGE box today, that we've had around since our wedding.  It held this super adorable platter, that my aunt, uncle + cousins painted for Chris + me.  As you can see it is quite large and takes up 3/4 of our stove.  We've never had a big enough cabinet to store it, but now we do! 
I got busy on another kitchen project today as well.  This only took about 1.5hrs and turned out to be pretty fabulous.  We planned on installing a pull out garbage cabinet, when we made our order from Ikea.  For some reason Ikea doesn't sell these cabinets, so with the help of Lowes, I made my own.
I also bought the extra door mount pieces, so it all pulls out at once.  The only problem we might run into is the sturdiness.  This was made for an under-sink cabinet, with shorter doors.  The extra length in the door might cause a problem with the constant pulling in + out.  We shall see!
Because it was made for a shorter cabinet, it also came with a pretty small garbage can.  I checked to see if our old can would fit and it did! 
Oooooh, a garbage can.  Exhilarating!
A better shot [sort of…bad light!] of the door/drawer pulls.  Same as the dishwasher!
It's so nice to have all of the handles on! 
It is most definitely time for bed. 
Watch out for a hump-day givewaaaaaaaay tomorrow!!
Ashley