Things that make you go mmmm #1
A new oaterific mix, with peanut butter swirled in.
Extra Thick Scottish Oats


1/4c Scottish oats [partially ground oat groats, can grind in the blender]


1T raw buckwheat groats


1T oat bran


3/4c nut milk


3/4c water




In a small pot, add dry ingredients over medium heat and toast 2-3min, stirring frequently.


Add water + milk [careful, it will spatter], stir and bring to boil.


Turn heat down + simmer for about 12min, until desired consistency is met.  Stir/whisk every few minutes.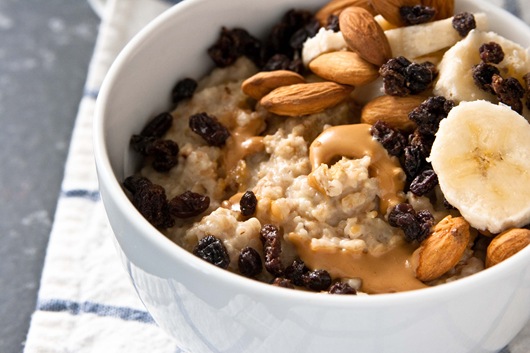 Everything I like about breakfast was in this bowl.  The texture was extremely thick + creamy, with a slight chew.  The swirled in peanut butter ensured a little pnutty goodness with every bite.  I kept the mixture simple, as I've been doing lately, and topped with banana, raisins, and almonds.
If this doesn't make you say mmmmm…I'm not sure what will!  Maybe recipe #2?
I started putting together our new fans today, but came to a halt when I realized the screws that the fan came with, were not long enough to attach to the outlet box in the ceiling.  I'm sure you want to hear about all of these exhilarating details of my day-to-day…..
The biggest
bean
I've ever seen!  Kenna got the nickname "beans" because she is like a string bean.  Very tall + lanky + slender.  She's a Great Dane/Lab mutt, that we found at a Great Dane rescue in Charlotte, NC.
Whenever I'm doing ANYthing on the floor, Dakota decides to make herself known.
She plants herself at my side, practically on top of me, and stares at me in the eyes.
Just like this.
And then she gets even closer.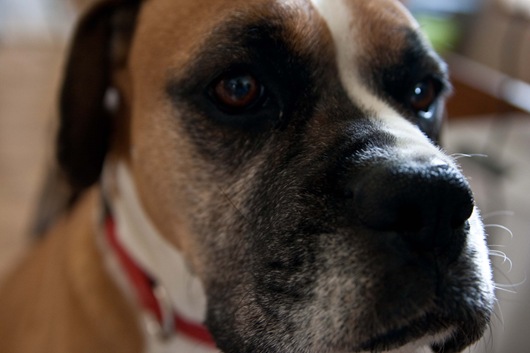 And she never even asks if I need help.  She could have at least passed the screwdriver!
Things that make you go mmmm #2!
More chia pudding!!  I was so excited by the first batch, that I had to make it again today.
Chocolate Cherry Chia Pudding


3T chia seeds


3/4c water or nut milk


1.5T unsweetened cocoa powder


1c frozen cherries [or strawberries, blueberries, etc.]


1-3t raw honey [or maple syrup or 1/2 banana]




Combine chia seeds, water/milk + cocoa powder in a bowl.  Stir every minute for about 20-30min, until very thick + gelled.  Again, I just kept it next to me while I worked on the computer, so I could keep stirring.


Throw in blender with frozen cherries + blend until smooth.


Add honey or maple syrup if needed.  You could also add 1/2 banana for sweetness + creaminess.


Since eating this the past 2 days, I swear that I have felt more hydrated.  I'm typically a big water drinker, and have not felt as thirsty after consuming this chia pudding.
Things that make you go mmmm #3
I seriously MMMM'd out loud when I tasted this and my eyes may have bulged out of my head.  Then I tasted it again.  And again.  Then I made dinner + poured it on top of everything + mmm'd again.
I cannot take credit for this, but
Mama Pea
can!  It's her "
mmmm Sauce
," and it did not disappoint.  It took all of 3min to throw together, which was the best part.  I would definitely recommend making a double batch.  This is going to be gone in no time.
It tastes like a mix between creamy ranch + caesar salad dressing, but without anchovies or raw egg.  Between all of my tastes + tonight's dinner, it's already half gone.
You really
need
to make this.
And a big congrats to….
Nicole @ Of Cookies & Carrots
I've been experimenting with my limited supply in overnight oats… Im still working on the perfect amount of liquid

though I definitely want to make that pumpkin concoction as it looks HEAVENLY.
You will soon be the proud owner of a 2lb bag of chia seeds.  Thanks for everyones' entries!
Happy Friday!
Ashley