I've been browsing around for gluten free dessert recipes for a few days now.  I wanted to keep things simple, so I didn't have to buy 4 new bags of GF flour while at my parents house.  I know there are GF all-purpose flour blends, but I didn't want to go that route either.  Not too long ago, I found Elana's Pantry.  I'm not quite sure how it took me so long to find this amazing blog.  One of Elana's main baking ingredients is almond flour.  Blanched almond flour to be exact. 
I did some reading on baking with almond flour and people specifically said not to use the Trader Joes Almond Meal as an almond flour sub.  You really need to use blanched almond flour when baking.  Blanched almonds have the skins removed which makes a nice, light flour.  Elana also mentioned that she has not had any luck with Bob's Red Mill almond flour.  She said it produced a runny result.  She links to this brand in all of her recipes, and purchases it online. 
For today, I made blanched almond flour, and it didn't turn out half bad!  I did some googling to find out a method and found that a coffee grinder works best, and a blender is your next best bet.  My parents don't have a coffee grinder but they did have a decent blender.  It's tricky to not over process and turn it into nut butter or not process enough which will give you almond meal.  I pulsed and scraped the blender down numerous times and only ground about 1c of blanched slivered almonds at a time.  It worked pretty well!  There were very small bits of almonds that didn't get ground, but all in all it was a pretty soft + smooth cupcake!  You can always pass the flour through the sifter and re-grind the small pieces, but I didn't have a sifter.
While I found loads of good recipes + information at Elana's blog, I decided on a recipe from Roost blog.  Such an amazingly gorgeous blog! 
Orange Blossom Cupcakes with Cashew Cream Frosting
Frosting made from cashews?  I could hardly believe it either!
I prepared tonight's dessert first and then got working on dinner.  My mom and I went shopping for pizza night at Whole Foods.  We bought a few of their whole wheat crusts [which I found very easy to work with], peppers, mushrooms, sausage, pepperoni, mozzerella, San Marzano pizza sauce, etc.  We were planning on grilling the pizzas because it's so quick + causes less heat in the house.  I was the pizza maker, and my dad + I both worked the grill.
I tore the dough in half and made a total of 6 pizzas.  Tonight, I stayed away from the gluten.  It was extremely difficult to pass up on this delicious, fresh pizza!
The family loved it, which made me forget I couldn't eat it. :)
Dessert was up, and I was nervous to test this out on everyone!  My family is always really open to trying out anything I am willing to make, which makes things really fun. 
I really had no idea what to expect with this cupcake!  It looked like they baked properly, and the frosting was nice and thick, so I crossed my fingers and served them up!
I've never had an almond flour baked good before, and wow is it delicious.  This was the softest, doughiest, cupcake I've ever eaten.  There was no lack of moisture here!  But it was in no way soggy.
The frosting was extremely thick.  A little goes a long way!  Everyone thought it was really fun and unique and they couldn't believe it was made from cashews.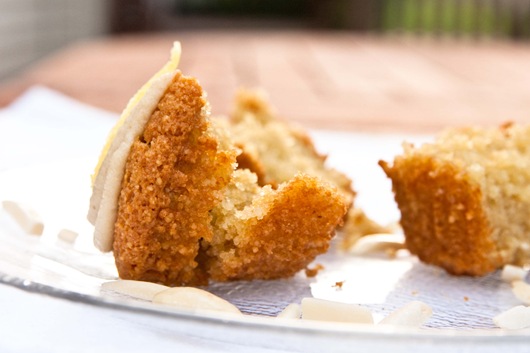 You can tell how thick and moist this cupcake is.  It had a great crumb!
I followed the recipe almost exactly, except for these few modifications:
cupcakes:
zest of 1 lemon, instead of orange
1/2T orange juice
frosting:
2tsp vanilla extract
1/4c honey
made this in a heavy-duty food processor, not a blender and worked perfectly
Since I was making this for a crowd, I wanted to sweeten up the frosting a bit.  The 1/4c of honey made it just barely sweet.  I felt it was slightly too tangy + tart from only using dates for the sweetener. 
The flavors were perfect.  The lemon was not overpowering.  It was definitely a fun cupcake to make for my first GF baking adventure.  Also a huge success with my non-GF family!
It's still crazy to me that almonds can be made into flour and then made into cupcakes.  Same goes for cashews as frosting.  I can't wait to do more experimenting!
Time to catch some zzZZzzz's….
Ashley