Today I wanted to share photos from my sister-in-law + brother-in-law's [Chris's brother] maternity photo shoot.  This was my first real people-shoot and I loved every minute of it.  Natalie was beaming with a motherly glow and Pat had an excited + nervous fatherly look in his eyes.  Natalie was such a good sport, as we shot in about every location in their house and took some outside.  I wanted to try out different lighting and photo styles.  I am really pleased with how they turned out.
And more than anything, I am extremely excited for Pat + Natalie, and I cannot wait to become an Aunt!!
One of my favorites of the group.
father.mother.love.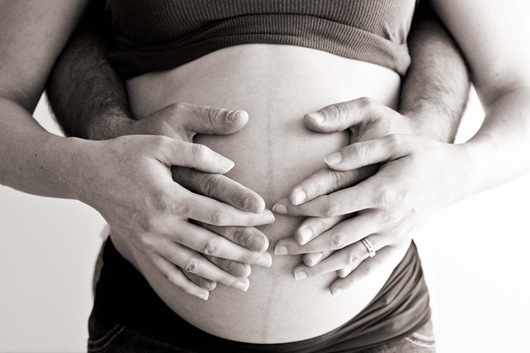 Adorable bedding that matched mom's shirt!
Little girls' baby clothes might be the cutest thing ever!  Besides Natalie, that is. :)
Gorgeous mommy!
Way too cute.
Love this series of bed shots!
Bump!
20hrs til' we leave…EEK!
Ashley