Yesterday was hot hot hot, but nice and cool at night. We enjoyed what we heard yesterday, but im mch more excited for today-sundays lineups. We just caught Joe Pug ths morning at 10am. Fabulous musician and great relaxing morning set.
A few of you asked how the heck im posting from a phone. :) Its actually pretty easy. Im using the husbands iphone and downloaded the wordpress blogging app. It was free and is extremely easy to use. I can grab any of the photos that ive taken on the phone and upload them to the post. And Im so glad i left my dslr camera at home. The scenery is gorgeous but its just too much to lug around.
Im super excited for this afternoon because we are going to hit up the local farmers market! I love going to any and all farmers markets. Cant wait to see what they have!
Last night for dinner we made soup bowls that you just add boiling water too. The ingredient lists were great and they are packed with protein and fiber...about 10g each for the kinds we bought. I also cut up tempeh and added green pepper, cheese, hot sauce and garlic gold nuggets. I grilled them for a few minutes to melt the cheese. Mine was on a GF brown rice tortilla and Chris had a pita. Delish!
Gorgeous, gigantic waterfall in the distance.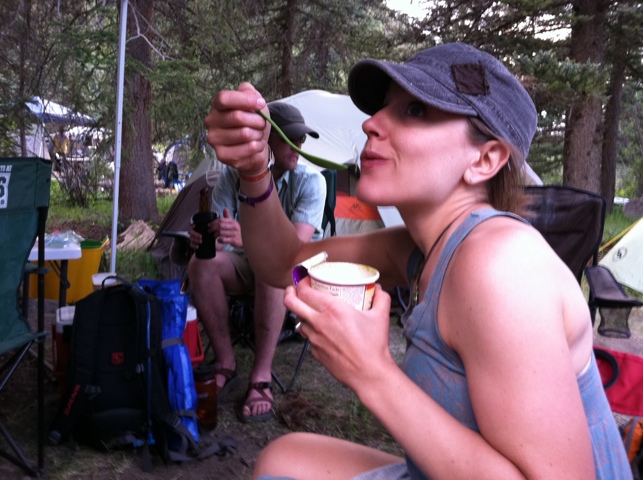 Gotta finish dinner with chocolate!
Time to get back to the music! Happy friday!
Ash