In a few short hours we'll be home, and i have dibs on the first shower. It is going to be glorious.
Would you believe that we saw snow yesterday? There were pretty constant rain showers from 5pm on. At one point we saw a little snow coming down, but it quickly turned back to rain. Despite the less than ideal weather, it may have been my favorite day of the trip!
We woke up and headed to town for breakfast and a hike. I grabbed the biggest bowl of oats ever at a restaurant called The Butcher and The Baker. It was small but extremely cute. They had a small menu but a great variety with a lot of daily specials. They had a large assortment of housemade salads (egg salad, chickpea salad, etc), baked goods, veggie, meat, and GF options.
I know it seems boring to order oatmeal, since i eat it all the time, but it was the cheapest option and i could take it to go. It turned out to be one of the best bowls i've ever had. The oats were really thick...maybe the thick cut rolled oats? Ive never tried making those. This bowl didnt even have nut butter and it was still perfect. Topped with almonds, cranberries, and brown sugar. Brown sugar is so very delicious on oats.
Then we headed on a trail a few blocks away. It was called Bear Creek Trail and was about 4.5m total with about 1200ft elevation gain. The weather was cool and the views were amazing. There were a handful of waterfalls that we could see along the way and a pretty substantial one at the top. About half way up we ran into Ali and Hovan making their way down. Chris and i had so much fun on the hike. Fairly rigorous but really refreshing!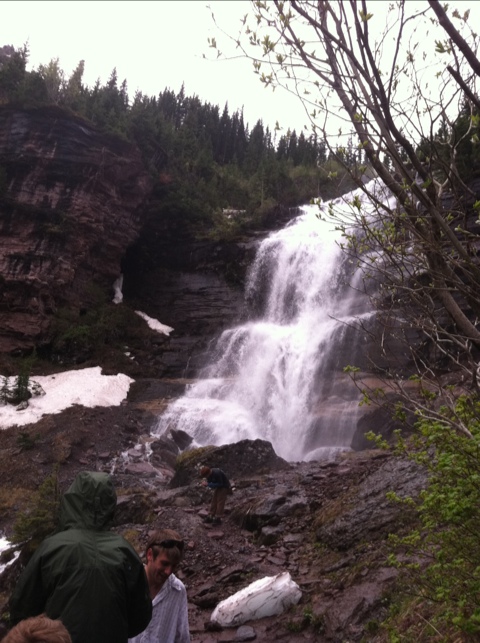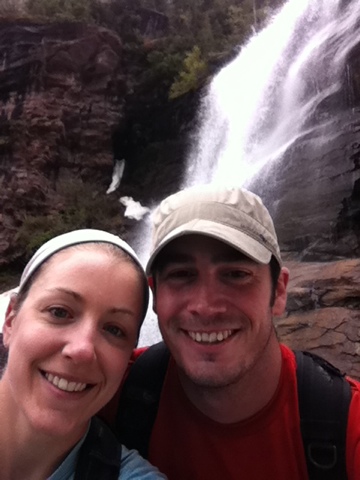 After the hike i snacked on a locally made bar. It was made with dates, nuts and seeds, but ended up tasting really bland. I wasnt a fan of how seedy it was. Oh well though!
We headed back to our campsite and got working on lunch. Brown rice tortilla with egg, tempeh, hummus, hot sauce, cheese and garlic gold toasted on the grill.
Then we made our way to the venue for the last few hours of music. Luckily we found a friend with a shade tent that we huddled under. It was teally cold and wet but we stayed fairly dry.
At one point the rain stopped and the clouds broke. The mountains looked absolutely gorgeous dusted with fresh snow.
Despite the weather, we had so much fun! I have a few last things to share from the trip, but we're just arriving home. It was a long 8hr drive back! Time to make a sprint for the shower!
Ashley