Actually, all of these things happened on Saturday…
I had to throw in the towel on my 2nd pair of Vibram 5 Fingers.  2 holes in the toe + 1 in the sole, means time for a new pair!
Luckily, I had this obnoxiously bright pink pair waiting for me.  I ordered them a few months back from City Sports because they were on sale for $50.  Guess what?  They still are!
Even more obnoxious, were the bright pink shorts I wore them with.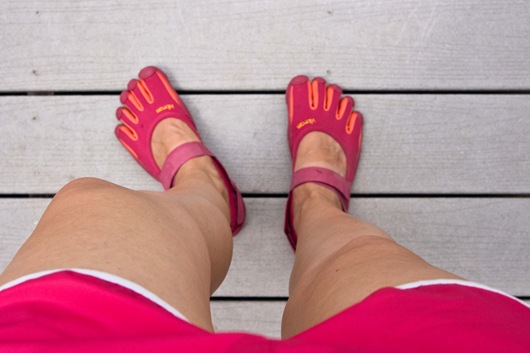 We headed down to S. Pearl St. in Denver last night, for South Pearl Jam Festival [brews + music].  In between 2 of the bands we headed down S. Pearl to grab some food.  S. Pearl is packed full of fabulous restaurants.  We stopped at Kaos, for pizza, when we saw they made their own gluten free dough.  It's amazing how many pizza places are starting to do that!  The best thing about this pizza place, is that all of their veggies, eggs + poultry come from local farmers, or the garden on the property.  LOVE that!!
Chris + I split "the garden" pizza on GF crust.  I ordered it with red sauce, instead of the olive oil + garlic.  It also had tomatoes, arugula, a cracked farm fresh egg, and fresh shaved parm on top.  However, when we got the pizza, the egg was missing!  You know how egg obsessed I am, and this was basically the entire reason I ordered the pizza.  I figured they would just take it back and cook an egg on top, the server was extremely nice and said he'd have a fresh, new pizza out for us with an egg.  2 for 1 pizzas???  Yes please!
He also said I could I could change up the sauce I got if I wanted to try the olive oil + garlic.  Now that is customer service!!  And look at this pie!!  
The gluten free crust was the best I've had so far.  It was a thin crust, that was nice + crispy around the edges.  The center was soft, but not limp.  The toppings were extremely fresh and full of flavor.  It was hard to decide which sauce was best.  The red sauce may have been the best I've ever tasted, but the olive oil + garlic, definitely went better with the toppings.
And that egg.
Ohhh that egg!!
Peter was with us for dinner too!
We headed back to the mini-festival, with a big group of friends to see the main act, The Motet.  They are sort of a jazz-funk band, and I absolutely love them.  Extremely energetic!  I first saw them a few years ago, on Colorado ski trip, and since then can't get enough! 
Nice lil' Saturday if you ask me!
And now one thing that is currently happening on SUNDAY.
My sis + bro in law could have their baby at any time!!!!!!!!!! 
Anxiously sitting by the phone, to hear when we should head to the hospital.  Can't wait to be an aunt!!!!!!!
Ashley