It's official.  The heat is getting to me.  The daily rain that has kept our evenings cool, has come to a screeching hault.  Now it's just hot.  Luckily, the outside temp lowers to about 65-70 at night [outside – inside it's still 83*], or I would literally be baking in an oven.  Because of these warmer nights, I've been trying to come up with meals that don't require too much oven or stove time.
The grill is good for that!
You may only think the grill is good for things like burgers + kebobs, but you can basically use your grill like an oven.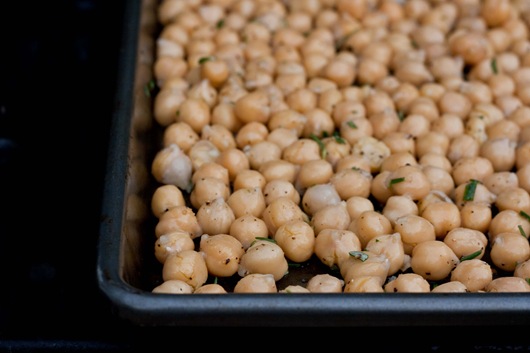 Grill-roasted chickpeas?  Oh yes, it works fabulously.
Grill Roasted Chickpeas
1 can chickpeas, drained + rinsed
1T sunflower oil
1T chopped rosemary
1-2 garlic cloves, minced
salt + pepper
Preheat your grill to ~350*
Mix all ingredients together + spread evenly on the pan.
Grill-bake for about 25-35min, depending on how "done" you want your chickpeas.  Stir every 8-10min.
I like them nice + crsipy!
Grilled kale chips?  Why not?
Grill Roasted Kale Chips
1 head kale, de-stemmed, washed, + chopped
1/2T sunflower oil
salt + pepper
Toss ingredients together and spread evenly on a pan.
Place pan on the grill for about 25min.  Stir once or twice.
I used a mix of curly kale + lacinato kale [dinosaur kale] and it worked perfectly.  The lacinato kale produces a flat, crispy chip.  The rest of dinner was prepared with minimal use of the gas range.  Heat overdose avoided.
Tonight, our whole meal was made on the grill.  This not only means the house doesn't heat up as much, but it also means less dishes.
Potatoes + curry.  Such a good combo.
I grilled the potatoes for about 25min and then added broccoli + tempeh.  I let that all cook together for about 8 more minutes.
It was served on a bed of spinach, with fresh local tomatoes + a splash of coconut milk.
While it sounds delicious + looks pretty tasty, it was just okay.  I'm out of onions and it definitely needed one!  The curry I have right now is also a tad bitter, so a sprinkle of sugar would have helped as well.
Other spices in the mix: coriander + salt + pepper + garam masala + turmeric + garlic
Good, not great. 
Time to chug another glass of ice cold water + get to bed.  I'll be back tomorrow with the latest on my workouts!
Any new grill ideas lately?  I'm already out of peaches, but can't wait to grill some up in the coming weeks!
Ashley