Although the heat is not letting up here, I thought the last day of August was perfect for a "summer in review" post.  Good thing peach season starts late in Colorado.  It makes the summer seem just that much longer. 
1] Lemon Blueberry Breakfast Cakes – I created this recipe when my mom was in town.  It was the first time I combined oat flour, sweet rice flour + coconut flour, and definitely not my last.  Making that flour combination, was one of the best decisions I made all summer!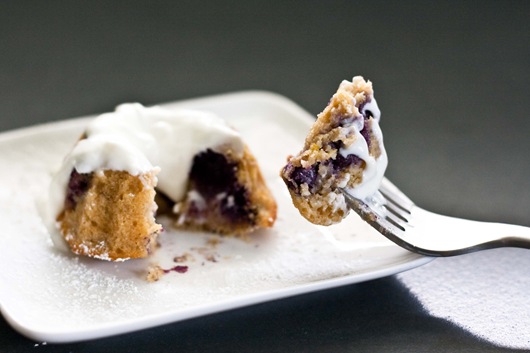 2] Can't forget about my Perfectly Cooked Millet recipe.  It's nothing snazzy, but works every time!  This also kicked off my Recipes For Mom series.  *You can cook quinoa the exact same way, but cooking for 15min instead of 20min.
3]  Did you somehow forget about, or forget to make my Beer Soaked Fries?  How could you!!?  Sweet taters more your thing?  I made a version with those, too!
4]  That crazy gluten free flour combination works for pancakes too!
5]  The Burger.  Ohhhh the burger.  Sweet Tater Black Bean Burgers
6]  As soon as pickling cucumbers were stocked at the market, I got busy in the kitchen making pickles.
7]  Are savory breakfasts more your thing?  Then you must try this Savory Veggie Buckwheat Bake.
8]  My most summery recipe + the best pasta dish I've ever made!  Lemon Basil + Grilled Corn Pasta
9]  Taco Night, Done Right…nothing more I need to say.
10]  This was one of my most creative recipes yet!  Quinoa Veggie Egg Bake
11]  This soup screams summer.  Roasted Tomato + Grilled Corn Soup
12]  I faced my eggplant fears and made this recipe for Curried Veggies with Roasted Eggplant + Chickpeas.
13]  My new favorite nut butter and a lot of yours too!  Cake Batter Cashew Butter
14]  And my favorite donut yet!  Cinnamon Cake Donuts
15]  And last but not least, my most creative breakfast bakes yet!  Perfect for birthday breakfast, or just everyday eating.  Vanilla + Lemon Cake Oat Bakes
And there you have it.  My top 15 recipes of the summer.  A hard list to narrow down for sure.  This has been the most creative 3 months in the kitchen I've ever had!
Happy eating.
Ashley