Before.
Before.  Going in for my typical once-every-six-month-trim.
Before.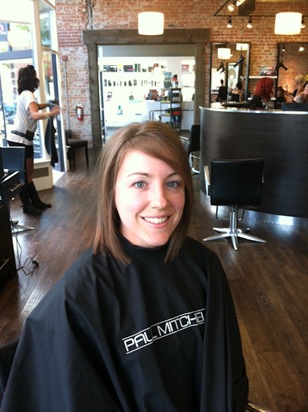 I finally found a stylist I love, and he gave me, my favorite haircut ever.
Every single time I go in to get my haircut, I waver between having it cut short, but always play it safe.  I've chopped it only a few times, but never this much.
Today I was feelin' it.  He had a plan for my hair, and I decided to go all in.
Sometimes, something as small as a haircut, can really make you feel refreshed.
Just the change-up I needed. 
Enough about me and hair. 
Change is good, but so are recipes.
This one involves zucchini.
Obviously.
Zucchini Bread Smoothie
1/4c rolled oats
1/4c raw walnuts
1/2t vanilla extract
1.5-2t cinnamon
1/2 banana
3/4c grated zucchini
1.5t brown rice syrup [maple/honey]
1/3-1/2c milk of choice
1.5T chia seeds [or 1/2c plain yogurt]
1 serving protein powder of choice [I use Raw Protein]
Soak your oats + walnuts for 3-4hrs [or overnight] in water, and drain completely before blending. [helps to prevent grittiness in your smoothie + aids in digestion]  *You can definitely make the smoothie without this step!
Add ingredients to your blender and blend until smooth.  Start with 1/3c milk and add more to reach desired consistency.  Add ice if desired.
Let sit 1-3min to allow the ground chia seeds to absorb + thicken.  Or just drink right away.
What should you eat alongside this smoothie?
Zucchini bread, of course.
Did you really need to ask?
Ashley
p.s. Don't forget to enter the Gluten-Free Living E-book giveaway!!  Ends Sunday night!