The whole point of making chili this week, was for the leftovers.
Leftovers that I could not stop thinking about before they even existed.
Thank you, Jessica.
Noodles.  Cheese.  Cocoa Chili.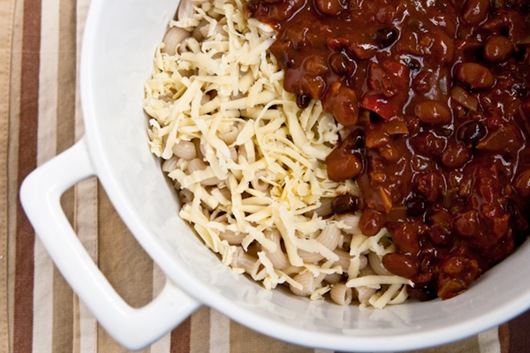 And cornbread.   
Baked until golden brown.
And carefully carved out.
Cornbread + noodles?  Ridiculous, when combined.  As in, ridiculously good.  
The chili had thickened up quite a bit in the refrigerator.  I think next time I would thin it out with veggie broth, as it wasn't saucy, like Jessica's.  I think the cornbread soaked up quite a bit of the chili liquid, because it took double the amount of time to bake!  However, it was still one of the best "leftovers reinvented" meals ever. 
Total comfort. 
Ashley