Food Photography Tip of the Week |5|
Get inspired!
It's easy to go through a creative funk. It happens to me all.of.the.time. The most effective way for me to get through those funky times is to seek out work that inspires me. I have a slew of old standby blogs that I constantly peruse and adore, but I'm always on the hunt for new inspiration. These days, it seems like food bloggers are really trying to differentiate themselves and find their own unique style, which I am loving. It's kind of like writing. There is no right or wrong style. There is no one way.
With that, here is a list of 5 blogs that have been a huge source of inspiration to me lately.
----
Melissa's photos are filled with a unique style and personality. They're minimalist. They're soft. They feel real. If you take a look at her instagram account it's clear as day that Melissa has a strong style and she knows how to make it work. She calls herself "faux" but that is hardly the case.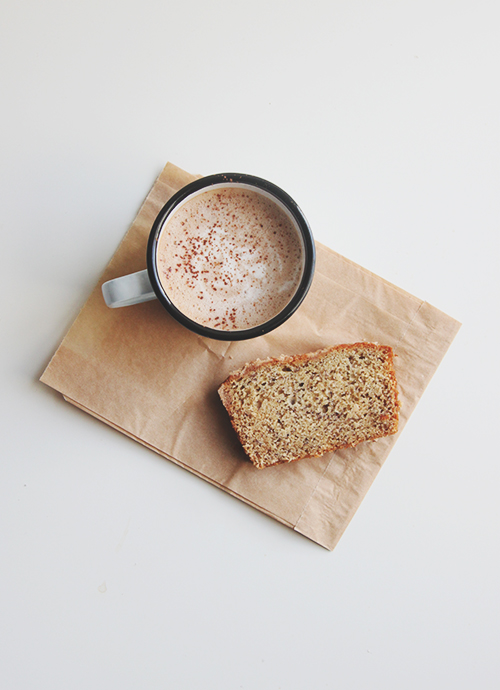 Photo credit: The Faux Martha | Salted Nutella Latte
----
This next blog is new-to-me and I've been gobbling up the photography ever since I found it. The blog is called Lady & Pups and the photography is simple but detailed + bold. The photos show heavy contrast and shadows but are still quite bright making the food POP. You will want to pluck the food right out of your screen.
Photo credit: Lady and Pups | Peanut Sugar Morning Buns
----
Laura has been a longtime source of inspiration to me. It really sealed the deal when we actually got to meet over breakfast a few months ago in Denver. Breakfast + super chill gal to chat about all things life with? Perfection. Anyway, her photography is stunning. Her photos work with a lot of voided space but you'll never feel like anything is missing from her photos because your eyes are drawn straight to the food. Laura does a great job at directing your eyes to a very specific point in her photos, as you'll see below. The detail and vibrancy in her images are stellar. If anyone ever needed convincing to eat vegetables this girl makes them look like GOLD.
photo credit: The First Mess | Roasted Carrots + Rice with Zingy Turmeric Broth
----
If you're not familiar with Naomi from Bakers Royale, you need to be. While her color palettes and lighting styles are constantly changing, there is a clear artistic theme in all of Naomi's photos. You can see the extremely detailed craft Naomi has developed throughout the years and it's quite beautiful. You can tell there is a lot of time that goes into her set up before the food even hits the plate. She nails the lighting, is great at working shadows, and has a definite knack for styling food and scenes. Naomi recently posted a few photos with the pastel-colored background [love it!] you see below that are very different from her moodier scenes. While the color was a definite change you can still see her style and craft come through in the styling. She can really do anything!
photo credit: Bakers Royale | Surprise-Inside Cake with a Rainbow Heart
Kimberly showcases simple + stunning photos with each and every post. She is another photographer that will make you want to eat all your vegetables. The vibrancy in her photos always gets me, and I love her more detailed shots like with the cake you see below. The textured top of the cake was highlighted perfectly with her choice to widen the depth of field which helps to soften and blur the background. I just love the warm, natural vibe she is always able to capture in food. The quality of light and use of shadows are always spot on.
photo credit: The Year In Food | Spiced Winter Cake with Cranberries
----
While I only highlighted 5 blogs today there is a constantly growing list of food photographers who are inspiring me.
Dolly and Oatmeal / My Name is Yeh / My Darling Lemon Thyme / Oh, Ladycakes / Top With Cinnamon / Happyolks / Will Frolic for Food / What Should I Eat For Breakfast Today? / Minimalist Baker / Green Kitchen Stories / Sprouted Kitchen / How Sweet It Is / Oh She Glows / Naturally Ella / A Couple Cooks / Foodie Crush / Local Milk / The Sugar Hit / London Bakes / Vegetarian Ventures / The Vanilla Bean Blog / Flourishing Foodie / V.K. Rees / Cookie + Kate / Love & Lemons / The Tart Tart / Blogging Over Thyme / My New Roots / and still so many more…
I also recommend following your favorite blogs + photographers on Pinterest because they usually have their own food photography inspiration board filled with all sorts of amazing content. And if you're still stumped I suggest sifting through a few of your favorite cookbooks [or check a few out at the library!] or food magazines.
Who or what is inspiring your work these days? Photo-related or other! Do you find any other helpful ways to work yourself out of a creative funk?
Ashley