This week is flying by and it's been amazing outside.  Today was 67* here in sunny Colorado.  I'm sure it will snow again, a few times most likely, but I'll take a stretch of 60* weather any week.  Lay it on me.
I have two recipes to share and a teaser for a third.  I'm generous + evil all at the same time.
After seeing the interest in the coconut cream stuffed buckwheat bake, I had to recreate it again this morning.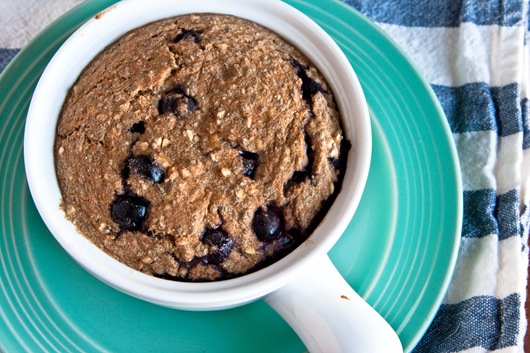 Round 2 was much more successful.  This was quite the breakfast.  I had a bowl of oats the other morning, with my normal toppings and noticed I was hungrier after only 2-3hrs.  The buckwheat bakes will keep me full for at least 4!
Blueberry goodness.
This is not very to-go friendly.  It needs to be eaten on a plate, or in a bowl, or maybe with a bib.
Stuffed with coconut cream, as promised and drenched with my
latest almond butter
.  My taste buds had a very good morning, to say the least.
Coconut Cream Blueberry Buckwheat Bake
[serves 1 hungry individual]


1/4c raw buckwheat flour [ground from raw buckwheat groats in a blender]


1T raw buckwheat groats


1/2 mashed banana


1/3c frozen or fresh blueberries


4T almond milk


1T maple syrup


1T chia seeds


1t cinnamon


1t vanilla


1 flax egg [1T ground flax meal + 2.5T warm water, whisked, sit for 3-5min]


1/4t baking powder


coconut cream –> 1T coconut flour + 2T almond milk




Preheat oven to 350*


Mix flax egg and set aside.


Mash banana with a fork and mix in milk, vanilla and maple syrup.


Mix in flour, groats, berries, chia seeds, cinnamon, and baking powder.


Stir in flax egg.


Mix coconut flour + almond milk together, until a smooth paste forms.


Grease a mini soup crock bowl [or something oven safe 4-5" diam] and pour in 1/2 of the mixture.


Spread coconut cream gently around the middle of the batter, leaving about a 1/2" gap around the edge.


Pour on the rest of the batter and smooth.


Bake for 30min, and flip out onto a plate or eat straight from the bowl.


The coconut stuffing was outstanding, especially mixed with the cocoa-coconut AB!  The burst of berry goodness was excellent as well.  Waiting 30min for breakfast is totally worth it.
So at the pool this afternoon, while I was swimming, one of the lifeguards decided to pop some popcorn.  You're thinking "big deal!"  Actually it was quite a bit deal because, every with every breath I took, the smell of buttery popcorn wafted into my nose.  My stomach was already growling and this didn't help.
What I'm saying is, you have the lifeguard to thank for this recipe, and you have me to thank for the food baby.  I'm warning you, be careful!
While swimming, I usually think about food.  It distracts me, typically making me lose count of my laps, but also making time fly by.  Today I thought of about 5 recipes, but this is the only one I remembered.
Why have I never thought to pop popcorn with coconut oil??  It's a fabulous high-heat oil!
My
method for popping popcorn
is as follows:


Heat oil over medium-high heat, in a deep pot.


Place a few kernels in the pot and wait for them to pop.


Take the pot off the heat [but leave the heat on] and dump in the rest of the kernels and shake around so they form a single layer.


Wait for about 30sec.


Put back on the heat with the lid on and shake back and forth until the popping starts.  Time will vary depending on gas or electric stove.  It usually takes about 3min to start popping.  If you just let it sit on the burner it will burn.


Wait until the popping almost comes to a complete stop and take off the heat.


Mix in whatever toppings you like.


This is step #4.
Shake n' bake!
Beautifully popped popcorn.  Every time.
And now for the excitement.
Sweet + Salty, Coconut Cinnamon Popcorn
[serves 2]


1/4c popcorn kernels


1.5T unrefined coconut oil


1/2t cinnamon


1/4t salt


2t pure cane sugar


2T unsweetened shredded coconut


1/2-1T coconut butter, scraped out of the jar, not melted [optional]




In a small bowl, mix cinnamon, salt, cane sugar, coconut, and coconut butter together.


Pop the popcorn with the 1.5T of coconut oil, according to directions above, or whatever method you use.


In the pot you used to cook the popcorn, pour the contents from the bowl and mix with a large wooden spoon until well coated.


Serve up and make sure to scoop out all of the coconutty deliciousness that falls to the bottom of the pot while you mix it!


I typically have good self control when it comes to food, but with this there was no stopping me.  Before photographing, I stood over the pot and shoveled it into my mouth nonstop for at least 3 minutes.
I let what was left [not much!] cool completely and I stored it in a plastic bag.
This is one of my top recipes ever.  No joke!  I definitely see a cocoa version in the future.  The cinnamon/coconut mixture would also be perfect to mix with
popped amaranth
cereal.  Ohhh my word!  Just the thought of it makes me happy….
And now to continue my cocoa obsession, my latest dinner recipe.  The truth is, we've been eating a lot of quick dinners.  I haven't had many dinner recipes on here at all, lately.  By quick, I still mean homemade, but just really simple.
This is the best chili I've ever made and it uses 1/4c of unsweetened cocoa.
I wasn't sure how much Chris would like it, but he's taking it for lunch tomorrow, so that must be a good sign.  It's the perfect combination of savory, rich, creamy, chewy, salty + every so slightly sweet.
Topped with a little Greek yogurt.
And what else?
Coconut.
Obviously!  I dare you to try the combo yourself.
Recipe details tomorrow!
Are you full yet?  I am!
Time to get my snooze on…
Ashley