I felt like some super crunch action this morning.  Cereal time!!  The big round flakes was some type of Nature's Path brand…but I can't think of what kind it was…Oat Flakes maybe?  I sprinkled Raspberry
Galaxy Granola
on top.  Definitely the CRunch I was craving.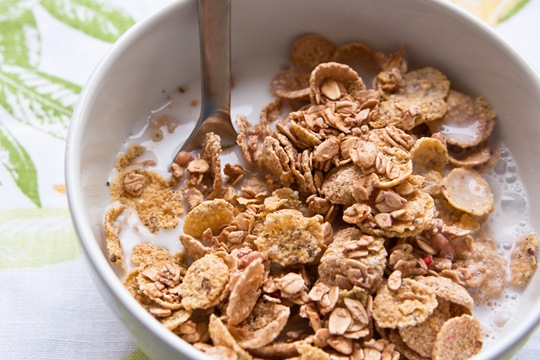 My cereal was soaked in
So Delicious
unsweetened coconut milk.  I'm all for super crunchy, low sugar cereals, but this was a bit bland.  I wanted to slice a banana on top but they were under-ripe.  A banana totally would have saved it!  I ate about 3/4.  I also ate 1/2
vegan blueberry muffin
and then a lot of sampling of the following creation.
Almonds!!!  Time to make round 2 of
homemade almond butter
.  Previously I made a Crunchy Chia Almond Butter and a Vanilla Bean Almond butter.  They were good, but do not compare to the following.
Roasted almonds with maple syrup.  It was hard to not eat all of these.
They smelled fantastical.
Time for some processing!
The creaminess begins but takes many more bowl scrape-downs until it's complete :)
This is all I've been able to think about all day long.  I made it at about 10:30am this morning and have been sampling it every since.  You know, to make sure it's still edible ;)  As I've talked about before, I like almond butter but it's definitely not my favorite.  I love peanut butter a whole lot more.
However…This was THEE tastiest nut butter I have ever had.  Insanity, I know.  So you want the recipe?  Okay okay, here you go!!
Nut butters are really easy to make.  You really don't
need
a recipe to whip up a batch…but you miiight just want to follow this one!
Roasted Maple Cinnamon Almond Butter
**Updated – 3/29/2011**


1c raw almonds


2.5T maple syrup


1/4t salt


1/2t cinnamon


1/2T oil [optional]




Preheat your oven to 325*


Line a pan with parchment if you don't want to clean a sticky mess!  Do not use foil or wax paper.


Pour the almonds on the pan with and mix with the maple syrup.


Roast for ~15min, stirring 3 times.  Watch so they don't burn.


Let them cool for 5min. [If you let them completely cool, they will be much harder to process]


Put in the food processor.


Turn the processor on + let it go until it's buttery ~15min.  Scrape down the bowl as needed.


Add in the salt + cinnamon and process again until smooth + buttery.


**Notes**


If you're having a really hard time getting it to smooth out, you can stream in 1/2T oil, after 12-15min of processing to help move things along.


If you have an 11c food processor, you can double this batch and make 2c.  If you have a 7c, I do not advise doubling this recipe..


I have never been so excited to make oatmeal in the morning.  Helllloooooo creamy oatmeal topper goodness!!!
I use Grade B maple syrup.  Yes, maple syrup is expensive, but it is so worth it.  Make sure to store it in your fridge once you've opened it.  If you have a health food store around you, chances are you can buy maple syrup in bulk, which is SO convenient.  Definitely a money saver.
Has anyone tried this brand before?  This flavor was pretty decent but still don't love this brand of Kombucha in general.
Lunch!!  I ate up the last little bit of the
millet black bean burgers
on a huge bed of GREEN. 
Emily
inspired me to do this with the leftover!  I threw the remains of the mix in a pan to get it crispy.  Then I topped it on a mix of kale and mixed greens along with about 1/4 of a large avocado.  YUM.  My dressing was olive oil, nutritional yeast, salsa, s+p.  The only thing missing were tortilla chips for some crunch!
With a side of plain yogurt + a kiwi.  I got a tub of Stonyfield Plain yogurt and it's just soooo boring compared to the Greek.  I was trying to save money and this was on sale, but I won't be buying it again.  Blegh!
I worked today and decided to pack my dinner to go.  I love having all of the options to choose from while working at Whole Foods, however it does add up!
Obviously, the almond butter played a large role in my dinner decisions.


WF small batch organic sourdough bread


~2T Roasted Maple Cinnamon Almond Butter [to.die.for.]


1/2 banana that I found in the fridge – Could have used this on my cereal but forgot about it…better on the samich!


Although this looks like nutritionally deficient white bread, Sourdough is pretty good for you!  This brand has 4g protein per slice.  Sourdough also has a low glycemic index rating, so it won't give you a carbo-load crash and will also take longer to digest, keeping you fuller longer.
Move over
Justin's
Nut Butter, there's a new kid in town!!  No joke, this should probably be illegal…someone please make it and tell me what you think!!
SF Oikos Strawberry is one of my favorite yogurts.  I think it is waaaaay better than Chobani, which I find overly sweet.  Crunchy pink lady apple was eaten as a snack.
Something exciting happened today…
I got a new toy :)  More on that soon!!
Work is EXhausting.  Yowza!  My legs are achy and my feet are super sore.  Definitely did not need a workout with working 2 days in a row.  Someone asked if I posted yesterday's post at 3:30am.  That was probably East Coast time.  I posted at about 1:30am and tonight I'm posting at 2am.  I didn't get home from work until midnight.  When I got home I ate about 4 snacks obviously including some almond butter.  It's already half gone.  Ooops.
Niight!!
xo
Ashley