I am writing while in flight today. I have never had a laptop that actually held more than 20min of battery power, so I thought I would try to make use of my time in the air! I never thought I would be traveling to Ohio looking forward to the weather there, haha. It was in the low 20's when I left this morning with a dusting of snow on the ground. Natalie says this is definitely a-typical. I hope so!

The digi SLR was all packed up and ready to go, so it was a point-and-shoot type of morning ;)

Wake up call: 7am – last minute gathering of things, shower, hair, breakfast, and I'm off…Flight was supposed to take off at 11am and get in at 3:45 EST.

Creamy + hot bowl of oats, much needed on this chilly morning.


1/3c. oats


2/3c. water


1 medium banana


1T almond butter


honey drizzle


cinnamon shake



= Deeelicious

I usually only use a 1/2 banana in the oats, but the full banana made it even creamier. YUM! See my car on the street + the snow? [yak!]




I try my best to avoid road food/airport food because it is definitely not the healthiest option and is usually way overpriced at that.

PB samich on honey whole wheat + walnut date KIND bar + LARABAR chocolate/coffee + Kidz bar peanut butter crisp [not pictured]




And behind door #3…a new car!!! Well, we definitely didn't win this..but we are still really excited about it. We got a new RAV4 this week and on day 2 of owning the car, Chris already bought and installed the snowboard rack, hehe =)

It has a lot of power and will be super safe in the snow. It's extremely spacious and rides really smooth. We picked this car because of its size [not too big], safety ratings, power, and it has the best mileage for a v6 in its class. For 200 miles we have driven so far, mixed freeway/city miles, it was at about 27mpg. Pretty awesome!




The trunk area is huge. Definitely big enough for both crazy dogs and there is a large storage space under the mat too! [notice the snowflakes]

Chris and I were super excited this AM, when we realized that the cup holders hold a full size Nalgene bottle! I have never seen cup holders that big. Seems silly, but we always have those bottle around and they end up on the floor. woop woop =)




Got to the airport and the plane was already delayed for 30min. After waiting for awhile they said it would be delayed another 1hr because they were fixing a broken window. At least it wasn't a mechanical problem! Then a little while later it was delayed another 1.5hrs…frustrating! Then, it actually got pushed back 45min, which I have never ever seen happen. It wasn't too bad.

Kenna + Dakota on my computer screen. Ate the crisp bar!




Why is it so hard to resist buying magazines at the airport? Gave in and bought some Naked juice and hilarious postcards that looked like they were shot in the 1980's. I have been meaning to send out postcards from CO but haven't really come across any until the airport.

The Green Machine Naked juice is delicious and full of real food! I don't regularly buy the Real Simple magazine, but it is pretty long and I figured they would have some good articles and recipes to check out.




I read some amazing stories of breast cancer survivors, learned better ways to organize the laundry + avoid wrinkles [haha], got a recipe for pumpkin muffins, and some possible dinner recipes. It was a good read for $4.99 and I didn't finish all of it.

Snacked on 1/2 of my PB samich and caught up on some blog reading while waiting for the plane.




Finally got on the plane. They were showing a pretty terrible movie…I don't remember the full title but it was something with "Valentine's Date" in it. I put the headphones on to listen to some Old Crow Medicine Show and Katie Herzig, while I tried to cleanup disk space and organize some folders.

We're going to dinner to celebrate my bro's 30th bday, right down the street from my parents house, where my wedding was at. [stonewater golf club] I love going back there…lots of good memories. Wish the husband was with me!

Oh yah, actually got free lunch on the plane. Small turkey sandwich, which I took 1 bite of. I haven't had Ruffles in a long time and couldn't resist 1/2 of the bag along w/the twix. Caramel, cookie, and chocolate? Couldn't pass it up ;)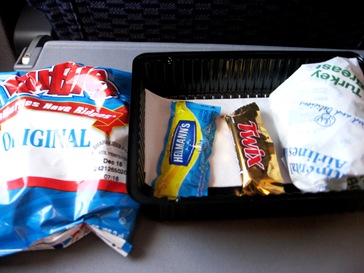 …

Got to Cleveland! Smooth flight and only 2hrs 10min. Mom and dad picked me up and I came home to pumpkin fudge and a surprise in the envelope =)




Off to dinner. Normally, Stonewater is spot on with their food. Tonight, very "meh." I went with something I normally would never get. It was pasta with a cream sauce [i think pasta carbonara?] sprinkled with bacon and pees. I just didn't feel like a meat dish or a salad and they were out of the lasagna I wanted.

Waaaaaaaay too much bacon. Kind of bland.




The whole family came over to our house for Josh's b-day. Lots of family fun =) Happppy to be home!

Night!

Ashley