day 1 breakfast - yogurt+zucchini bread+banana+pnut butter+kiwi…bad decision putting the kiwi in..


slow + steady rain for the first few hours




the start of the weird hovering head….




BAD!!! GOOD!!!




pisqua national forest was gorgeous – top west of NC going into TN




strange little rest stop…the bathrooms were in that building…




lunch!! if i'm not eating ota.bars i'm eating clif kid bars or larabar




weirdness.




these are perfection…no trader joe's in CO…but lots of other good stores i'm sure




i'm not the biggest fan of larabars…but they are filling…peanut butter cookie is definitely not my favorite




eating to stay awake!




about to get on 70W which takes us to CO!!!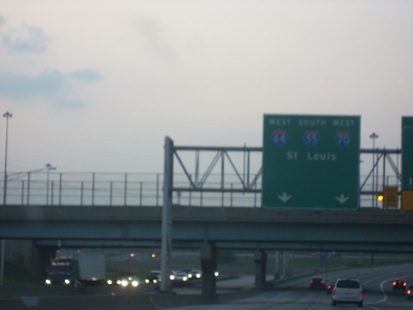 st.louis arch




bad photo w/flash…i forgot i had mom's zucchini bread!!! got me through the last hour of the trip..made it to kansas city, miss. by 11:30pm




day 2 – well rested pup




feeling like 9hrs is going to FLY compared to the 16+ the day before




probably the best picture i got in kansas…straight + flat the entire way




yupp.




wooohooo a curve!! and lots of bugs on the windshield..I saw no tumbleweeds in KS and was really upset about that…




approaching an amazing wind turbine farm




these things are monstrous!!! i saw some of the blades being transported on trucks…HUGE!




snack time…these pita chips are the best ever…definitely a favorite of chris's




this was next to a gas station…it smelled really bad




nom nom nom




trader joe's supplied most of my road food




crunch time




finally in Colorado..still took FORever to actually see the mountains!!! eastern CO is just like Kansas…boring!




mountains..finally!!




awesome sky




can't wait to visit laura in boulder and melissa in CO springs!




driving up to our new temporary house, thanks to pat + natalie!! the house is awesome and has a great backyard that the dogs looove

dog x3!




trying to figure each other out




what a doofus!




love to see the mountains while driving around!




Overall the drive went really well. It was easier than I expected but still insanely long to do alone. Chris definitely had it worse driving the 22' truck. We are settling in and trying to find our way around. I love having no humidity, but I'm sure I will miss Charlotte winters…except when I'm snowboarding!

No new ota.news…Still trying to get everything unpacked and hope to start researching things next week! Will keep everyone posted and hope to have some more ingredient posts in the near future.

Niiiight!

Ashley