Natalie and I may have created thee most perfect pumpkin bread ever today.  Consistency was perfect…not too dense..not too oily…nice crust. mmmm… I am still excited about it!! [recipe at the end]
I found 2 similar recipes, that I thought sounded the best.  This may not be the smartest thing, but when I bake, I never follow the recipe.  Even the first trial, I am always substituting.  Not only did I substitute at least 4 ingredients, I had to change a LOT of things due to the higher altitude.  We are just over 5,000' above sea level.  The explanations of "why to change" made sense, but it just seemed strange.
One change I made was subbing out some of the white flour and adding in some whole wheat pastry flour [pretty standard].  In breakfast type breads I really like subbing about 1/3 of the flour as whole wheat.  I did it for taste and not really any health reason.  If I am trying to make a super healthy loaf, I'll use almost all WW and sub in a lot more applesauce [or bananas or pumpkin] to oil ratio.
I have only ever found WW pastry flour in bulk bins.  At Natural Grocers they pre-bag their bulk in various weights, which is really nice.  I got a 2lb bag of unbleached organic white flour and organic WW pastry flour for about $1.75 each.
The natural light was not exactly my friend today…Here a strainer became a sifter and worked like a charm [for the most part, right Nat?].
***********SECRET INGREDIENT***********   [$1.49/can cheapest @ WF]
Spices!! You can buy "pumpkin pie spice" or use ginger/cloves/nutmeg/cinnamon and make your own.
Whole nutmeg was a lot cheaper than a jar of nutmeg.  It was my first time grating nutmeg.  The inside was crazy looking!
Fully mixed pumpkin bread batter
It rose and cracked perfectly.  Natalie and I ate at least 1/3 of the loaf already, hehe =)
Chris + I met
Laura + Travis
for dinner in Boulder.  We had some really good eats and FABulous company =)  I was in undergrad at Ohio State, for Architecture, with Laura.  She moved to Colorado after undergrad.  We stayed really close over the years, with visits here and there, and are so excited to finally live in the same city! They are 2 of THEE most amazing [and talented] people you will ever meet. seriously.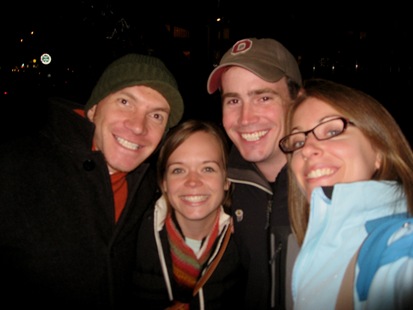 rock.stars.
Pumpkiny Deelicious Bread Creation:
[
normal altitude version
– if you want the high altitude version leave me a comment!]
This makes [2] 9x4 loaves – Preheat oven to 350* and grease pans with butter


2c. unbleached/un-enriched white flour


1c. whole wheat pastry flour


1c. cane sugar


1c. sucanat


2t. baking soda


2c. pumpkin


1/2c. olive oil [seems strange..but swear it worked!]


1/4c. butter [let come to room temp]


1/4c. unsweetened applesauce


1/4c. water


1/4c. low-fat coconut milk


4 eggs, beaten [let sit out for 20-30min before using]


2t. cinnamon


1/2t. ginger


1/2t. cloves


1/2t. nutmeg


You can totally play with the amount of spices you add or just add 3-4t. pumpkin pie spice.


Sift the flour, salt, sugars, soda into a large bowl.


Beat the pumpkin, oil, butter, water, coconut milk, applesauce, eggs, and spices until smooth.  There might be small chunks of butter throughout, which is totally fine.


Stir the wet into the dry in 3 increments until JUST combined.


Make sure your pans are well buttered [I used metal pans..baking time may differ if you use glass…not sure]


Split the batter evenly between the two pans and give the bottom sides of the pans a few knocks, with your fist, to release excess air.


Bake 40-50 minutes.  Test with knife blade or toothpick until you get a clean swipe.


Let sit for 10-15min. and then tip out onto a cooling rack.  Let fully cool before wrapping.  You can easily freeze a loaf, after completely cooling.  Wrap tightly with foil or saran, stick in a bag, and thaw whenever [up to 6 months].


If you don't want to buy sucanat, you can do 1/2 brown sugar and 1/2 cane sugar or just all cane sugar.  The original recipe called for 1 full cup of oil.  The ratio of oil/butter/applesauce, that we used, worked really well.  I actually can't imagine it having a whole 1/4c. more oil in it.
Also, the coconut milk, will NOT make it have coconut flavor at all…promise! It is just for moisture.  If you don't want to use it, try buttermilk or you can just use all water.
The original recipe also called for THREE cups of sugar.  We took out ONE full cup of sugar and it was definitely sweet enough.
For the spices we used 2t. cinnamon, 1/4t. ginger, 1/4t. cloves, and 1/2t. nutmeg.  It could have used a little more spice, so I upped the ginger and cloves as specified in the recipe list above.
If you have any questions just let me know!!
Time to plan this week's dinners…
Ciao!
Ashley