So, these photos are from last Saturday thru this past Wednesday.  There are a ton of photos :) I had to use my point + shoot for some of them..you should be able to tell which ones!  My dad was at my grandma's until Monday morning.  It was pretty hard/sad when I first got there…seeing my dad + grandma wasn't easy.  Also, when I arrived, my grandpa's birthday balloons were still in the garage.  And, his golf shoe sign on the door:  Take golf shoes off before coming in the house!!
My dad and I helped do a ton of stuff around the house.  I focused on cleaning the kitchen [fridge/pantry/freezer/etc].  My grandma was thrilled to have it so sparkly clean!  I also moved a lot of things to lower shelves so she could reach everything.  My grandpa was about 6' tall and my grandma is only about 5'2". 
Let me back up a moment….
When I arrived in Charlotte THIS hunk of JUNK was my rental car:
While it looks pretty sweet and you'd think it would be fun to drive, I honestly have not ONE single solitary positive thing to say about this Jeep Wrangler.  I know a lot of people own these…but I just don't understand!  Let me point out it's features:
for the life of me could NOT find the controls for the side view mirrors…
front window is way small
EXtremely loud while driving b/c the wind whips through the soft top…my ears were ringing after my 2hr drive
seats are horribly uncomfortable
HEAVIEST feeling car that I have ever driven…nothing else even comes close
constant heavy pressure on the gas, so much that my foot was actually tired
a complete slug…no get up and go
really shaky and hard to keep straight on the freeway
hard to see out of the back window
I'm just not sure what this thing is good for?
So, I had a 2hr drive to get to my grandma's and stopped half way for some caffeine.  As I walked into Starbucks, my only option, I got an idea!  Instead of coffee I would buy chocolate milk and mix some chocolate Amazing Grass into it! Brilliant!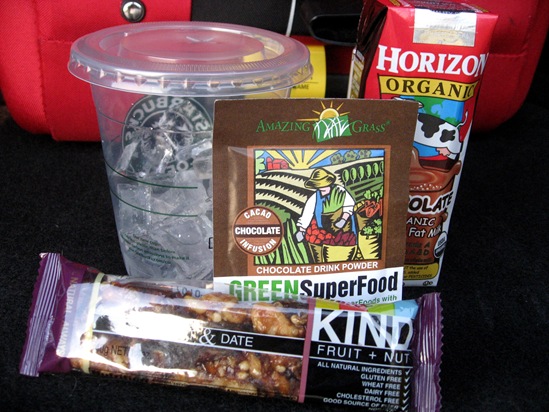 It was REALLY good!!  I felt better about drinking this and really needed the boost of GREEN!  Totally recommend trying it out.
Okay back to the actual trip…so it was great to spend time with my dad + grandma. 
Bay's English Muffin topped with PB [the BEST english muffin there is!] + coffee + pomegranate Stonyfield yogurt with some Cracklin Oat Bran on top [my dad's fav]
On Sunday I went to the spot where my grandpa's North Carolina service was [last Friday].  I had been there once before and it is a favorite spot of mine.  It's on top of Glassy Mountain, where one of the golf courses is that my g'pa belonged to.
When I visited this spot in high school, I thought it would be the perfect wedding spot!  Bare with me here for the non-food photos :)  It was my first time really using the DigiSLR for anything other than food!
And a few interior shots…
I like this one the best :)
A few around the church…
It was a gorgeous 70* fall day
Hungry for some KIND bar…with a view!
I tried papaya for the first time.  It was super juicy, but not too flavorful…I'm sure it's not peak papaya season ;)
Lunch!  Rye Triscuits are REALLY good!
Amazing Grass experiment #2.  Let's try the chocolate Amazing Grass in Stonyfield Strawberry Oikos…
DEElicious!!
Cracklin Oat Bran + oats + banana + pb
After my dad left, I planned a yummy dinner for my g'ma and I.  I was going to make pan roasted kale with red peppers, and garlic roasted mushroom quinoa.  She had never had kale or quinoa and was totally open to giving them a try! :)
Playing with the camera!
Rinse your quinoa with a fine mesh strainer.  If you don't have one…get one!  they are about $10 and I have used mine for a million other things since!  [ie: sifting flour, straining almond milk, etc]
This was THE best quinoa dish I have ever ever made!!  Chris hates mushrooms…so I had to use them while I had the chance :)
My grandma looooved the quinoa and thought the kale was really good too!
Topped with a little feta
mini bowl of oats + almonds with a side of Oikos + granola + chocolate Amazing Grass
I should have taken a photo, but I forgot…my grandma has the prettiest flatware!!  I loved it…super sleek + modern.  It's from Target…maybe I can find the link…
Oooh, yes, this was it!! My grandma is so trendy!
All mixed up…kinda turned into pudding!
Last breakfasat…had to have another Bay's English Muffin.  Perfection.  Plus strawberry Oikos + goji berry Amazing Grass.  The chocolate grass + yogurt was much tastier.  Although, in a green monster drink, I prefer the goji berry grass :)
I got a few good runs in while I was there too.  The neighborhood is at a fairly elevated height and it was extremely hilly.  It was harder than the runs I've been doing in Colorado.
It was great to spend time helping out my grandma and cooking for her.  I also started to teach her about healthy eating and what she should look for in food.  I got her all stocked up with food from Earthfare [like Whole Foods]…she was really excited!  They were pretty healthy food buyers anyway though.  I found flax oil, flax seeds, lots of frozen organic fruit, tomato juices, tons of supplements and many other things that my grandpa would use to keep in tip top shape.  He even bought a Vitamix blender at some point!  What grandpa do you know with one of those??  My grandma said I could definitely have that…It will be a great remembrance of my grandpa always trying to stay healthy [like me!]and I will definitely put it to good use!!
Another post coming soon from my quick visit to Charlotte before heading back to CO!
~Ashley