So I found these in my grandma's cupboard.  The deeelicious buttery cookies you get when you fly on Delta.  I ate half the sleeve over the course of 3 days :)  4 cookies have 150cals.  I thought they would be SO much worse because of how buttery and delicious they are.
I drove back to Charlotte Wed. night so I could get up and go on Thursday, and not have a 2hr drive first thing in the morning.  I went to visit Rachel, a good friend of mine from grad school.  She lives in our old apt. complex which was weird to be back at!  I miss our little NoDa neighborhood and our friends!
She got a boxer puppy right after we moved away.  Super sweet puppy named Kaya, and looks kinda similar to Dakota!
She + her boy [Brandon] now also have a kitten named Guru.
Rachel + Brandon do a lot of freelance work in their spare time.  Check out their stuff, it's seriously awesome! 
Kaya slept in my lap for about 30min.  She is such a good little pup!
I went over to Eric's house [I used his kitchen for my ota.bar business!] after visiting Rachel.   Kelsey was [obviously] there too and in the process of making me an amazing dinner.  Freshly caught [by Eric + Kelsey] shrimp alfredo.  It rocked my world!
oh.was.this.UHmazing.
Alica, Chris + Avery stopped over to say HI too!!  Soooo good to see them. 
Lil' stinker!
Penny was there for the party too!
Dad + Avery
Alicia [Avery's momma] + Me
Kelsey, Kath, and I planned to go to Yoga1 to get our yoga-sweat on at 8am.  I miss it SO much!  After, we came back to Eric's for breakfast.  Pumpkin pancake mix from Trader Joes…YUM
Didn't get any good pancake photos…but I made us initial pancakes :) 2 K's and an A
Super fun sweaty, then delicious, morning with the girls!
I think Eric + Kelsey should run a bed + breakfast.  Look at these accommodations!       
Which TV to use??
Spa-like bathroom
Back at the airport.  I bought the Real Simple holiday edition.  It was pretty good, better than the Thanksgiving one.  This one had great gift ideas and a lot of good recipes.  I did some research for my grandma on the Glycemic Index.  Really interesting information, that I knew a good amount about, but have learned so much more since reading this book and other sources.  Chomped on some almonds too! 
My layover was in Kansas City, Missouri.  What a weird airport!!  It was super small and when you got off your plan you had to walk back out into the arrival area of the airport.  So then you walk to your next gate, and have to go through security again.  It was really weird!  And, all of the food places were in the arrival area, so just like always, you can't bring any drinks through after security.  No coffee while waiting for the plane! They had a snack cart in where you waited for the actual plane. 
I know everyone has had their fair share of bad travel/airport experiences.  I'll spare you the details on mine and just say "INSERT ANNOYING AIRPORT RANT STORY HERE" :)
Besides the silly airport rant, Starbucks made me want to rant too!  I am NOT their biggest fan.  There weren't any good food options at this airport so I thought I'd give the Starbucks oatmeal a try.  When I opened the container the oats were gummy and pretty gross looking.
I then decided it would be a good idea to add chocolate Amazing Grass to the oats along with some peanut butter.  I don't recommend this!!  I choked it down, but it was not good!  Obviously, that was my fault, but the oats themselves, were no bueno.
I got a chai tea latte instead of coffee and it was THEE worst I have ever had.  It was nice and frothy and smelled good, but tasted like I was drinking straight syrup.  It was SO sweet and WAY too many flavors.  I forced myself to drink 1/4 of it just because they are so expensive.  I literally couldn't drink it.  I would have rather eaten 5 bowls of my grassy oats than 1/2 of this drink! n.a.s.t.y.
Caribou has a realllly good Chai Latte if you have the option of one or the other!
In flight snack.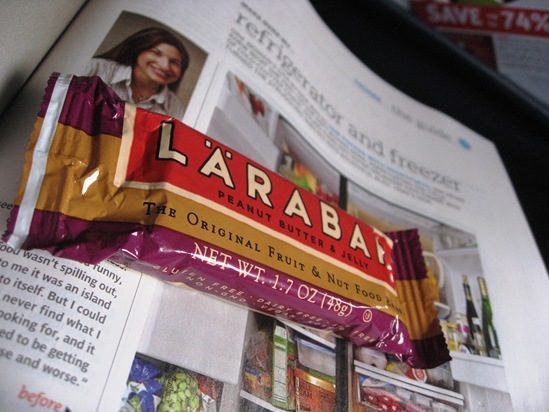 I made it back safe and sound and will be leaving in less than a week to fly to Ohio to meet up with my family and then drive to Michigan for my grandpa's funeral.  So much traveling!
Have a great weekend!! Off to work on my POM contest recipe!! :)
~Ashley