Well, not until Wednesday…but I'll be leaving for Ohio to visit the fam for a whole week.  I am more than excited, except for the traveling part and that Chris won't be coming with.  I have been on a plane way more than normal lately.  My eco-footprint has skyrocketed, boooo!  I have a lot to do while I'm home but all fun stuff!!  My dad wants a tour of Whole Foods because he wants to learn how I shop and what I look for when I go there.  I'm pretty excited for that!  :)
This weekend with Jake went so well!  Even though I'm convinced he is the most well tempered, easy going baby ever, it's still hard work!  I looove babies and love watching them, but Chris + I still know it's not the right time for us. 
Last night I prepped some overnight muesli.  Chris wanted some too, yay!!
For each bowl this is what went in:
1/3c Bob's Red Mill Muesli
1/3c plain yogurt
2T part skim ricotta [added creaminess + sweetness]
1/2 banana
1/4c unswt. vanilla almond milk
few shakes of cinnamon
There were actually directions on the package for overnight oats!!  It said to only add 1/3c yogurt [or any liquid].  There is no way that would have been enough.  They were still super thick in the morning.  I threw them in the microwave this morning because I just like me some hot oats in the morning :)  I do like the cold version in the summer though.
pnutty goodness on top
This bowl was soooo super creamy and the perfect sweetness, even though I used "plain" yogurt.  It was perfect except for the raisins in the muesli.  I like raisins but usually just by themselves.  I don't like oatmeal raisin cookies, or raisins in bread.  The texture changes and they get all mushy.  They kind of make my mouth squirm ;)
I had to wake Jake from all his naps because I didn't want to mess up his schedule!  He is super cute + happy, even when you have to wake him up.
We made a trip to Whole Foods today too.  It's funny taking a baby somewhere because people obviously assume it's yours.  People are also really forward about making strange comments.  I think this will annoy me when I really am a mom, hehe.
I bought these little guys, which are about the same size as clementines, but so much tastier!  These are Satsumas.  They peel easier and are sweeter and juicer than clementines.  I can't wait to pick up more this week!
I love that the stems are left on them.  They enjoyed their little photoshoot :)
I knew I wouldn't be able to decide on which of the leftovers to eat, so I just had some of both.   Ahh, it was all so so good.  That soup was delicious and such a good mix of veggies and beans.  Tons of fiber + protein!!  Totally making this pasta again, but only for myself, since I'm surrounded by squash haters! ;)  Maybe I can make it for Laura next time…we are squash loooovers.
Jake thought Chris was pretty funny and enjoyed hitting him in the face and sliming him, hehe :)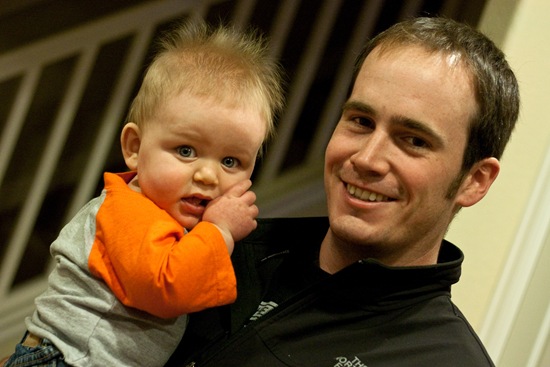 I'm goin to miss this little booger!
I made dinner for Melissa + Matt when they got home.
On the menu:
Mexi sloppy joe's [recipe link with what I changed about 3/4 the way down this post]
Kale – 2 ways [pan sauteed with garlic/salt/olive oil – oven roasted on 375* with olive oil and salt for about 10min til nice and crisp]
Quinoa – mexi style
I couldn't find buns that I thought would be good this time, so I got a loaf of sourdough and we ate them open faced with fork + knife.  The bread went really well!!  Melissa LOVED the kale…woohoo another fan!!  I haven't made the pan roasted kale in FORever and it was totally amazing.  It get so crunchy..mmmm  They also really liked the quinoa, which they had never had before. 
For the quinoa I used water and mixed in some green pep, garlic, tomato paste, adobo sauce [from the chipotle pepper can], and s+p.  We started eating and Melissa asked "did you take photos already??"  I TOTALLY forgot, haha.  This never happens…it was really weird!  I was starving and focused on the food..even though the camera was sitting right next to me.  Good thing she reminded me!
Time to watch the season finale of Dexter!!!!  We are totally addicted to this UHmazing show.  Love it!!  Anyone else a fan??
Night guys!! Oh yeah, we are probably making a decision on where we're living tomorrow.  If not tomorrow, then in a few days.  We found a few places, that all have their +'s and –'s, so it's not the easiest decision.  I'm also meeting up with one of my best friends from Ohio State for dinner tomorrow.  She's in Colorado visiting her boyfriend.  I haven't seen her since my wedding, so I'm super excited!!!
Okay, night for realz!
~Ashley
A few photos of Jake from my point n' shoot.
view on the walk
stink.er.