So yesterday I mentioned that I just bought Bob's Red Mill Muesli.  This morning was my first time having it cooked.  Muesli is usually just oats mixed with fruit + nuts.  This specific kind has: Rolled Oats, Wheat, Rye, Triticale and Barley, Almonds, Date Crumbles, Raisins, Sunflower Seeds and Walnuts. 
Kids in pj's are so stinkin cute!
Morning Jakey!
The serving size only says 1/4c. at 110cals.  I knew that wouldn't be enough!  It calls for equal parts liquid to the muesli, but I ended up adding a bit more. 
1/3c. Bob's Red Mill Muesli
1/2c. vanilla unsweetened almond milk
1/2 banana
pnut butter glob
Yogi strawberry crunch cereal
This is 1 of the awesome bowls Melissa bought me for Chanukah :)
Banana time.
I really really liked this but could have eaten double the amount, hehe.  I had about 1/3c. of the Yogi cereal with almond milk after, and I actually stayed full for 3hrs.  I was shocked.  I guess it was more filling than I thought.  I didn't think it would keep me as full since there were a lot less oats because of the other added ingredients.
I definitely recommend this product.  It was delicious and I liked the texture a lot.
Jake + I went for a walk before he ate lunch.  Melissa's neighborhood has some really steep hills!  It's finally warming up here and even thought it was only in the 40's it felt HOT with the intense sun.  How cute is he!?
Lunch time for Jake!
Lunch time for me!  Leftovers of the delicious butternut squash pasta from last night.  Soooo yum!!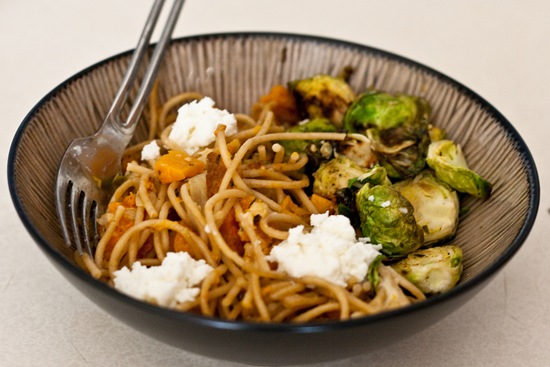 Butternut Squash Pasta:
I don't know exactly how much squash I used, but I chopped and used a whole one that was about 3lbs?  You can also use sweet potatoes if you like them better.  I would say 2-3 of them?
~3lb butternut squash
1/2c. onion
1/2 container pasta [serving for 4]
1t minced garlic
1/2c. parmesan
1T fresh chopped rosemary
s+p to taste
ricotta cheese
1/2c. of the cooking water from the pasta
Cube the squash, toss with 1T olive oil + salt, roast @400* until desired doneness [30-40min] 
Fill a pot with water and cook the pasta
Heat a large pan with ~1T olive oil and sauté onion + garlic until soft
Add in squash, rosemary, s+p. 
Cook for a few min and then add in reserved pasta water, pasta and parm cheese.
Toss and let thicken for 2-4min and serve with or without dollops of ricotta.
If something doesn't seem right with this or if you have a question let me know.  I can't find the actual recipe, but think I got it right! ;)
I also pan sauted brussel sprouts on the side, as you can see.  I added some fresh rosemary to them, s+p, and a little red wine vinegar.  Tasty!
I could have definitely chowed down more of the pasta but had a pear instead.  It was suuuper sweet + delicious.  I swear I've had some of the best pears ever this season!
Chris came to hang out tonight and stay with me until Jake's parents get home tomorrow.  I had a meal all planned out.  Three bean + Kale soup.  It was definitely a 30min soup, which is always so nice, and I thought the taste was great without having to add a million seasonings.
Hello Shiraz, you are so yummy!  Jake + I made a quick trip to Whole Foods to get a few more things…like their mini $.99 loaf of French bread [soo good!!].
The soup was really thick with the beans and kale.  It looks like there wasn't enough liquid but you could always make it more "brothy."  I would keep it the same next time.  I loved that it was like eating a huuuge bowl of veggies + beans with not too much broth.
Ohhh yum.  Lunch tomorrow is going to be hard deciding if I want this soup or the butternut squash pasta!
You might spot some brussel sprouts.  I added them in from leftovers that I made last night.  Awesome addition!
I got this recipe from Cooking Light and only changed a few things.
Two Three Bean Kale Soup [what I changed]
1 can black beans, 1 can cannellini beans, 1 can lentils [I still pureed the can of cannellini beans as directed]
2T red wine vinegar [instead of 1T]
1c. carrot [instead of 1/2c.]
2/3c. onion [instead of 1c.]
2t. rosemary [instead of 1t]
Yummmm!!!
Night all :)
~Ashley