No oatmeal, 2 days in a row, I feel lost!  ;)  I went out to breakfast today with Melissa, Jake, her mom, my mom + Jenna.  We were meeting at 10am, so I had to scarf something ahead of time.
pnutty smear on a bananer
While eating my banana, I was admiring my favorite Christmas ornaments on the tree.  My dad and I put it up Monday night.  Kind of last minute, but at least it's up.  I told him to wait til I was home :)
There is a set of fruit ornaments, and they have been a long time fav. of mine!
Flying Santa.
The ornament I made the other night with the whole family on it!  Even all of the pets.  There are 14 names on this thing!!
I made this one too!
Snoooooze. Okay, sorry, time for breakfast.
Jake was of course 100% cute the whole time we were there.  He even scarfed a little pancake.    
Melissa + Jake, adorable!
I am glad I ordered the "mini" omelet.  This thing was not mini!!  I got a spinach/portabella/tomato/cheese omelet and it was delicious!  We went to a place called Scrambler Marie's.  Very yummy!  I ate the omelet, most of the potatoes, some of the toast and was hungry about an hour later :(  This was realllly tasty though! 
Jenna ate all of her waffle, which looked awesome.
Jakey + me!!!
momma [the newest lover of kale!!] + jake [would you look at that face!]
Lunch was orange + green.  Salad with Annie's balsamic [yum!!], leftover butternut squash pasta, sprouts, cucumber, and 1 clementine. 
This is super delish.
See? Very orange + green!
What's next you ask??  My yearly puppy chow day!  No not dog food..I'm sure you've seen the crispix + chocolate + pnuts + pnut butter + powdered sugar before.  I think it is called Sweet Minglers or Puppy Chow.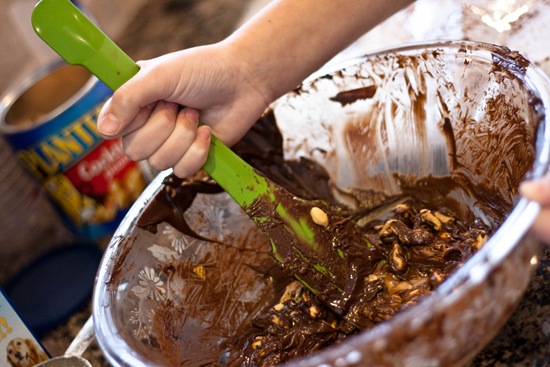 We made 3 big batches [recipe coming] and AJ + Jenna helped a ton.
In a giant ziploc after being tossed around with the powdered sugar.
Got that all packaged up and cleaned up.  What's next you ask?  Cookie mix-in-a-jar of course!  I have never made this before but have seen it given as gifts, and I just love the idea.  I looked up recipes on allrecipes.com and found one with great reviews and I liked the mix of ingredients.  There are SO many to choose from on that site.
What is a hair dryer doing in a kitchen???
There were annoying labels on the mason jars and did you know that a little heat from a hair dryer peals those pesky labels right off!?  Try it out sometime.  I usually have it on high heat for about 10sec and then it peels right off.  Careful because sometimes the object gets hot quick!  So much better than using goo gone.  Also make sure you sanitize/sterilize the jars + the lids/seals.  I found these jars [pint size] for about $2.99 at Michaels.  The best way to sterilize them is putting them in your dishwasher on the "sterilize" setting.  If you don't have that option you can boil them and let them completely dry as well.
Why is there a turkey baster in the jar!?  Well, to help pack down the ingredients.  I got the wide-mouth jars and went back and forth using my hand and the baster to really pack down the ingredients.
I like to make messes :)
Alllll done.  I'm giving these out for a few gifts to friends while I'm home…for only 1 more day :(  Sad to leave the fam, but I'm totally missing the hubs!!!!
I decided not to add nuts because not everyone likes nuts in cookies.  I added a mix of chocolate chips and "sun drops" [kinda like m+m's from WF bulk bins] and a little sprinkling of cinnamon on top.
Can you smell a cookie-mix-in-a-jar photo shoot?
Obviously :)
I made a batch too, to test them out.  Man, were they good and so easy. There was no mixer involved, no creaming the butter + sugar, and you don't even have to wait for the butter to soften…you actually melt it!  They had a great chunky consistency from the oats.  I added less sugar in the batch I made.  Instead of 1/2c of each white + brown, I took it down to 1/3c of each.  They were definitely sweet enough and I would probably only do 1/4c of each next time. 
However, as a gift, I put the suggested 1/2c of each in the jar.  I'm a little sensitive to sugar in sweets and like it toned down quite a bit more.
The blue ribbon was for Hanukkah and the red + green label obviously Christmas.
My cousin Renee came over to hang out for a bit.  She was my maid-of-honor in my wedding.  It was great seeing her, even though it was only for a little bit.  She was on her way to work out and didn't really want to have her photo taken, but I told her I would make her out of focus in the photo and she liked that idea.
Even though she's blurry, you can tell she's gorgeous :)     
Dinnnner time.  I had 2 squashes to cook that I got last week.  Butternut + Acorn
Baked in the oven @375 for about 35min.  I tossed the acorn with olive oil, s+p.  The butternut got hit with some olive oil, ground cinnamon, and a sprinkling of brown sugar.  I put the acorn squash on lettuce with some of the Annie's dressing and a little mozz. cheese.  I really loved the warm squash on the cold lettuce.  It was awesome!
Again with the orange + green!
I ate the butternut squash alone.  nom nom nom
Squash is filling!!!  I was stuffed after this.  Then we went to my aunt + uncles house again and I stuffed my face with Christmas cookies.  Not to mention snacking on puppy chow while I was making it, and eating one of the "cookie jar" cookies.  rehehehe ;)
Butternut squash, before cooking.
After. 
Such a fun day!!  I have a massage appt. tomorrow [yes yes yessss] and a few friends to quickly say hi + bye too and then packing [trying to fit gifts] and visiting with the fam.  I'm out bright and early xmas eve morning!
Off to dreamland….
~Ashley