[Friday]
Good morning delicious bowl of warm gooey oats :)
oats + almond milk + shaved coconut + cacao bliss + yogi strawberry crunch + raspberries + pnut butter glob
Going to the gym in the freeeezing cold!  Insanely goofy shoe-gloves ;)
Workout:
15min treadmill 6mph
20min legs only crazy elliptical
15min bike
intense ab workout on the decline bench
I needed to get a good workout in before my meeting with Rush!
Dakota reminds me of Eeyore!
After working out, I had to grab something to hold me over!  1/2 of a mini bun from GHBC + pnut butter + a little bananer – twas perfect!
So, the VP of Rush – Naturally Enlightened, contacted me a few weeks ago on the blog.  She told me a little about the Boulder, CO based company and I couldn't wait to come check them out! Their feature items are their smoothie bowls.  A brief description would be: organic milk + REAL fruit [acai berries, strawberries, cherries, blueberries, raspberries, bananas, mangos, guava, etc.] ---> blended until creamy smooth + topped with organic granola + honey!!!  They also have a huuuge list of regular smoothies [in a cup] and many other delicious items!
I spent about 1.5hrs with Nicole and had a blast.  She was super friendly and extremely excited about the product and the company.  I love how they strive to use quality ingredients + REAL ingredients.  They are miles ahead of the other smoothie type companies out there.  I was completely impressed…can you tell!!??
I was invited to come to the store and check out what they have to offer.  I was never asked to write a review or post photos or anything…just so you know I wasn't being swayed in any way :)
Bowl #1 – Acai Beach Bowl [their biggest seller]
First off, the bowls are HUGE.  This is a large bowl stuffed with real fruit goodness and not just a sprinkle, but a LOT of granola!  This was a really fruity bowl and I loved the acai berries and all the healthy benefits gained from them.  The flavor combo was perfection.  It is a blend of 100% pure guava juice + acai berries + mangos + bananas, topped with organic hemp granola + honey.  I love hemp granola and was so excited that they use it!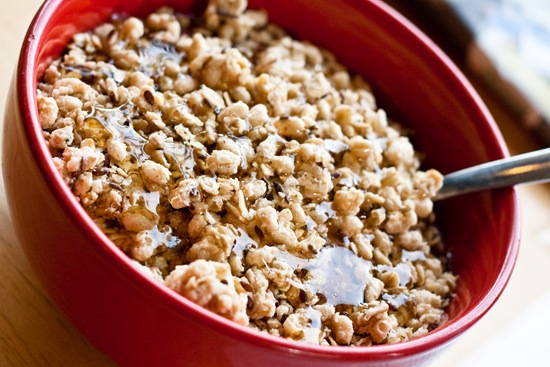 I ate at least 1/2 of this bowl and then more were on their way!!  This was definitely one of my favorites of the 6!
Bowl #2 – Peach Cobbler – Ohhh my was this creamy and delicious.  I loooved the cinnamon sprinkled on top.  The flavors melded perfectly together.  It reminded me a bit of the creamy consistency of overnight oats, but of course here the oats were crunchy and on top ;)  I took a few bites and bowl #3 was on it's way over!
Peach Cobbler stirred up a bit.
They had a seasonal bowl that caught my eye as soon as I walked in.  Can you guess what it could be?
Bowl #3 – a Pumpkin Pie bowl of course!!  You all know how much I love pumpkin!!! I was sort of excited ;)
This bowl was even creamier than the Peach Cobbler.  The pumpkin tasted REAL and the spices were spot on.  This would be an awesome topper on a hot bowl of oats!
It's awesome how much granola they give you.  It has to be a good 1/4 of a cup or more! mmmm CRUNCH!
Aaaand Bowl #4 landed – Helllllooooo Graham Berry Bowl
This maaay have been my favorite bowl.  The only thing stopping me from saying that is that it is a little less healthy since it is topped with graham cracker instead of the granola.  But…oh.my.gosh.  I can't get over the flavor of this one.
Blueberries + Blackberries are the main fruits, making this BRIGHT purple!  The texture of the graham cracker mixed in rocked.  I of course did not eat all of these bowls but Nicole was so awesome and packed up the leftovers for me to take home.  The hubs and I have definitely eaten almost all of the leftovers already.  Even though the granola + graham crackers didn't hold their crunch, they were just as tasty.
Purple juicy goodness
This bowl was the most photogenic ;)
These are their "in store" bowls that are about to get a packaging makeover.  They have 4 flavors sold in about 20 Whole Foods in a few different states out West.  I got to take home 1 of each flavor.  They are a 12oz version of what make at the retail store.  They actually make + package these in house.  I am still working through the 6 leftover bowls that were made for me in the store and then I will move onto these prepackaged bowls that are in the freezer. 
Good news, Rush Bowls can be made vegan!
Bowl #5 – Acai au Lait – This is one they sell in a prepackaged container but I got to try a freshly made one.  Again, I really love the acai berry flavor.  It also has strawberries + cherries mixed in.  At this point, there was no way I could pick a favorite.
Acai au Lait - The consistencies of all of the bowls were perfection!
Before I left, I had the pleasure of meeting the starter + owner of the company, Andrew.  He was so enthusiastic about what they were trying to do and wanted me to try even more bowls! 
Bowl #6 is unnamed at this point.  They are actually holding an in-store contest for customers to name this bowl.  This is 1 of 2 bowls they are trying to market to schools in the area to have as a food option for kids.  I would love to see this happen! We all know the quality of food in the cafeteria is sub-par. 
Super fruity + refreshing! 
So there you have it…now if only everyone could get their hands on these awesome bowls!!  I forget the exact states that Whole Foods carries them, but if you are curious I'm sure I can get a list of the stores.  Otherwise, you'll just have to make a trip to Boulder to give them a try!  Thank you Nicole + Andrew, for inviting me in, and letting me stuff my stomach with your delicious smoothie bowl concoctions!!
…
Much less exciting, but EXtremely delicious was my Friday night dinner.  I actually made this Thursday, but didn't eat it til Friday because of my late gym date with Laura on Thursday. 
Cooking Light 20min meal to the rescue!! Chipotle Sloppy Joes 
I used organic 90% lean ground beef
red onion – didn't have yellow
a whole green pepper
2 chipotle peppers in adobo sauce [at Whole Foods] – I couldn't find chipotle chiles
I made slider samiches with the mini buns from GHBC.  They were perfect!  I ate 1 bun, but toppings on each half.  I topped them with a little fresh grated pepper jack cheese.  A keeper for sure, and sooo easy!
[Saturday!!]
I chowed down a quick breakfast of my leftover Pumpkin Pie bowl…creeeeamy.  I ate scooped away with a Light My Fire Spork!  Great stocking stuffer for your camping friends/loved ones.  They come in all different colors and are insanely lightweight!
Chris + I were up early to have a fun photo session with Laura + Travis.  We went up to Flagstaff Mountain and had a blast playing in the snow trying to act natural :)  We got to play photographer too because L+T never get any photos of themselves.  So we triiied to hopefully get some good shots of them.  We'll see soon when they're done editing!
Then we got back and tried to warm up!!  Our feet and pants were pretty soaked from the snow…We headed to Nederland, CO with Pat + Nat for some good eats and just to hang out.  It is a super cute mountain town about 20min past Boulder.  There were lots of little stores and a few bars + restaurants. 
The sky was awesome as the sun was setting!
We browsed the shops.
There was a little co-op that was my favorite store in the town!!  They had had a huuuge section with bulk items, including any kind of flour you could ever think of.  They also had tons bulk spices + herbs…I hadn't heard of a lot of them!
These were some dried rosebuds…maybe for scenting candles, tea, soaps, etc?
Calendula
Cinnamon sticks!!
Such a fun store!
Aaaaand now I'm exhausted…time for bed!  I'm heading up to Ft. Collins bright + early to hang with my family!  I posted about them once before.  It's my dad's younger brother, wife, and daughter.  Should be fun!! I think Elizabeth and I are going to do some sledding at their house way up in the mountains :)
Niiight!
~Ashley