Kelsey and I started our prep work this past Friday.  We made our way to a gigantic Whole Foods in Boulder.  Our proposal to Foodbuzz, focused on creating a local menu during the winter in Colorado.  We thought it might spark some attention because most people would not really think there was much to be found locally in CO in the winter.  We couldn't believe how much was out there! 
Whole Foods is a huge supporter of local goods, which is so nice to see.  There were piles of local potatoes.
We snagged a large red tater for our soup!
Local onions were easy to come by as well.
I never realized that all of these herbs are Colorado grown!  I was really excited to see that.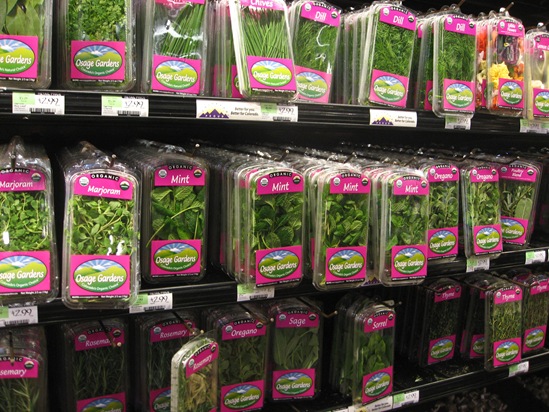 There is plenty of local honey to be found as well.  We snagged some orange blossom honey that was part of desert!
We took a shopping break and walked the Pearl Street Mall in Boulder.  It was so much fun to have Kelsey in Colorado!
We were up late on Friday getting as much done as we could.  We got our palette cleansing dish finished and a few other things.  We woke up bright + early to go to the famers market that is about 1.5 miles from where I live :)  It runs all winter long! 
Upon entering we were greeted by Ms. Chicken!  Hilarious.
Plenty of potatoes + onions
We snagged one of these guys.  I love how locally grown, in season foods, look gorgeous.  You can totally taste the difference in locally grown foods haven't been on a truck/plane/etc. for weeks after being harvested.
Adorable honey jars.  They had all different types.  I love these short squatty masons jars!
I can't even begin to describe how amazing this bread is.  You don't really taste much mint but the white chocolate makes the bread melt.in.your.mouth.  It has the consistency of a brioche or challah loaf.  We picked one of these up for part of dessert.  I had a hard time not consuming all of it when I was prepping dessert. mmmmm
These loaves were about 18" in diameter.  Ridiculous!
Kelsey + I bought a goat!  Well, not really, but to buy this goat cheese you actually have to buy a share of their farm.  Something about them using raw milk and in order to do that you have to be a shareholder with their farm.  Basically you buy a share for $10 and that gets you your first jar of cheese.
We totally bought into the club.  It was the most amazing goat cheese I have ever had.
Proud members!
drool.
I love the size + color variation of local eggs.  That's how they should be!! 
Local squash is plentiful right now.  We wanted to do something fun with the squash family. 
The squash was ooozing with moisture.
We wanted to make something simple but delicious.  Garlic baked butternut squash sounded like a fabulous plan.
l.o.v.e. the color
The "melt in your mouth" bread! Ahhhh
Local cabbage?  You better believe it!
Colorado spaghetti squash – It was Kelsey's first time having this delicious veggie + she loved it!
Thee most amazingly fresh, local milk.  I can't even describe how creamy this is.
This went into THREE of our recipes! 
Horizon is based out of Boulder, CO!  This guy counts as local too!
The orange blossom honey.  It smelled UHmazing.
Rosemary is one of my favorite herbs.
Any guesses????  Honey Vanilla Icecream with local honey, milk + cream. 
----------------------------------------------------------------------
Because TWO bloggers are better than one : Local Bites from a Colorado Winter 
----------------------------------------------------------------------
MENU – dinner.for.TEN
----------------------------------------------------------------------
first.bite.
4T unsalted butter
1/4c local shallot, fine chopped
1c carrot, chopped
1c celery, chopped
1c local red onion, chopped
2 local red potatoes, cubed
2 bay leaves
4T local fresh thyme, chopped
6T local all-purpose flour
2c chicken broth
3t dry yellow mustard
2c local dark beer
2c local whole milk
4c local cheddar
s+p
Process
Melt butter over medium heat, in a large soup pot.
Add shallot and cook 3-5min until translucent.
Add carrot, celery, onion, bay leaf, thyme, salt and pepper and stir to coat with butter.
Cook until celery and onion are translucent, 5-8 minutes.
Stir in flour and cook for 1-2 minutes, stirring constantly, until flour lightly browns.
Stir in dry mustard.
Add chicken stock and stir until liquid begins to thicken, ~1 minute.
Add beer and bring to a simmer, stirring occasionally, for 4-5 minutes.
Add milk and bring back to a simmer.
Continue simmering until vegetables are tender, ~5 minutes longer.
Take the soup from the heat and stir in cheddar, ~1/2 cup at a time, allowing the hot soup to melt the cheese.
Taste and adjust seasoning with salt and pepper.
Garnish with fresh thyme and serve immediately.
3 local cups organic all-purpose flour
1T granulated sugar
1t salt
1T baking powder [check your expiration date!!]
2 local garlic cloves, crushed, or 1t garlic powder
2t dried dill
1t dried oregano
1T local fresh rosemary
1T local fresh thyme
12oz local beer
Process
Heat oven to 375°.
Combine all ingredients [except beer] and combine in a large mixing bowl.
Slowly stir in beer and mix just until combined. Batter will be thick.
Pour + spread into a greased 8-inch loaf pan.
Bake about 45min, until golden brown + a toothpick comes out clean.
Cool in the pan on a rack for 10 minutes.
Remove from the pan and cool 10 more minutes.
Serve warm!
[We wanted an herbed beer bread, however this recipe is completely adaptable.  When using fresh herbs use 1T and when dry herbs use 1-2t]
----------------------------------------------------------------------
second.bite.
Lamb Lollipops
10 local lamb lollipops
s+p
1/2c + 2T olive oil
3T local garlic, minced
1/3c apple cider vinegar
2T local rosemary, chopped
Process
In a baking dish add lamb and season with s+p.
Add marinade turn lamb and set aside for 20min-1hr.
Grill over medium-high heat – 2min - rotate 180* – cook 2 more min – Flip lamb – 2min – rotate 180* – cook 2min
2T fresh parsley, minced
2T olive oil
2 local garlic cloves, minced
1t salt
1/2t pepper
1/3c parmesan [save until the end]
1" pieces of local squash [medium size squash]
Process
Combine ingredients + toss with squash.
Bake uncovered in 2qt ungreased casserole dish @400* 35-55min, until tender.
Sprinkle with cheese at the end and broil for 2-4min, or top each serving with the freshly shaved cheese.
----------------------------------------------------------------------
third.bite.         
1 large local tart apple, chopped [~1 1/3c]
3 cups water
1/2c sucanat
1/4c fresh squeezed lemon juice
1/4 teaspoon lemon zest
1/4 cup apple brandy
Process
Over medium heat, in a saucepan, bring the apple, water, + sucanat to a simmer.
Cook for 15min with the heat slightly lowered, until the apples are very tender.
Remove + cool to room temp [the freezer helps!]
Add lemon juice, zest, + apple brandy.
Puree until smooth.
Chill for until very cold [in fridge or freezer]
Run in an ice cream maker until frozen. 
Pour in airtight container + freeze.
----------------------------------------------------------------------
fourth.bite. 
Brisket
2-3 local garlic cloves, minced
2T ketchup
1T apple cider vinegar
2t brown sugar
1/2t salt
1 1/2 local onions, thinly sliced
Process
place onions in bottom of crock
place brisket in fat side up
sprinkle garlic on top
rub other ingredients into meat
add enough water to coat bottom
cook on low 8-10hrs
Small head of local purple cabbage, chopped 
1/4 local red onion, diced
2 T safflower oil mayo
2 T apple cider vinegar
1 T balsamic vinegar
S+P to taste
Process
Combine ingredients in a large bowl and mix well.
Taste and season accordingly.
Refrigerate and serve cold.
----------------------------------------------------------------------
fifth.bite.
Ashley's Meatballs with Baked Spaghetti Squash + Local Marinara
1.25lbs local buffalo
1 local egg, beaten
~3T water
2T chopped fresh parsley
3 local garlic cloves, minced
1/3c. local fine chopped onion
1/2c. breadcrumbs
2T olive oil
2t local chopped rosemary
2t dried basil
Process
Preheat oven to 350*
Combine all ingredients and mix until well incorporated.
Roll walnut sized meatballs [about 36] and bake in a mini muffin pan [or just a baking sheet] for about 20min, flipping once.
Spaghetti Squash
Process
Preheat oven to 375*
Cut local squash in half, spray/coat lightly with olive oil, s+p.
Bake for ~45 until tender.
Cool for 20+ min until you can easily handle it.
Scrape squash strands out with a fork.
----------------------------------------------------------------------
sixth.bite.
2 vanilla beans
2c. local heavy cream
1c. local whole milk
1/2c local aromatic honey [orange blossom]
Process
scrape seeds out of the beans with a small spoon
place seeds + pods in a large saucepan
add cream, milk, + honey, stirring occasionally, until tiny bubbles form around edges, ~3-4min
remove from heat, steep covered for 1hr
cover, refrigerate until completely cooled [very important!]
remove pods + stir to blend
put in the ice cream maker ~25min
freeze in an airtight container
4c. soft local bread cubes [challah, brioche, etc]
2c. peeled, local sliced apples
1c. sucanat
1 3/4c. local milk
1/4c. butter
1-2t. cinnamon
2t. vanilla
2 local eggs beaten
Process
set oven to 350*
In a 7x11 baking dish, combine bread + apples
in a saucepan add sucanat, milk + butter on low heat until melted
pour over bread + apples
whisk cinnamon, vanilla, and eggs together
pour egg mixture over top and stir a few times to combine
cook 40-50min until set
----------------------------------------------------------------------
the.end.
----------------------------------------------------------------------
The next post will be complete with full documentation of the night and an explanation of the proposal we sent to Foodbuzz.  As the night progressed we made a few changes because nothing ever goes 100% as planned.  Stay tuned!  :)