Things got a little crazy with the Foodbuzz 24, 24, 24, event, but I am now back to my normal daily postings! 
Rewind: this past SATurday
Our big FOOD day!!  What to make for breakfast??  This post [from, Straight From the Farm] on Pumpkin French Toast, left my mouth watering.  Luckily, I had a 1/2 loaf of pumpkin bread in the freezer and luckily Kelsey loves french toast + pumpkin!  This pumpkin bread was talked about here but I forgot to post the recipe!  It is the healthiest and most delicious bread I have ever made. 
If you weren't aware, you should always make extra loaves when making breads like pumpkin, banana, zucchini, etc.  Wrap them in saran, foil + bag them.  They freeze + thaw perfectly!
I used 2 eggs, about 1/3c vanilla almond milk, and cinnamon and let them cook in a pan over medium heat with a little oil.
Topped with a little butta', banana, and pecans!  TO.DIE.FOR. :)
I reworked the pumpkin bread recipe from another recipe I worked with a few months back.  I wanted to see just how healthy I could make it without sacrificing flavor + texture.
Ashley's Pumpkin Bread
1c. organic, unbleached/un-enriched, all purpose flour
2c. organic whole wheat pastry flour
1/2c ground flaxseed meal [bob's red mill makes this]
3/4c. sucanat [or pure cane sugar]
1t salt
2 baking soda
2c. pureed pumpkin
1/4c olive oil [or 1/8c oil, 1/8c butter]
1/2c applesauce
1/2c water
1/2c lowfat coconut milk
4 eggs
2t cinnamon
1/2t ginger
1/2t cloves
1/2t nutmeg
Preheat the oven to 350* and grease all sides of 2 [8" or 9"] loaf pans.
Sift flour, salt, and baking soda into a large bowl. 
Stir in flax + sugar.
Beat pumpkin, oil, water, coconut milk, applesauce, eggs + spices, until smooth.
Stir wet ingredients into the dry in 3 increments, until just combined.
Bake 40-50min.  Test with a knife blade or toothpick until you get an almost clean swipe. 
Let sit for 10-15min. and then tip out onto a cooling rack.  Let fully cool before wrapping.  You can easily freeze a loaf, after completely cooling.  Wrap tightly with foil or saran, stick in a bag, and thaw whenever [up to 6 months].
**High Altitude baking changes**
use 1 3/4c whole wheat flour [not 2c]
use 1 1/2t baking soda [not 2t]
use 1/2c + 2T applesauce [not 1/2c]
use 1/2c + 2T water [not 1/2c]
bake at 370* for 45-55min
Let me know if you have any questions!! 
----
Sunday – recovery day from 24, 24, 24 – and K+E's last day in CO
We went back to Boulder to hang out for the day.  We ate lunch at Illegal Pete's, which I was actually not too impressed with.   I got a veggie burrito and much prefer Chipotle's.  Although they did have some pretty amazing queso dip! 
Then we hit up the flagship Prana store on the Pearl St. Mall.  They have a HUGE storewide sale this week.  Everything is 40% off right now til this weekend!
I got a hat that I have been eyeing up for awhile now and a shirt.
This hat!
Byeeee Kelsey!! :(
Not sure what was so interesting on the ground!?
-----
Monday – POWDER day at VAIL…FINally!!!  There has been a lame amount of snow in the mountains so far this winter.  Vail was the only mountain to get hit with a good amount sun/mon so we headed out bright and early!
[point n' shoot photoooos]
Chris, making his way down the back bowls at Vail.
Pat came too! [chris's bro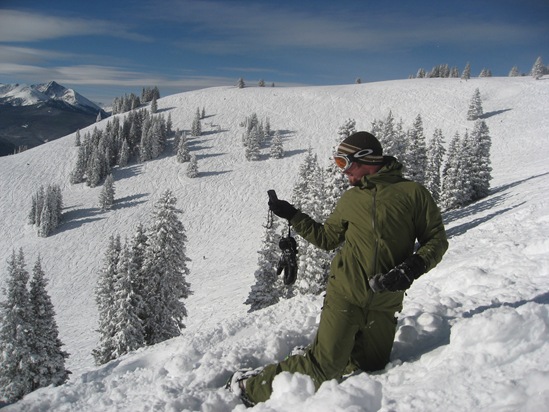 Gorgeous day out!
If you don't ski or snowboard the best way I can describe powdery snow is what you would imagine floating through a cloud would feel like.  It makes me much less fearful of falls too!
I even made it successfully through a few tree runs with Chris! 
I am suuuper sore today.  Even my jaw hurts from getting thrown around on the mountain, but it was worth it!
------
Monday Night – Exhausted Dinner
I have been lacking in the sleep department for the past 2 weeks and was completely exhausted from boarding!  I didn't feel like going to the store so it was time to get creative!
I had 2 red peppers that needed to be used….I always have quinoa/millet/rice on hand…and cheese….so, stuffed peppers!?
I roasted 2 peppers [cut side down] in a 400* oven for about 15min.
I decided to make a curry spiced quinoa filling and just started adding things in!  It went a little something like this:
1c quinoa
2c water
2t curry powder
1-2t turmeric
1t fresh grated ginger
1-2t coconut oil
2-3 garlic cloves, minced
s+p
few shakes of cayenne
Make sure to thoroughly rinse your quinoa before cooking.  I set the pan to medium with a little oil and then brown the quinoa for 1-3min.  It makes the nutty flavor more pronounced.
I added all of the spices when the quinoa was almost done cooking.  I also added ~3c of spinach [I cooked it in another pan and then added it to the quinoa].
Topped with a little mozzarella cheese + then broiled.  It was pretty tasty for something completely made up!  
-----
Tuesday Morning – Back to Basics!!
Ahhhh, oatmeal, you have been missed.  The last time I had oatmeal was Thursday morning!!
I checked out my fruit bowl this AM, only to be disappointed that I was out of bananas!!!!
It's just not the same without the banana.  I don't usually add extra sweetener because the banana adds enough for me.
Oh well, still creamy + delish!
Creamy Egg-white Oats sans the Banana
1/2c oats
1/2c milk, 1/2c water
1/2t cinnamon [super cinnamoney]
vanilla splash
2 egg whites [whisked + stirred in the last 2min of cooking]
almonds
chopped pecans
unsweetened coconut flakes
pnut butter glob
cacao bliss
Bodum LOVE <3
The cacao bliss gets so hard that I broke one of my mini spoons!!! :( 
I have been asked numerous questions in the past few days and I want to let all of you know that I will be creating an FAQ page to answer these, so please be on the lookout for a new FAQ tab at the top within the next day or 2 :)
Thanks for all of the comment love!!!
Check back for a short post later…this one is getting entirely too long!
~Ashley