I am never sick of oats.  If one day I am, you will know!
Even growing up I ate oats quite frequently.  I used to like to eat them with a large wooden mixing spoon.  I used to feel "old fashioned" using the giant wooden spoon.  Not sure what that means, but that is what I used to think!
This bowl of rolled oats + oat bran + flax meal is covered with my Pumpkin Spice Almond butter + crumbled healthy truffles.  Definitely a winner.
PB + J oats.  I also don't think I will ever get sick of a good ol' pb + j.  The peanut butter looks really light in color because I used raw peanuts.  Not as good as roasted but still nice and creamy.
A new can of pumpkin is in my life!  I'm down to 5 cans from the 12 I bought less than 1 month ago!  The organic pumpkin was on an amazing sale for $1.50/can.  However, I just found this pumpkin puree at Whole Foods for about $1.20.  I snagged 4 cans.
It's really good!!  I like it better than the organic.  While I was home in Cleveland, I picked up some Libby's, since everyone says that is the best.  I wish I could do a side-by-side taste test, but from what I remember this is my favorite.  I didn't think Libby's really tasted better than the organic.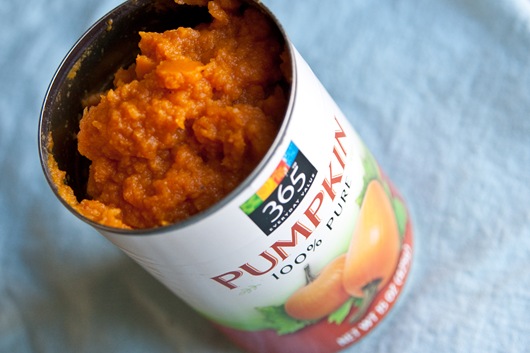 I am LOVING mixing the pumpkin into the oats right at the end, not completely combined.  Pockets of pumpkiny goodness!  I've also been adding a pinch of cloves and nixing the nutmeg.  I like clove much more than nutmeg.
This bowl was one of the best.  Topped with Roasted Cinnamon Maple Almond Butter, pumpkin butter, and coconut.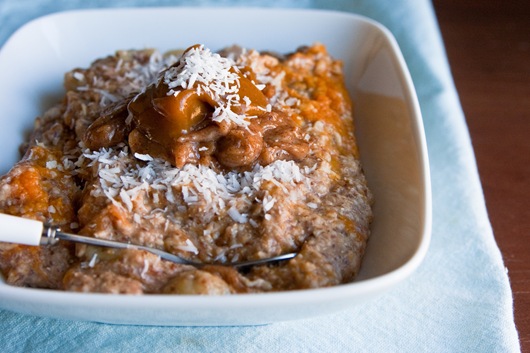 The best thing I ate from a bowl this week was the Pumpkin Smoothie below.  It was OUT of this world.  The texture was insanely creamy, smooth, and thick.  The flavor was perfect.  This was pumpkin pie!
I'm not sure what made this SO much better than my other pumpkin smoothies…because those were to die for as well. 
But this…this was THEE BEST.
Exactly what was in the mix:
TODIEFOR Pumpkin Smoothie
1/2 frozen large banana
1c whole foods organic almond milk, original
1/2c pumpkin puree, 365 brand
3/4c cubed, roasted butternut squash [I cooked + froze this a week or so ago.  I didn't want to open another can of pumpkin, so I thought I would add this to the mix.]
3T Amazing Grass Vanilla Chai protein powder
1t cinnamon
1t vanilla
pinch of cloves + all spice
~3/4-1t fresh grated ginger
The fresh grated ginger really makes a difference.  It could have been the roasted butternut squash?  Or the pinch of cloves?  Or everything together?? 
Ugh!  Time for bed…not sure I can sleep now though.  All worked up thinking about this deliciousness!!!
~Ashley